I'm no stranger to wind farms. My parents have a few on their property and I was fascinated a few years ago when they were building them. A novel idea to use wind power - a renewable source of energy we have at our fingertips.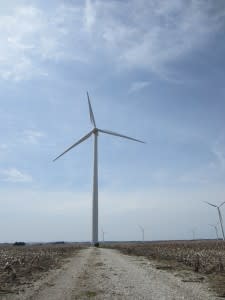 So, when Visit Lafayette-West Lafayette asked me if I'd be interested in touring wind farms right next door to their county I didn't hesitate. Benton County is just northwest of Lafayette-West Lafayette and they are home to over 400 wind turbines!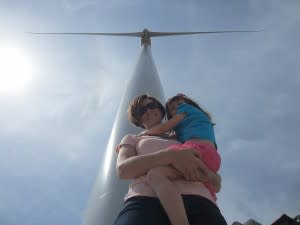 A short history lesson - Benton County had been operating in the red and needed to find a way to bring more money into the county. Three companies were looking at building wind turbines in the area and through research and planning the Benton County Economic Development assisted in making it a reality. When the building of the towers began it was in 2008 and the rest of the state was feeling the pressure of the recession. However, Benton County didn't feel it at all. How could they with over 760 workers coming into their area (IE: eating in their restaurants, staying in their hotels) to build the turbines? Plus, the first year the turbines brought in $2 million in taxes that put the county operating in the black.
Today, the county welcomes groups to come and experience the turbines for yourself. Not only can visitors watch a video about the building of the turbines, but you get to walk up close and personal to them too!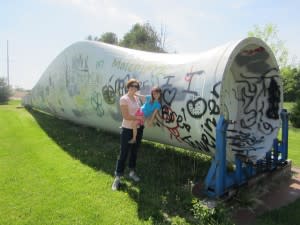 Here are some fun facts about the turbines ...
During the day they are controlled locally, but after hours - they are operated off-site in Texas
It takes approximately 54 loads to cement for each turbine
Over 370 landowners financially benefit from the turbines - either them residing on their property, cables running through their property or in some cases by a "good neighbor policy" if the turbine affects their view of the land
With a blade directly up in the sky, the height reaches over 370 feet
Energy they produce cannot be stored, so if they don't need it, they are turned off
Interested to learn more? Contact the Benton County Economic Development Office for more information.
For more information on dining and attractions in the area be sure to Visit Lafayette-West Lafayette.