All right, I'll admit that autumn is my favorite time in Indiana Dunes Country. There's nothing better than hiking through wooded trails that are bursting with color on a bright, 65-degree day.
But another beautiful time is winter, when a blanket of snow covers the miles of trails in the Indiana Dunes and other great nature sites. And those trails that I hiked in the fall: they're great for cross-country skiing, snowshoeing and hiking in the winter.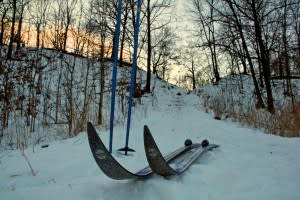 Indiana Dunes Country has mile after mile of cross-country skiing trails.
Among my favorite spots for cross-country skiing are Taltree Arboretum and Sunset Hill Farm County Park in Valparaiso; Coffee Creek Watershed Preserve in Chesterton; and these Indiana Dunes sites: Indiana Dunes State Park and the Indiana Dunes National Lakeshore's Glenwood Dunes and Tolleston Dunes trails.
After digging out from the recent snow, I made my way to Taltree and Indiana Dunes State Park in the past week and found the trails very tranquil.
There are a lot of great events going on throughout the winter, like Taltree's snowman building contest and Indiana Dunes State Park's Snowshoe Shuffles and annual geocaching event.
For more information about cross-country skiing, as well as sledding, snowshoeing, ice rinks, ice fishing and events, check out Indiana Dunes Tourism's new winter page here.

Indiana Dunes State Park.
Even if you're not looking for strenuous winter fun, this is a great time for great views. At any of the sites along Lake Michigan, you can see beautiful shelf ice on the lakeshore.
And when the winter fun starts to wind down, that must mean it's time for spring and summer, my other favorite times in Indiana Dunes Country.