Did you know? Indiana's miles of trails are open in winter! Get a new perspective on Indiana's outdoor treasures on a winter hike.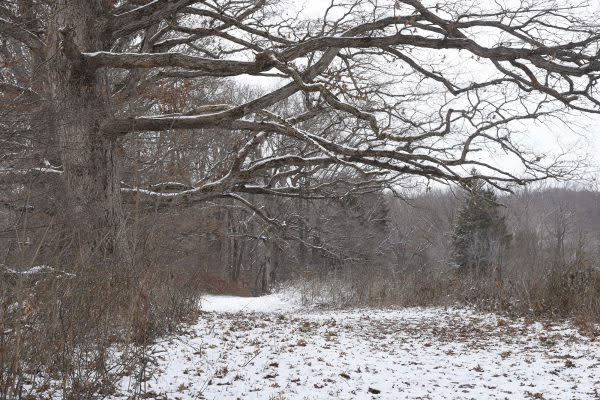 Forest meets prairie along one of twelve trails at McCloud Nature Park in Hendricks County.
Fewer people are wandering in the woods this time of year. Icicles glisten in the winter sunlight. Birdwatching, tree identification and animal tracking skills are easy to develop after leaves have fallen. Slow down and notice winter's details. Cold-weather hiking is fun!
Think about it. The peacefulness of a winter snowfall. The crunch of frozen leaves underfoot. Crisp birdcalls. A pileated woodpecker jettisons chunks of wood from above and you watch them drift to the ground. The winter woods are calling!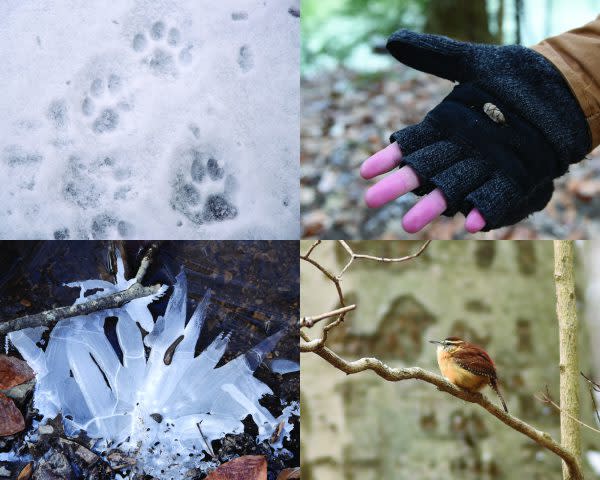 Winter hikes offer a chance to slow down and notice the details of winter, from large cat tracks to hemlock cones, a Carolina wren defending its territory and the beauty of ice crystals.
Something for everyone
West Central Indiana has numerous hiking trails for all levels of hikers. Paved, flat trails offer short easy walks. Rugged trails require more agility and careful vigilance in ice and snow. Many trails are near restaurants for a quick warm-up after a hike.
Hendricks County's parks and trails are easy to access. McCloud Nature Park near North Salem has 12 trails through numerous habitats on 232 acres. Choose from prairie, woodland, wetland and more. The varied habitat and easy trails make this park a unique destination. Perillo's Pizzeria, traditional Italian fare, is only a few miles away for hungry hikers (it's "cash only").
Plainfield has a number of paved trails on the west side of town. Warm up with a cup of coffee and pancakes at the Oasis Diner. Explore the mulit-use Vandalia Trail system which connects to Putnam County to the west. Sodalis Nature Park on the southeast side of Plainfield has five miles of trails. This park is a protected conservation area for the Indiana bat.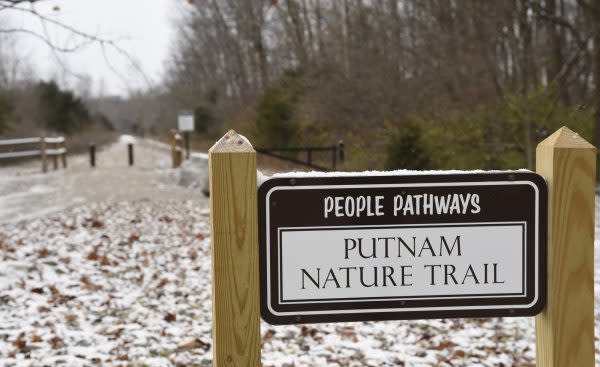 Putnam Nature Trail is an easy two-plus mile walk along a former railroad bed. The trial runs on the southeast side of Greencastle and connects with Deer Creek Fish & Wildlife Area.
Putnam County's trail system includes People Pathways trails that wind around Greencastle and throughout the county. "Each pathway has its own style," says frequent user Paul Wilson. "The Pathways are so nice a long hike doesn't feel like it." Take the Vandalia Trail through Fillmore and stop by Bert & Betty's Kitchen for breakfast or lunch. The DePauw Nature Park has 10 miles of trails on the west side of Greencastle.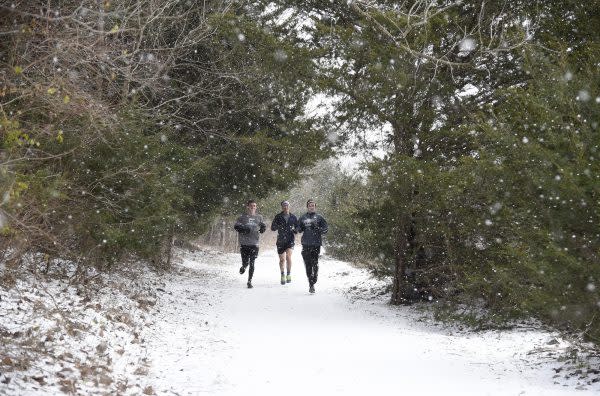 Opened in 2004, the DePauw Nature Park has 10 miles of trails. The 520-acre park encompasses forest, fields and an abandoned limestone quarry.
State Parks
McCormick's Creek, Turkey Run and Shades State Parks have numerous trails the offer unique winter experiences. Naturalists at the parks offer a variety of guided winter hikes and activities. Trail 8 at McCormick's Creek is paved and ADA-accessible. Canyon Inn and Turkey Run Inn serve breakfast, lunch and dinner, have hot beverages available around the clock and warm fireplaces.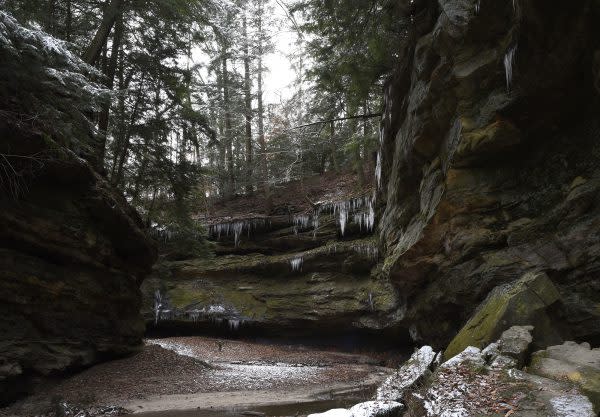 Trail 7 leads hikers through the "crown jewel" of Turkey Run State Park.
Looking for even more trails? Check out this Hoosier Rails to Trails Council list. In addition to hiking trails, many parks offer events and workshops during winter.
Whatever trails you choose in winter, remember to protect yourself from the cold. Warm socks and boots, gloves, scarves and hats are essential. Stay hydrated – water isn't just for summer adventures. A walking stick or hiking pole will help navigate icy or rugged terrain. Hone birding skills in the woods with a good pair of binoculars and a field guide, or visit a nature center with a bird viewing area.
Why wait for spring? Indiana's trails are open for business! Bundle up and enjoy!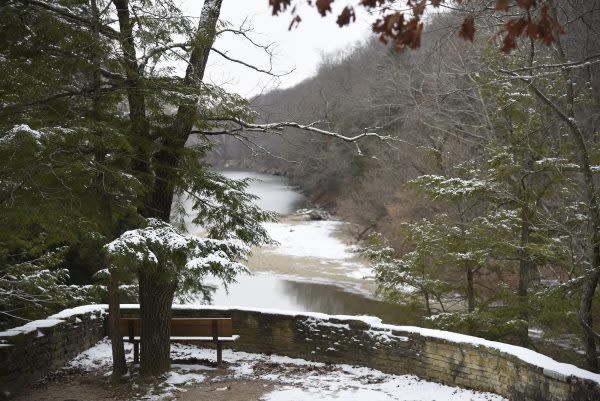 Sunset Point overlooking Sugar Creek is an easy winter walk from Canyon Inn at Turkey Run State Park.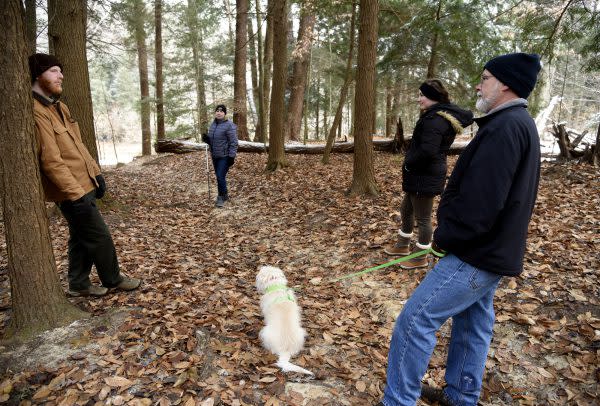 Aaron Douglass (left), Interpretive Naturalist at Turkey Run & Shades State Parks, talks with Mary Schott, Laura Dickey and Tom Schott along Trail 6. The Schott's, from Attica, visit the park weekly and wanted to share the greenery of the hemlock grove with Laura who was visiting from Chicago.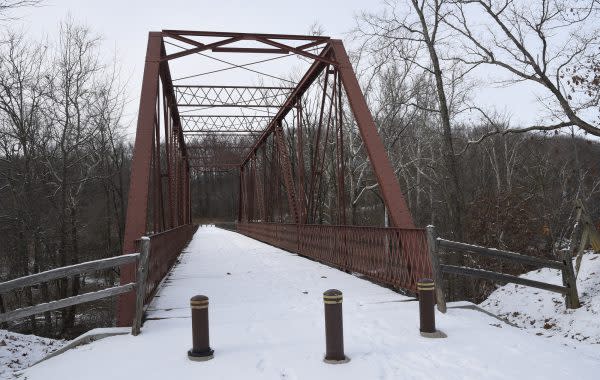 The trestle bridge on Red-Tailed Ridge trail at McCloud Nature Park takes hikers across Big Walnut Creek.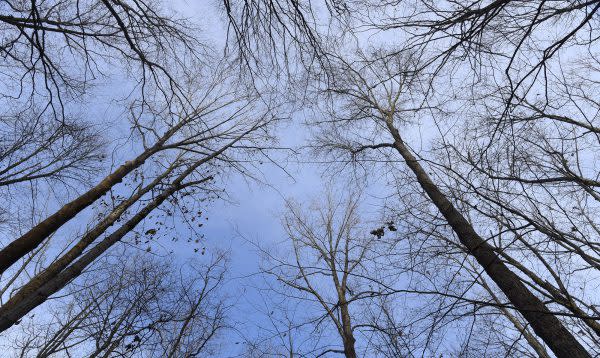 Winter hikes are a great time for identifying the trees that populate Indiana woodlands.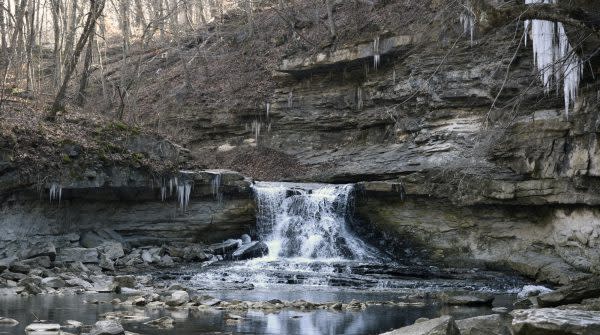 Icicles dot the canyon walls around the waterfalls at McCormick's Creek State Park in winter.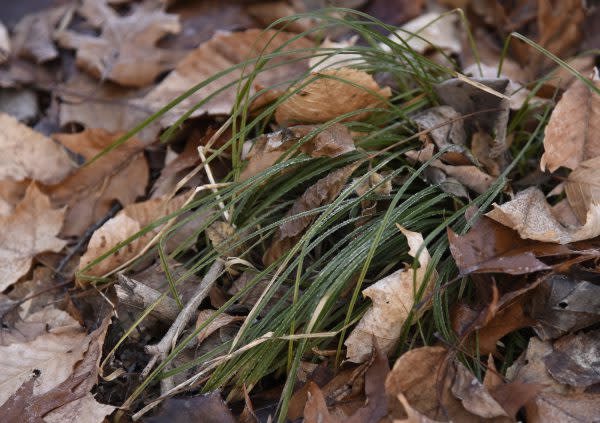 Sinkholes lining Trail 5 at McCormick's Creek State Park emanate warm air and keep greenery visible throughout the winter.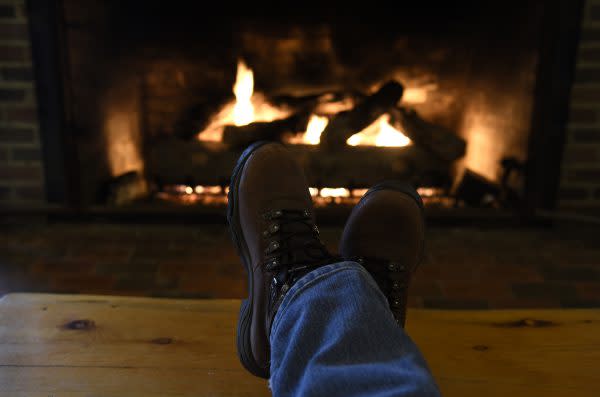 Enjoy a hot beverage and warm up by the fireplace at and any of Indiana's seven State Park inns.