Don't let the cold keep you cooped up inside this winter! These five spots Along the South Shore of Lake Michigan are the perfect cure for your winter blues.
Shelf Ice The Indiana Dunes are marvelous year-round. Shelf ice is a natural occurrence that mimics landscapes of arctic regions. It attaches itself to the shores of the beach, not the bottom of Lake Michigan. Waves crash onto the floating ice and collects on the shore, freezing as the temperature drops and creates a shelf.
The formations can be viewed at any beach but Whiting's Lakefront at Whihala Beach, West Beach, or Lake View in Beverly Shores are visitor favorites. The Michigan City Lighthouse and Pier also offers a breathtaking view when frozen and offers great photography if you can brave the chilly air. Be warned, shelf ice is not stable and extremely dangerous. Be advised – NEVER walk on shelf ice.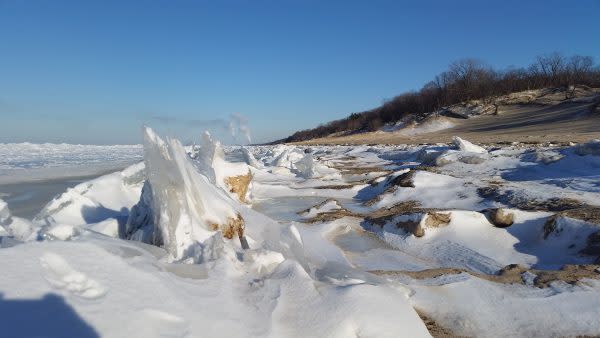 Shelf ice along Lake Michigan
Bison As part of a multi-agency study of bison genetics, an additional 10 bison have been added to the herd at The Nature Conservancy's Kankakee Sands. At one time, more than 50 million bison roamed North America but by the year 1889 the population dwindled to less than 1,000. A herd of bison were added to the Restoration Area at Kankakee Sands in Morocco to help invigorate the nature prairie landscapes by eating grasses to increase plant diversity. There is a viewing area available to visitors to watch the bison and their calves in their natural state. More than 25,000 acres of land provide additional opportunities for wildlife and bird watching. Read more about the bison here.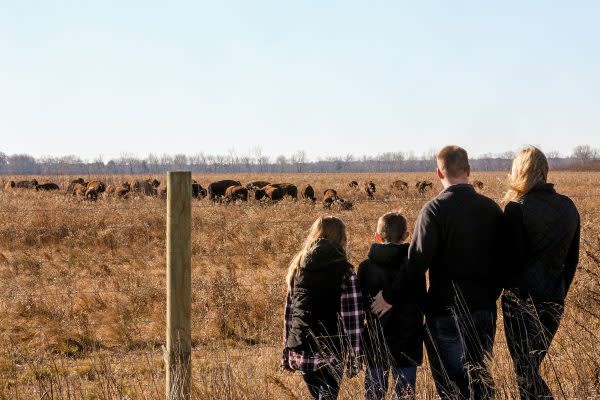 Bison at Kankakee Sands
Sledding The Indiana Dunes State Park is home to Devil's Slide, a fantastically fun spot to enjoy the snow with your family. Bring a thermos of hot cocoa and enjoy an afternoon hiking or snowshoeing along the trails at the State Park and National Lakeshore.
Families can also enjoy sledding at the Lake County Fairgrounds and Sunset Hill Farm from dawn to dusk after a good snowfall.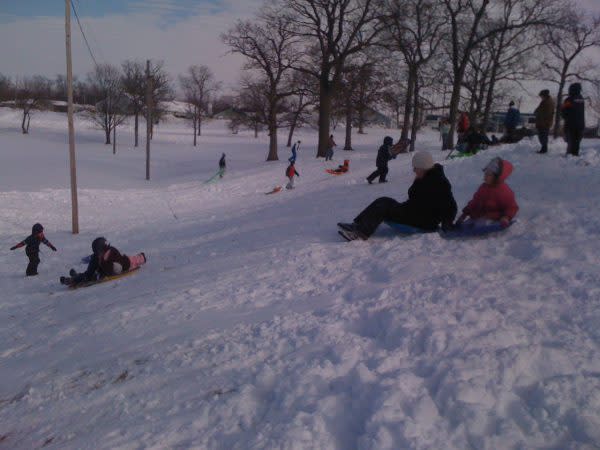 Sledding in Northwest Indiana
Lemon Lake Disc Golf and Cross Country Skiing A great way to exercise this winter is cross country skiing at Lemon Lake. Several miles of trails through wooded areas and open fields provide an afternoon of activity for beginners as well as experienced skiers. Ski rentals are available (weather permitting) Friday-Sunday and school holidays from 10:00 a.m. to 4:30 p.m. until March.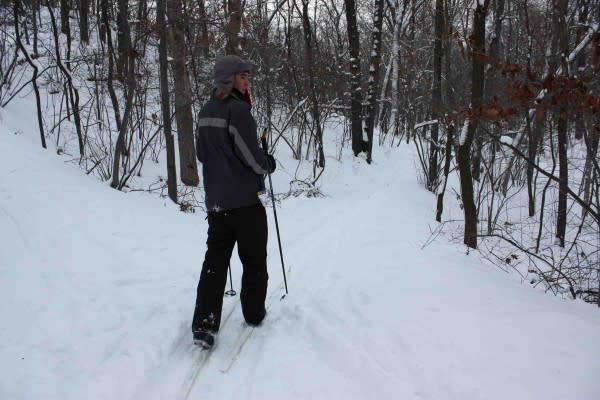 Wintertime may keep the golfers away, but not disc golfers. Lemon Lake has 72-hole championship disc golf courses, making it the largest in the nation. The courses also accommodate experienced players and beginners. Learn more about the sport and find maps of the courses and schedules of upcoming championships at www.lemonlakediscgolf.org.
Ice Skating Deep River Waterpark transforms from "splashtastic" in the summer to frozen and fun in the winter. Families can skate the plaza through February 25. Open skating is available Thursdays through Sundays and rentals are available onsite. Concessions and lockers are available as well. Bring in two cans of non-perishable food items and receive half price admission on Sundays and Thursdays veterans and active duty military receive free admission.
Head to downtown Valparaiso for skating at the Central Park Plaza Ice Rink until March (weather permitting). The 12,000 square foot open-air pavilion provides a picturesque setting for ice skating in the heart of Valparaiso. The arched roof provides protection from the elements and open skating is available daily (hours vary).  Skate and helmet rental are available at the Activity Center.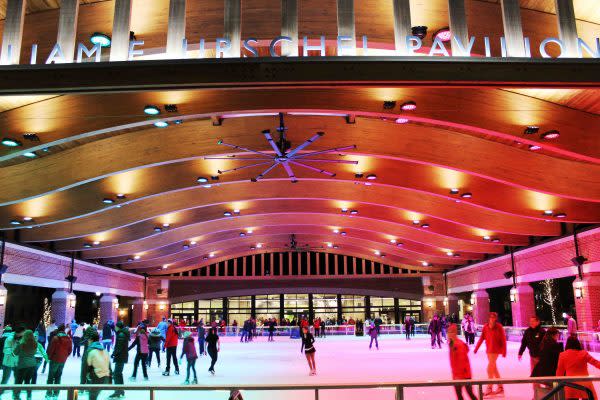 The ice rink in downtown Valparaiso opens in November for a four-month season.
Grab your gloves and get outdoors along the South Shore! Visit www.alongthesouthshore.com to plan your visit.