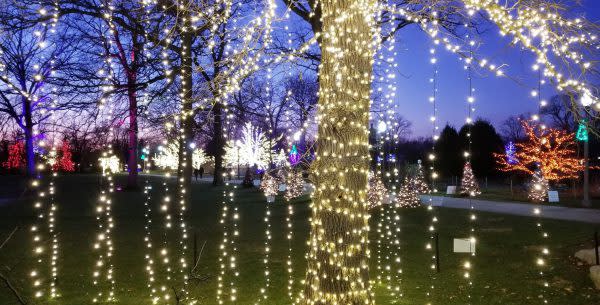 I have to start out this blog by mentioning that I am in no way an outdoor cold-weather gal. In the winter, when it's cold and snowy, I prefer to be inside. But for the Holidays, a winter stroll through an amazing lights display is worth braving the cold. We found just that at Winter Wonderland Holiday Lights at Wellfield Botanic Gardens in Elkhart.
In the other seasons, I enjoy the outdoors. I love walks outside. I love exploring gardens and outdoor attractions. But when it's cold and dark and windy and the temperatures are in single digits, I'd rather be snuggled under a blanket on my sofa or somewhere indoors than braving the cold. It's just not my thing.
However, last year in the week between Christmas and New Year's Day, hubby and I took a little trip through Northern Indiana. We spent some time in Shipshewana, South Bend, Elkhart and some other nearby communities. One thing I was really looking forward to on that trip was stopping to see the Winter Wonderland Holiday Lights at the Wellfield Botanic Gardens. It seems like it was large enough that there would be lots of lights to see, but not something that would require walking forever in freezing temperatures. We enjoyed a nice little walk and spent a little over an hour walking the grounds before heading for dinner at a nearby brewery.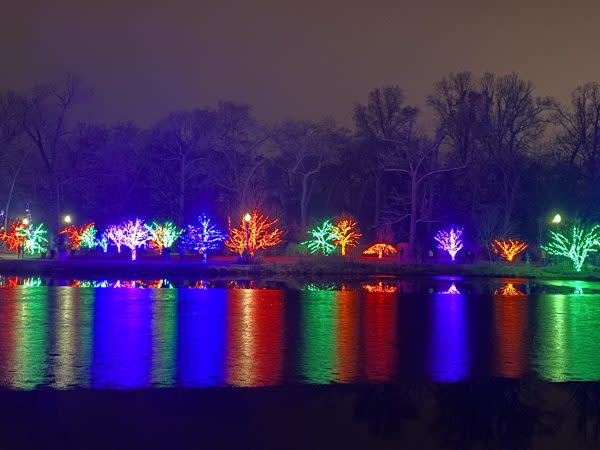 We arrived and found close parking and made our way into the gates welcomed by so many twinkling lights. And then as you moved along the path there was just more and more to see. The paths are centered around a pond and all of the lights reflecting off the water were simply breathtaking. There were arches and lights from trees and figurines and lots of little Instagramable photo opportunities along the way.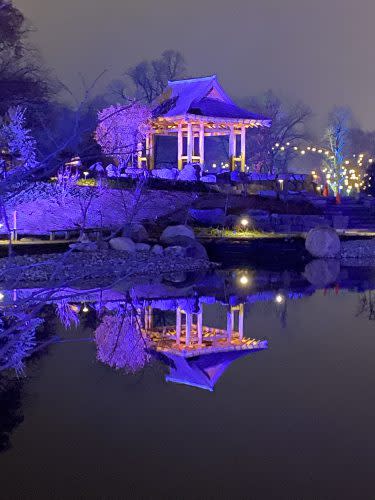 We also picked up hot chocolate on our way and in and sipped as we walked, so that helped to warm us up just a tad.
I was happy to look up this year's Winter Wonderland Holiday Lights and see that it will go on for families to enjoy during the pandemic. Right now is when it's best to be outdoors if you're heading away from home. This visit offers fresh air and a chance to social distance in all the open space at the gardens.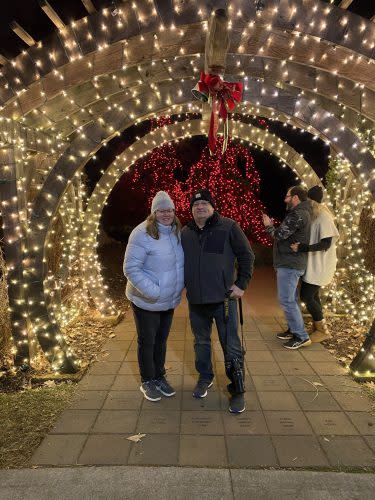 Face coverings must be worn indoors in the cottage and restroom building and outdoors when physical distancing isn't possible. Extended hours begin November 27 for this year's event. For more information, visit wellfieldgardens.org. Tickets are available online only until 3 p.m. the day of each event and a timed ticket must be selected.
If you're looking for some fun activities to do outdoors this season to get into the holiday spirit, this is one I would definitely put on the list. If it could get an indoor girl out to have such a good time on a freezing winter day, you know it's worth the trip!