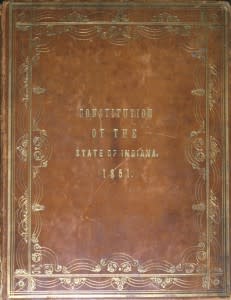 How long has it been since you've been invited to witness a 200+-year-old birth?
The answer is never—at least I hope so!
This is a real invitation for you and everyone else from Indiana to participate in a special bicentennial program called Birth of a State: The Indiana Exhibit. It takes place June 10-29, 2016, at the First State Office Building, 417 N. Mulberry St. in Corydon.
Exhibition hours are 10 a.m.-4 p.m. Tuesday- Saturdays and 1-5 p.m. on Sundays. Admission is free and open to the public.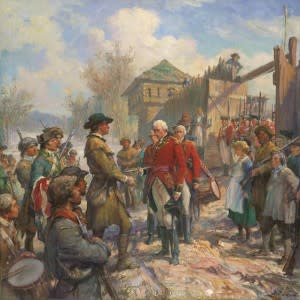 Picture of Fort Sackville
Earlier this week a processional occurred to welcome the 1816 Constitution back to Corydon. Beginning at the Corydon Farmer's Market on Mulberry Street, a wagon headed through the town to North Capitol Avenue where a brief ceremony happened in front of the First State Capitol.
Corydon, you will remember from Indiana History class, became the Indiana Territory capitol in 1813 and Indiana's first state capital in 1816.
The Corydon Capitol State Historic Site is located in Harrison County in southern Indiana. Corydon is part of the Indiana State Museum and Historic Sites.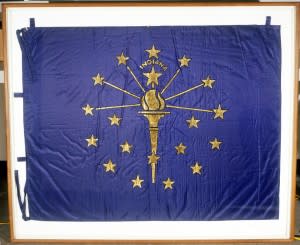 Indiana 1916 state flag
This will be the first time the 1816 Constitution has returned to Corydon after more than 190 years and the first time it has been on view since 1824. The 1851 Constitution has never been on public display outside of Indianapolis until now.
These and other Hoosier historical items of significance, particularly during the Bicentennial, will be on display. The historic structure has been recently renovated and is now used to host programs and is available as a rental facility. What an interesting possible venue for a meeting or class reunion!
The exhibit's final venue will be the Statehouse in Indianapolis in November 2016.
The exhibit is made possible by the Indiana Archives and Records Administration (IARA) and the Indiana State Museum and Historic Sites (ISMHS). The Indiana Archives and Records Administration, as the keeper of the state's official records, includes census and naturalization records for families, selected medical, military and criminal records, records of land ownership, maps, blueprints and photographs. This could a helpful resource for genealogists and historians.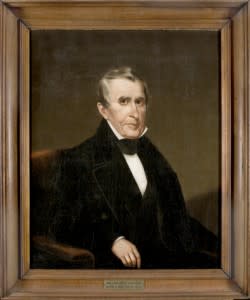 In addition, during this bicentennial year, the State of Indiana is commemorating its 43 founders throughout the state during the month of June with a series of talks representing each delegate. On June 10, 1816, these 43 special men, including William Henry Harrison pictured above, gathered in Corydon, to draft the state's first constitution. The ceremonies will last for approximately one hour and are open to the public.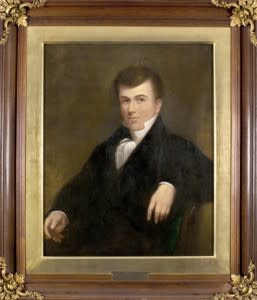 Jonathan Jennings is also among the state's 43 founders. The IARA events honoring the State's founders are an officially endorsed bicentennial legacy project of the Indiana Bicentennial Commission.