Get ready because Santa and his Elves will be arriving on the Purdue Boilermaker Special Train this Saturday at Wolf Park!
Wolf Park is hosting a holiday party for the wolves (and for kids too!) from 1-4 p.m. on Saturday, December 21. The public is invited to watch as the wolves and foxes receive their specially decorated trees donated by Matterns Pine Ridge Nursery. The tree will be covered with edible treats the wolves enjoy, such as hot dogs, spam and spaghetti. Afterwards, watch the other Wolf Park animals as they open their presents filled with special treats!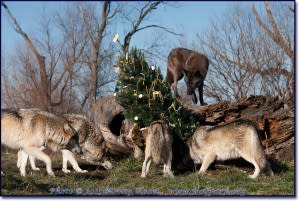 Children are invited to help put food ornaments on the wolves' tree starting at 1:00 p.m. Following the presentation of the tree for the wolves, children are invited to go indoors and see Santa, who will be giving out gifts and taking requests. There will be guided tours throughout the afternoon and warm drinks for all.
Do all of your holiday shopping for the animal lovers on your list while you are here. The gift shop offers many gift items for $20 or less! For those in need of last minute ideas, visit the Wolf Park online store.
Want to go on a guided tour in the afternoon and then return for the nighttime program? Well you don't have to pay admission twice! The "combo ticket" will get you into both sessions for only $14 for adults and $10 for kids ages 6-13. Members and kids 5 and under are FREE. Just ask for the combo ticket when you arrive between 1 and 5, and show your receipt at the gate when you return for Howl Night at 7:30!
SPECIAL HOLIDAY HOURS: Wolf Park will be OPEN Thursday, December 26 for guided tours from 1-5 p.m. to accommodate family and friends in town that week who want to see the wolves!!