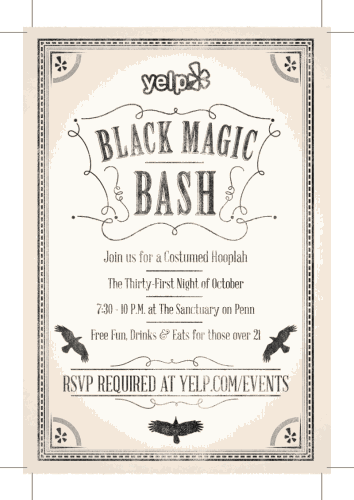 Yelp Indy is creaking open the doors of The Sanctuary on Penn for a Gothic Halloween party that is certain to send a chill up on your spine. Think craft cocktails, Hitchcock's "The Birds," nostalgic candy, Talbott Street performers, music, palm readers and a burlesque troupe. Experience thirty local businesses all for the price of none. **Costumes and characters are encouraged!**
**Before you read on, please note that Yelp's Black Magic Bash is a 21+over party and RSVPing is required, click here to make the magic happen!
The kicks: Our Motivation For Change (OMFC - music) ePottingShed Talbott Street Know No Stranger Rocket Doll Revue Burlesque Troupe
The eats: Greek Islands Restaurant Pocaddio Grill Nameless Pizza Ruth's Chris Scribble Food Truck
Extra sweet businesses to remember when planning your own Halloween shenanigans:
Frittle Candy (nostalgic candies perfect for adult trick or treating - think: coconut and peanut brittles!) Best Boy Co. (caramel fudge and apple bar) Wyliepalooza Ice Cream Emporium (new ice cream business found in Irvington) 240Sweet (gourmet marshmallows/S'More Bar)
The drinks: Darrin's Coffee Company Easley Winery Wilks & Wilson Syrups Flat 12 Bierwerks Sun King Brewery Redd's Apple Ale Fountain Square Brewery Sailor Jerry Makers Mark Pinnacle Vodka Cruzan Rum Jagermeister Big House Bourbon
Now that you've RSVP'd, it's time to find a costume! For a list of local businesses offering everything from hippy garb to face paint that'll achieve the perfect witch face, click here.