As a Butler student, I'm lucky enough to have easy access to everything Indianapolis has to offer. My personal favorite area of Indy is Broad Ripple Village, which is, on a bad day, a 15 minute drive from campus. The Broad Ripple Village Association's website says it best: "diverse street life, quaint shops, and hot night life are set to the back drop of public arts, graffiti murals and beautiful greenways. Art galleries, sidewalk cafes and fabulous restaurants complete the village scape."
There is truly something for everyone in Broad Ripple. Having lived in Indianapolis my entire life, I've spent a fair amount of time exploring the Village. I've put together my list of 10 not to miss restaurants, bars, clubs, shops and recreational activities to hopefully at least provide you a starting point in your journey through Broad Ripple.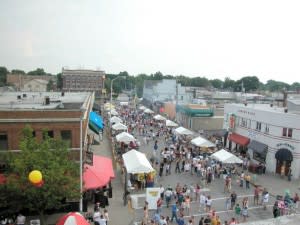 Yats- A taste of New Orleans right in Indy! This restaurant has a variety of delicious Cajun creole dishes. My personal favorite is the black beans and caramelized corn. Get it with cheese, onions and sour cream!
Bazbeaux- What's not to love about award winning pizza? Any of their specialty pizzas are delicious, or you can create your own, with a chance to choose from close to 40 traditional, exotic, and premium toppings!
Brugge Brasserie- As a self-professed Europe lover, I died and went to heaven the first time I went to this Belgian restaurant. The frites, mussels, crepes, and beers are enough to keep even the biggest of eaters satisfied. I recommend the Harvey, a blackberry beer with a large side of frites. Don't forget the dipping sauces- there's 12 to choose from!
Shalimar- I suggest wearing sweatpants if you decide to come to this Indian restaurant's lunch buffet. I always leave stuffed to the brim, but the stomach ache is worth it. Shalimar is truly a hidden gem in Broad Ripple, hidden in a strip mall, but it is certainly not one to be missed. They also have a dinner menu should you choose not to indulge in the buffet.
Ripple Bagel & Deli- If I could begin to get a grasp on their extensive menu, I'd recommend a bagel sandwich to get. Their overwhelming menu has over 100 options to choose from. Some of them have Indy themes- try the Butler Blue II, the Victory Fielder or Peyton's Pigskin. If you're feeling brave, you can order a lottery bagel, where the sandwich makers choose an option off the menu at random.
 Casba- If your college days are over yet you still have a desire to party in a fraternity basement, this bar is for you! I'd like to think Casba is slightly classier than a frat house, but it provides a unique experience, as you have to go downstairs to experience all the live music, dancing and drink specials this bar offers. 
The Monon Trail- There has to be someplace to work off all the delicious food I've been recommending right? The Monon Trail offers over 15 miles of paved running, biking, walking, roller blading paths. The best part- it runs right through the heart of Broad Ripple.
Pitaya- What kind of list would this be if it didn't include at least one place to shop? I love Pitaya because their store is organized by color. If there's a clothing item I know I want in blue or green or gold, I go here, because I know I'll be able to find what I need quickly and because I know they'll have all of the latest trends.
Delicia & La Mulita - Delicious Latin food served two ways in the same place. If you're looking for a fancier dining experience, check out Delicia. If a much more casual fare is your cup of tea, check out La Mulita.
Public Greens - An urban, farm-market inspired cafeteria and microfarm with an unprecedented community focus. A one-of-a-kind for profit restaurant, Public Greens dedicates 100% of its profits to The Patachou Foundation, which feeds at-risk and food insecure children in the Indianapolis Public School system. Situated at the head of the Monon Trail, Public Greens employs a dedicated farmer for the block-long grounds, fully planted with crops and edible flowers used in the restaurant and in the feeding program of The Patachou Foundation.