Yeast or Cake, with Filling or Sprinkles. No matter your preference, Indiana has a donut shop for you! We've built a list of 20 of the best donut shops in Indiana.
This list was part of The 20 IN 20. Even though 2020 is behind us, you still have to see our 400 must-see, must-do Indiana experiences! Find images shared by visitors and the full donut shops list below!
Travel is permitted, and businesses are allowed to be open, but it is still vital to wear a mask and practice physical distancing as we continue to fight COVID-19. Face coverings are required in Indiana, so be sure to mask up when distancing is not possible while traveling around Indiana. Please take precautions, plan ahead, and follow CDC and local guidelines.
Indiana Donut Shops

Titus Bakery is a third-generation, family-owned business with a top-notch reputation of making amazing donuts. Beyond its award-winning donuts and pastries, Titus has expanded its selection of treats to include homemade pies and cakes. Westfield is home to the second Titus Bakery location.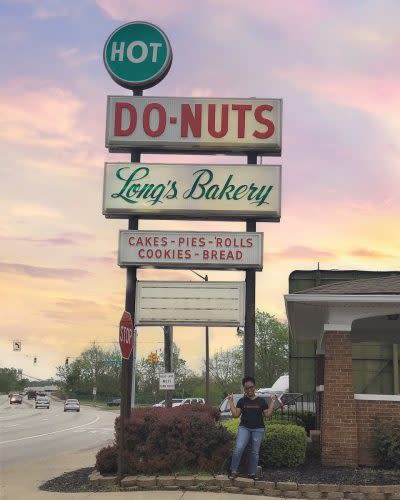 Photo by @explorebel_ on Instagram
Long's is an Indianapolis staple, baking up fresh donuts for over 60 years! Customers far and wide really come to Long's Bakery for its world-renowned yeast donuts. This classic institution serves up a variety of treats beyond just donuts, including danishes, fritters, and cakes. The best time to arrive is about 7:30 am as the line won't be too bad. Don't worry though, as social distancing guidelines are strictly followed. Please keep in mind that Long's Bakery only accepts cash.

This is one bank that's actually open on Sunday! Donut Bank is widely known in Evansville, with 9 locations throughout the tri-state area. Some of the top donut selections include the Cherry Bismark, Bavarian Bismarck, Coconut Long John, and Vanilla Cake. Its coffee and espresso drinks are known to be yummy also!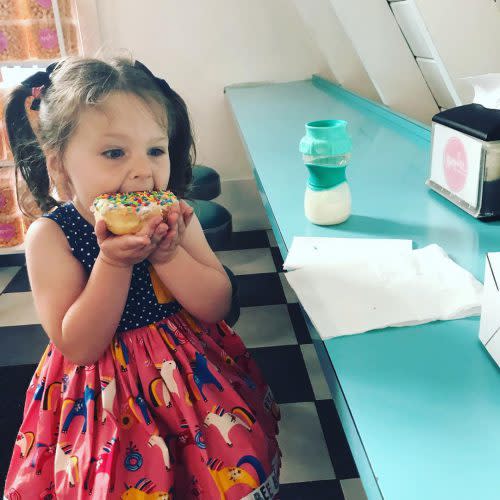 Photo by @kandbshepherd on Instagram
Lafayette is an awesome place to visit in the fall, and Mary Lou Donuts is part of the reason why. Not only does this donut shop feature a cheery dining experience, but it also has a special donut truck that can be found around town on special occasions! Mary Lou Donuts has all the favorites, from topped donuts (including sprinkles and nuts!) to yummy fruit-filled favorites. Check Mary Lou's donut truck schedule here.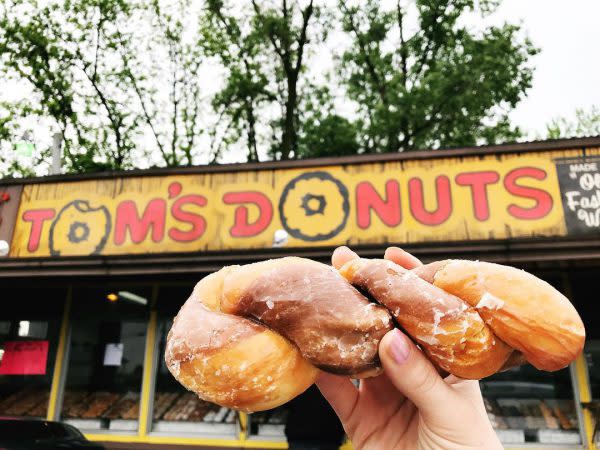 Photo by @kelliloraine on Instagram
Tom's Donuts loves to push the boundaries, so you may find new and exciting flavors on your visit! We recommend the Summer Raspberry Jelly Ball. Luckily, Angola is home to two Tom's Donuts locations. The original can be found on N Wayne St. while the newer bakery is nestled along Lake James. Is it really lake life if there aren't donuts involved?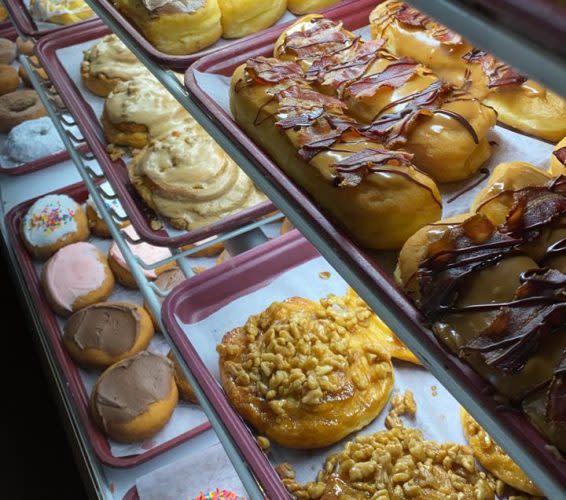 Concannon's Bakery has become famous for its delicious donuts! Opened in 1959, Concannon's Bakery quickly grew and needed a new facility by 1978. Due to the immense popularity of its homemade donuts, Concannon's has had to expand four times since then. Its expanded bakery cafe now features new treats like fine chocolates, coated pretzels, and gourmet popcorn.

A young Amish couple began Rise'n Roll in 2001 by selling baked goods from their front porch. The first storefront location opened in 2004 without using any electricity or refrigeration, meaning that everything was prepped by hand. New owners bought the company in 2009, expanding the bakery to now include 13 different locations throughout Indiana. Rise'n Roll still does things 'the old fashioned way,' with its signature breakfast item being the Cinnamon Caramel Donut. You must also check out the Peanut Butter Filled Donut that's made with Amish made peanut butter!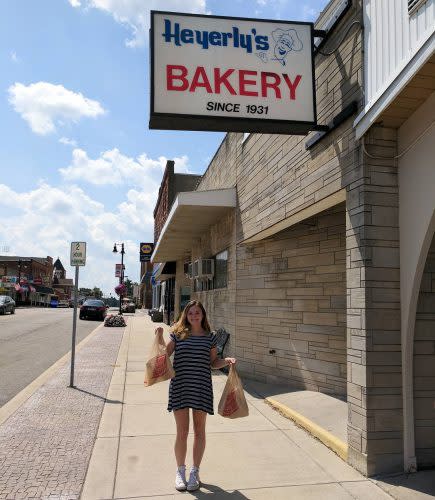 Photo by @nikoleclarke on Instagram
A drive down Jefferson Street in Ossian leads you to the unassuming Heyerly's Bakery. While it may not seem like much at first, upon entry, you'll be greeted with a fresh aroma that might be strong enough to make your stomach growl. New owners have done wonders with this almost 100-year-old bakery, and it's no secret why locals and tourists alike keep coming back for more.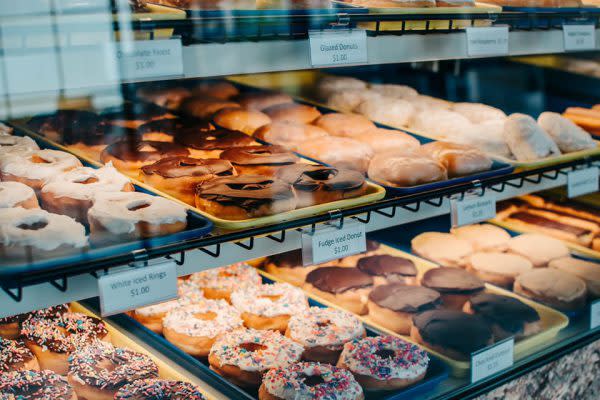 H&R Bakery now has an awesome new building on the square in Salem. Donuts continue to be its signature product, but H&R Bakery is known for adding new and exciting treats. Be careful, as the donuts holes can be seriously addicting. While in Salem, plan a visit to the  John Hay Center.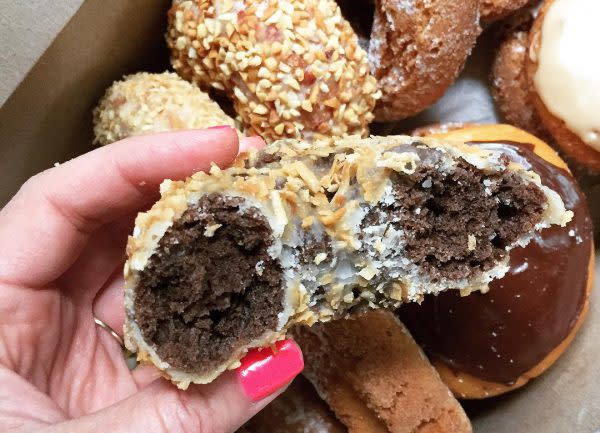 Photo by @dessert.oasis on Instagram
It doesn't get much better than a donut run on a Saturday morning to Munster Donut. Sweet and tasty is the best way to describe its Chocolate Bavarian and Chocolate Angel Cream donuts.  Due to COVID-19 restrictions, Munster Donut is only offering curbside pick up through phone orders at this time.
Schmidt Bakery sold 160,716 Cherry Thing-A-Lings in February 2020!
Schmidt Bakery opened in 1963, initially selling both pizza and donuts. Now a full line bakery that no longer offers pizza, its donuts still steal the show. During select happy hour days, its delicious donuts are only 50 cents!  Schmidt Bakery also whips up Cherry Thing-a-Lings once a year in February as a treat to its guests.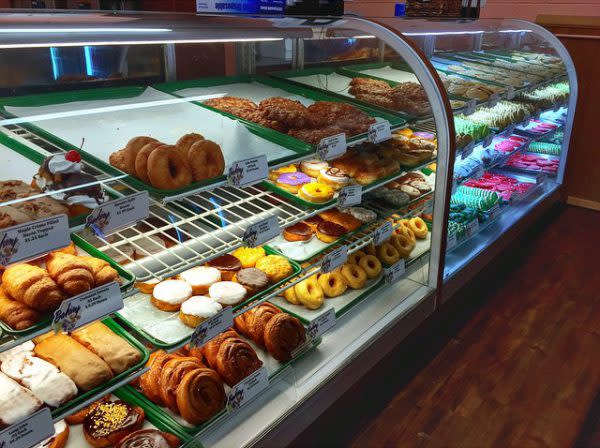 Photo by @gavindaniel on Instagram
It's said that no one has ever had a bad morning after grabbing a donut at Magic Morning Bakery. While we can't guarantee that type of result, its freshly baked donuts and pastries will definitely put a smile on your face! Donuts, along with brownies and cookies, are baked in house daily.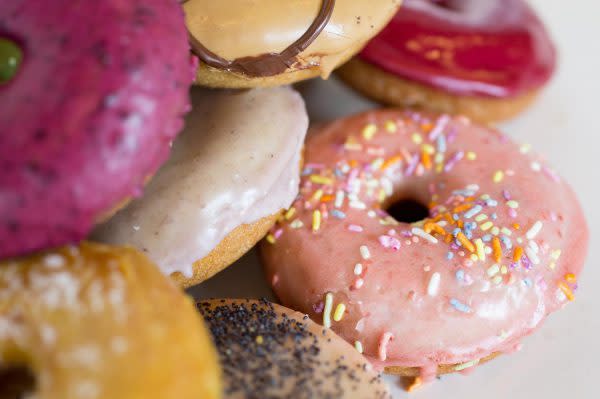 Rainbow Bakery is Bloomington's only all-vegan bakery, specializing in allergen-friendly and plant-based treats. Don't let that fool you because its donuts are still amazingly sweet and flavorful! A modern folksy charm can be felt as soon as you step in, which may make you never want to leave. Rainbow Bakery even sells gluten-free items that are made at a separate workstation.
There's more than Covered Bridges in Parke County.  Wheel House Donuts is the brain-child of two Canadian natives who love donuts and wanted to open a unique shop. Bask in the experience by creating your own custom donut. First, pick between chocolate, caramel, maple, vanilla, or strawberry icing. Next, add a topping! Kids might choose Fruity Pebbles or Cinnamon Toast Crunch while adults might decide upon Oreo or Reese's Cups. Wheel House Donuts also has great coffee, crunchy salads, and tasty sandwiches.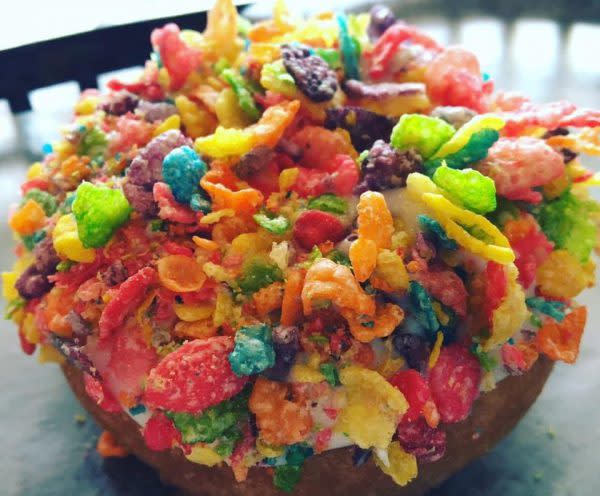 Photo by @wagonpilotdad on Instagram
In the revived downtown of Pendleton sits one peculiar, yet oh-so-fantastic donut shop named Quack Daddy Donuts. With over 100 total combinations, Quack Daddy Donuts, will not disappoint fans of the fried confectionary. Quack Daddy, just like Wheel House above, allows visitors to customize each order. When entering Quack Daddy Donuts, patrons take a card with a grid and design their donut. The seventeen topping options include options like bacon, coconut, M&M's, and peanut butter drizzle.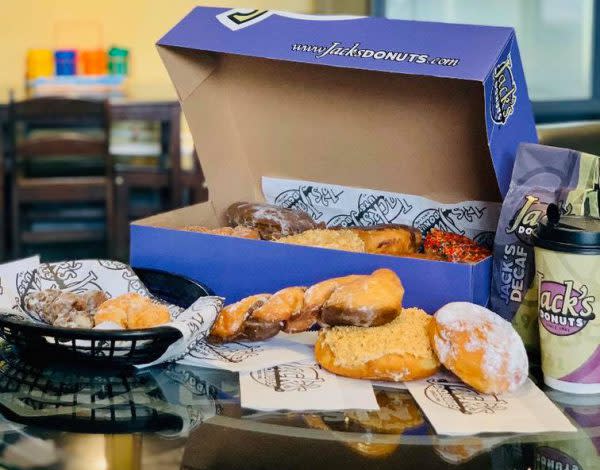 Jack's Donuts is one of the most iconic donut brands in Indiana! Jack and Ada Marcum opened the first Jack's Donuts in 1961 after they bought a New Castle shop. Three generations later, Lee Marcum decided to franchise, which means there are now 25 Jack's Donuts throughout Indiana. However, nothing can beat the nostalgia of the original. From a classic cake donut to a bavarian cream-filled donut, the flavor can't be understated. Carry-out, drive-thru and delivery are available at most Jack's Donuts locations for visitors worried about social distancing.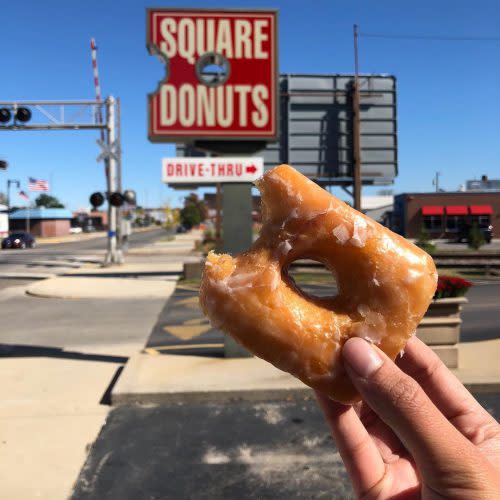 Photo by @tmanaolo21 on Instagram
Terre Haute can't be experienced without a morning visit to Square Donuts. Just like its name indicates, the donuts are uniquely square and surprisingly fluffy. College students, locals, and visitors all keep coming back to Square Donuts, and we think you will too after your first visit in 2020.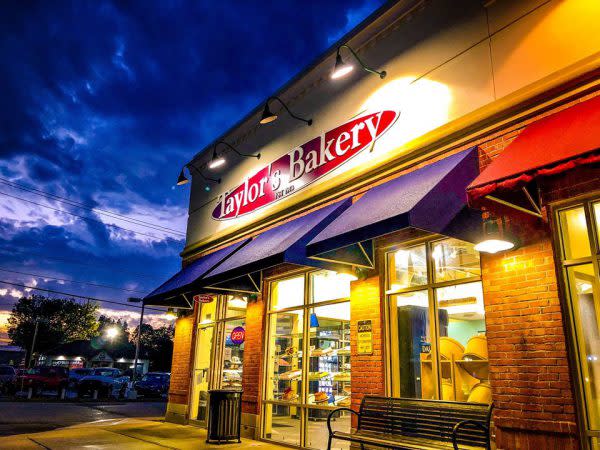 Established in 1913, Taylor's Bakery is celebrating its 108th year of operation. Drew and Matt Allen, owners of this family-operated bakery, specialize in donuts, cookies, pies, and specialty cakes. Donut enthusiasts will find a wide selection of both cake and yeast donuts at Taylor's. See all of its products here.

Adrienne and Co. started almost 50 years ago in New York when Myra started baking cakes for hard-working New-Yorkers. Her daughter, Adrienne, trained for years to follow in her mother's footsteps and eventually opened up Adrienne and Co. in Jeffersonville. There are now four locations, with all of its donuts produced at Adrienne and Co. Donuts and Desserts in Floyds Knobs. Some of the delicacies include Glaze Rings, Cinnamon Tiger Tails, Red Velvet Cake Donuts, and Maple Bacon Fritters.
Brothers Doug and Greg Fingerhut are seventh-generation bakers with their family tradition dating back to the 1700s in Bohemia. The brothers still whip up mouthwatering goods in the form of donuts, cookies, and specialty cakes. Fingerhut's version of the Pączki, a filled donut that originated in Poland, is one of the best you will ever eat.