What do a Jail, a Castle, and a Silo have in common? You guessed it, they are all places you can have an overnight stay in Indiana! While a classic hotel accommodation is great, the Hoosier State has a collection of unforgettable lodging options that you must soon experience.
This list was part of The 20 IN 20. Even though 2020 is behind us, you still have to see our 400 must-see, must-do Indiana experiences! Find images shared by visitors and the unique sleeps list below!
Unique Sleeps in Indiana

Patoka Lake Winery boasts one of Indiana's premier tasting rooms with over 20 wines to choose from. However, it's more than just a winery, as the lodging accommodations are one of the coolest around. Attached to Patoka Lake Winery is a pair of two-story Silo Suites decked out with an array of amenities. Before you ask, yes, the suites are round! Book your stay here.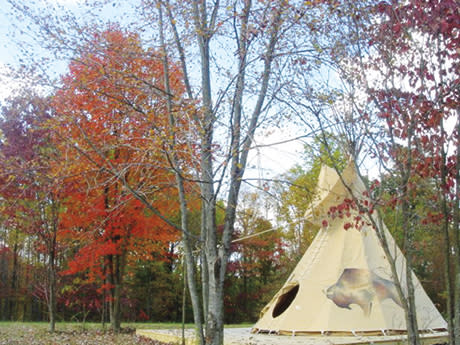 For an unforgettable rustic camping experience, Tipis at Sleeping Bear Retreat won't disappoint. Each Tipi has four cots with access to picnic tables, shelter house, charcoal grill, and firewood. Its location among 50 beautifully wooded acres in French Lick makes Sleeping Bear Retreat the perfect weekend getaway. There's not much more to it than that! Click here to begin making your reservation.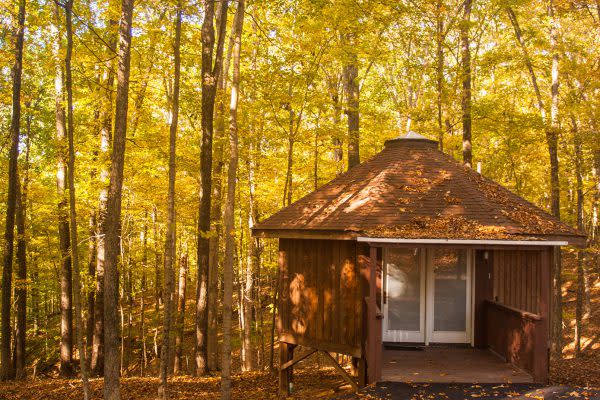 The Tibetan Mongolian Buddhist Cultural Center in Bloomington maintains three fully-equipped cottages designed to mimic Mongolian yurts, all furnished with modern conveniences for cozy stays on its wooded campus. An overnight is perfect for anyone seeking solitude and reflection. The Tibetan Mongolian Buddhist Cultural Center is currently closed for COVID-19 precautions but may open later in the year. Call ahead for any bookings.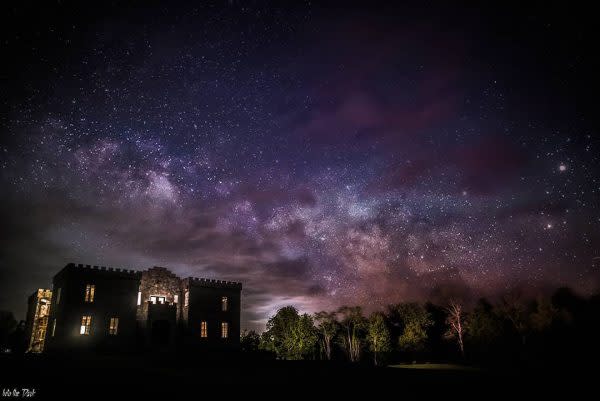 Photo by @fulkrock on Instagram
Bunk like a King or Queen at Clayshire Castle! Located in the tranquil countryside of Bowling Green, this medieval-style bed and breakfast has so many things to do on its property. Take a walk in the gardens, soak in the hot tub, or get immersed in a good book. Visitors can even try on a medieval costume to get into the spirit! Inkeepers Lord Douglas and Lady Josephine treat Clayshire Castle guests like royalty and are ready to help plan your relaxing getaway. Book your luxurious stay here.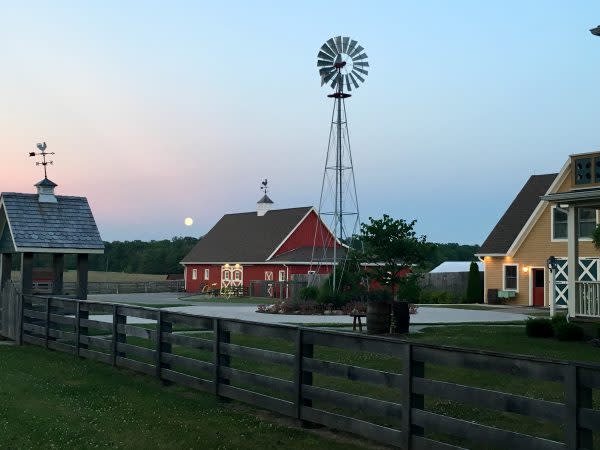 The Joseph Decuis restaurant serves up one of the best farm-to-table meals in the entire state. Six miles down the road, accommodations can be found on the Joseph Decuis Wagyu Farm. The Joseph Decuis Farmstead Inn includes a restored 1884 Farmhouse, Carriage House, and Barn. Guests earn their keep by helping with optional farm chores before bedding down in restored historic digs that date back to 1884.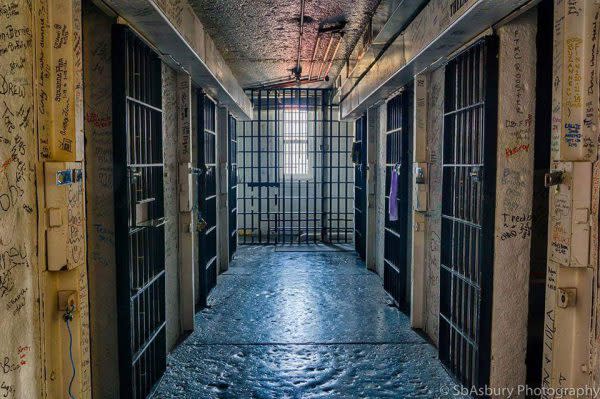 Most people don't overnight in jail by choice. You can here!  The Old Jail Inn in Rockville offers five cell-block rooms in the building that housed the Parke County Sheriff's office and jail from 1879 to 1998. Choose from the Dillinger, Al Capone, Thelma & Louise, Elvis, and Jesse James cells. If a jail cell isn't your thing, try one of the inn's suites with more privacy and comforts of home that still have the barred doors. Reserve your comfy night behind bars at the Old Jail Inn.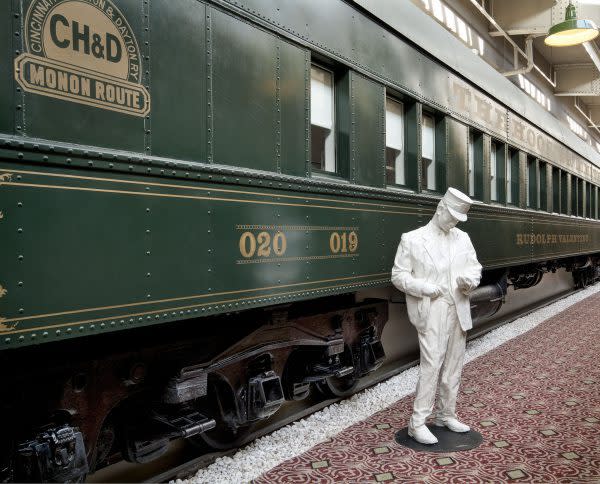 Crowne Plaza in Downtown Indianapolis was originally America's first Union Station, which was built in 1888. Each space in the hotel has been converted into upscale accommodations and the station's Grand Hall now serves as a ballroom with 60-foot ceilings and 3,200 square feet of original stained glass. Thirteen 1920s Pullman train cars have been converted into guest rooms named after influential people of the past. The train cars hold two rooms each and provide one of the most unique lodging experiences possible. Book your stay at Crowne Plaza Downtown Union Station. 

This is your second chance to stay in a train car! Riley's Railhouse is housed in a New York Central Freight Station that was built in 1914. The Railhouse has since been restored and offers five different rooms for guests. Among these is a New York central Boxcar re-repurposed into two separate rooms. Railfans will also be in heaven while staying in the Queen Ann Caboose, a luxury caboose with Victorian styling.  Check availability of Riley's Railhouse here.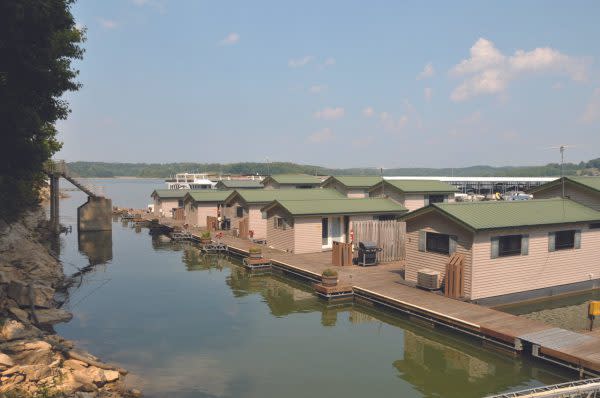 Patoka Lake is the only place in Indiana with floating cabins! Choose between a 2 or 3 bedroom cabin for this memorable on the water experience. Each cabin has its own 12' x 20' deck, gas grill, deck furniture, and private boat slip. Learn more here.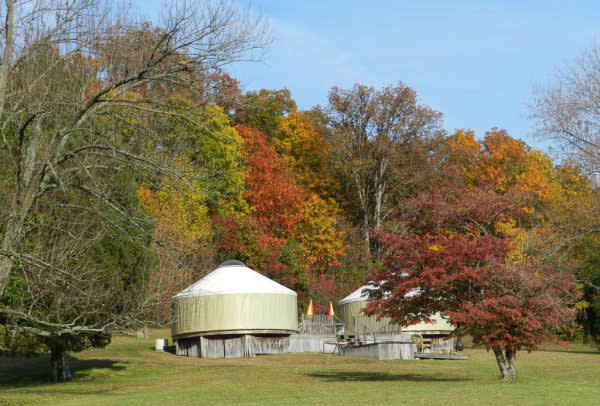 Mary Rose Herb Farm can be best described as a hobby farm. It hosts overnight guests and produces craft products that are sold online. Two eccentric yurts are available for rental on the property. Each yurt has two double beds with linens, heating/cooling, fridge, microwave, and more. A shared deck separates the units and a Japanese style soaking tub is also available separately for reservation. Check available dates here.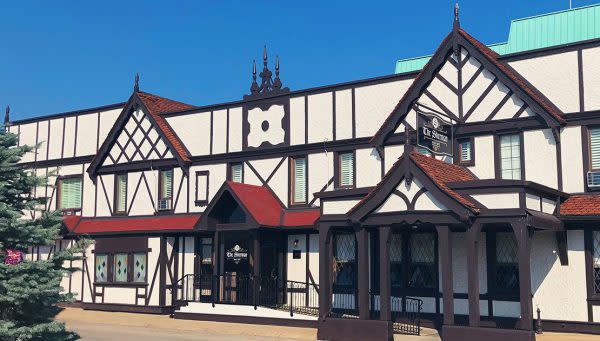 One of the oldest buildings in Indiana, The Sherman (formerly the Sherman House) has been a unique dining and lodging destination since 1852. The recent renovations strengthened the historic charm of this German Tudor-style building. Updates also brought the additions of the Black Forest Bar and Sherman Biergarten, both eclectic in style. Book a room at The Sherman here.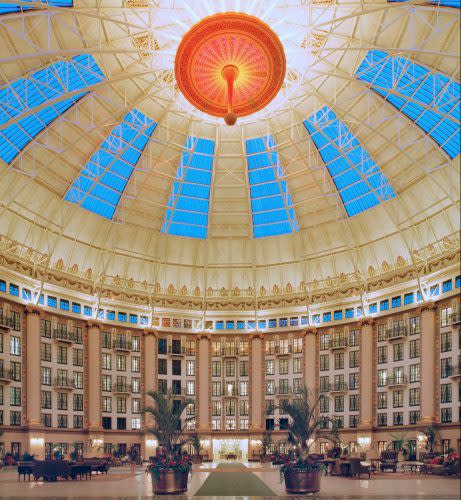 French Lick Resort is made up of two opulent hotels - French Lick Springs and West Baden Springs. Both have been beautifully and carefully restored to their original grandeur, yet are completely welcoming to today's travelers. French Lick Resort is full of fun with a casino, world-class golf courses, spas, and indoor/outdoor pools. The exquisite West Baden Springs Hotel was once known as the "Eighth Wonder of the World" for its breathtaking six-story free-span dome. If you want the full experience, a historic trolley takes you back and forth between the two incredible hotels. Learn more about a French Lick road trip.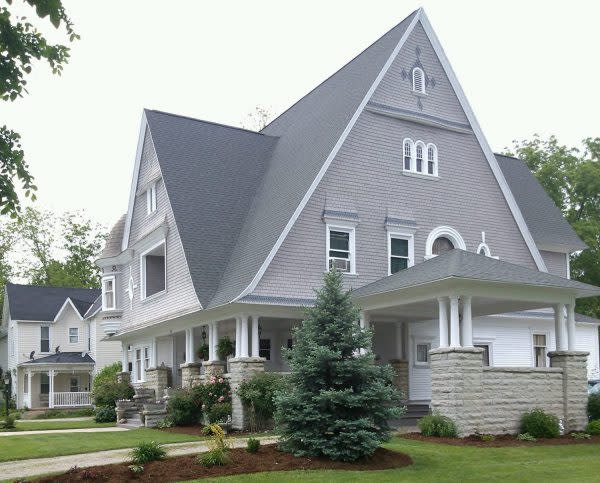 Located in Portland, the Ferris House is a new for 2020 Bed and Breakfast! The renovated 1895 Queen Anne Victorian home is being renovated by owners Brad and Pat Daniels. Double porches and other relaxing amenities will be available for guests to rewind and forget about all the worries of the world. The Ferris House is planning to open in September. Check its Facebook page for more information.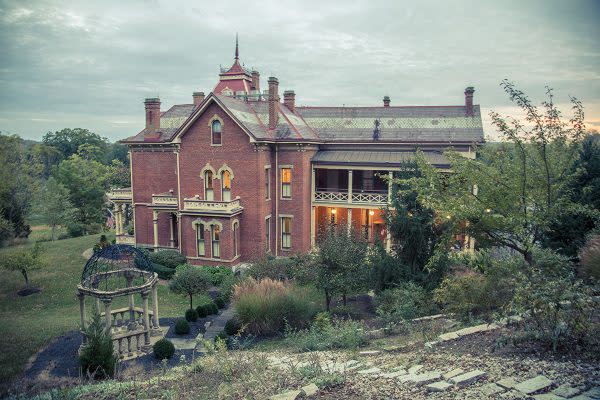 In the beautiful old river town of Vevay, there's a haunted mansion with a lot of history. In fact, you can actually spend a night in this spooky (and awesome) Bed & Breakfast! Built in 1874, Schenck Mansion Bed & Breakfast rises gloriously over the city with its Italianate and Second Empire architectural styles. It sat empty in the early decades of the 20th century but opened to the public in 2000. Schenck Mansion has five romantic guest rooms, including a 3-room suite, that are each furnished with antique and reproduction furniture.

Grant Street Inn is Bloomington's signature boutique hotel, providing a restful and retreat-style backdrop. The property dates back to 1883, when the Ziegler House was built by Dean of the Indiana University School of Law. A century of history followed before Grant Street Inn opened successfully in 1991. There are now 40 luxurious rooms inspired by the building's history but tailored to modern-day comfort. Rooms range in style from victorian-chic to modern, old-world elegance. Find your favorite and keep coming back again and again! Book your stay at the Grant Street Inn.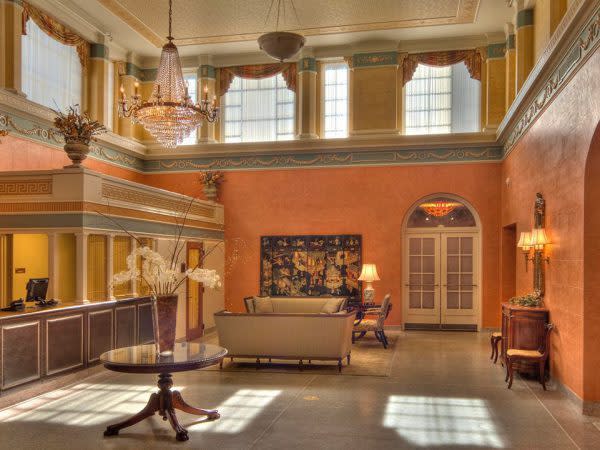 Downtown Wabash is home to a magnificent and historic hotel, Charley Creek Creek Inn, which turns 100 years old in 2020.  Opening in 1920, Charley Creek Inn fell into disrepair but was restored in thanks to an effort led by the late philanthropist Richard Ford. The restoration has "restored Charley Creek Inn to its former glory," where "timeless elegance meets small-town luxury." The hotel features 30 guest rooms (including deluxe suites, full suites, and junior suites), meeting spaces, private dining rooms, the Big Four Ballroom, the Cloud Club (on the roof), the Wine and Cheese Shoppe, and the Ice Cream and Candy Shoppe. Begin your reservation. 

Heritage Farm is a working alpaca farm with over 50 alpacas you can interact with! It offers five lodging options, including a modern guest house. For a pioneer experience, check out the 1850's authentic log cabin. There are also goats, a horse, and chickens on the farm. Heritage Farm welcomes you to help with the daily chores! Learn more about the farm here.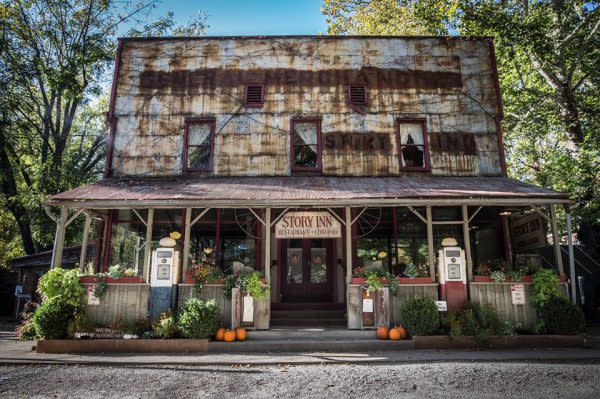 Have you heard about the tiny town in Brown County? That would be Story! The community dates back to 1851 as a lumber town founded by George Story with a church, grain mill, blacksmith shop, two general stores, a post office, butcher shop, and some homes.  The entire town was purchased by Rick Hofstetter in 1999. Today, the centerpiece of Story is certainly the beautiful Story Inn. There are now 18 original rooms or cottages that were once homes or working facilities for Story's original residents. Each is decorated with Victorian-era furniture, photos, and other antiques. Find the perfect room for you here.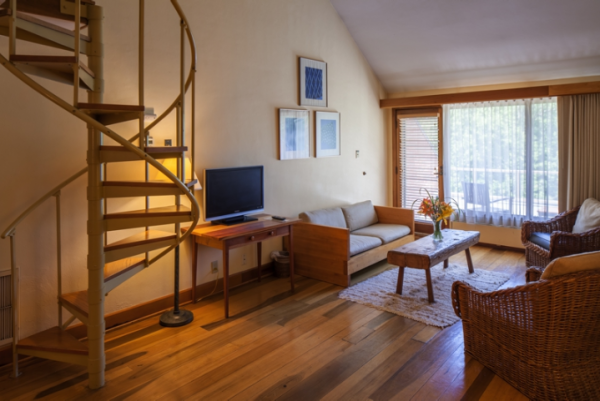 New Harmony was established as a Utopian townin 1814 by the Harmony Society. Scientists, scholars, and more moved there in hopes of living in a place where education and social equality would be paramount. The charming town is full of history and New Harmony Inn Resort & Conference Center is the perfect place to stay when checking it out. The Inn is surrounded by gently rolling hills, towering trees, and tranquil ponds. There are 90 rooms available and four guest houses with old-world charm. Reserve your stay in Utopia.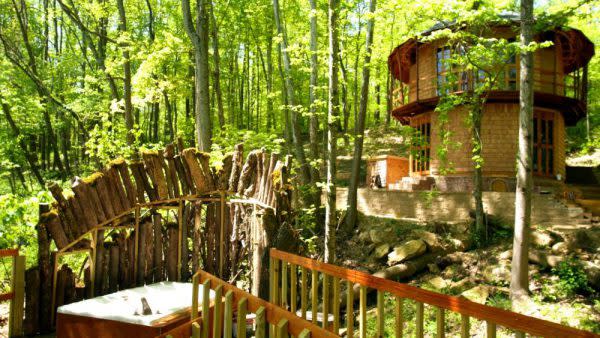 Lost River Hostel is the "place for people to explore and create new ideas and dreams." This hostel in the woods is something like a mix between camping and a hotel. The main building is a farmhouse built in 1868 with a poplar log foundation, and the guesthouse is a newly constructed round building in the forest. Picturesque woods surround Lost River, making it perfect for peaceful walks, campfires, and family mealtimes. You can come as a guest, volunteer, or even staff. Book a stay at Lost River Hostel here.