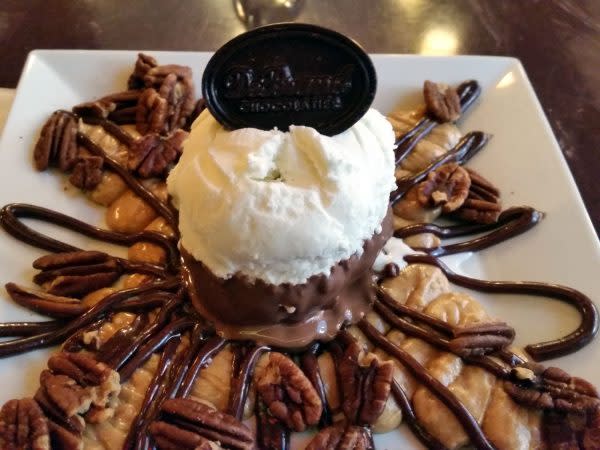 As a parent, I know how important stopping for ice cream is in the life of any child. It's special time for the family to bond or a treat for a job well done. While many places serve up ice cream specialties, it's so much more memorable when the owners go above and beyond the normal offerings and provide a "wow" experience like no other. So when I have my kids begging to come back to certain places I know that I've hit the jackpot on the "Best Parent Ever" award so I thought I would share a few of those places that we've discovered.
Ivanhoe's Restaurant, 979 S Main St, Upland  Website   Facebook
I have been hearing about Ivanhoe's for years and hadn't had a specific reason to head to Upland, Indiana, but once we realized it was just a few short minutes off  Interstate 69 we added it to a recent trip. The town of Upland is fairly small but don't be surprised to find the parking lot of Ivanhoe's filled with cars from all over the area. They've built up quite a reputation over the past 50 years and it's well deserved. The main reason for taking the drive to Ivanhoe's is their giant list of ice cream sundaes and shakes. Once you open the menu you will be blown away by their expansive list of 100 flavor combinations for sundaes and 100 for shakes. We actually had to take time to study the menu to make sure we didn't miss anything. With flavors like chocolate peanut pretzel, pineapple upside down and sweet cream caramel, you will have a hard time selecting. So we ended up getting mini sundaes and we will warn you, even the mini is pretty big. We loved Ivanhoe's and will definitely make this stop often.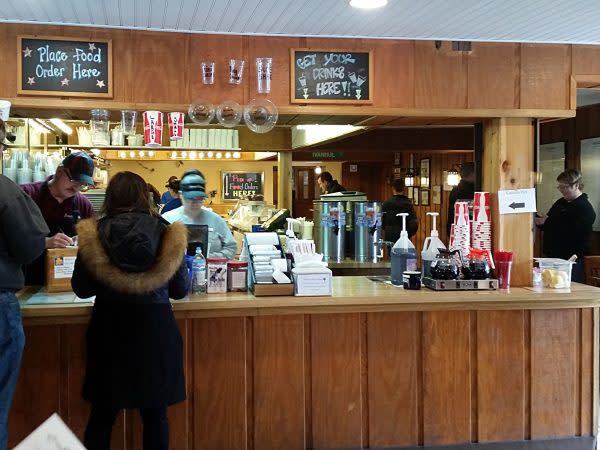 Make sure you study the menu before you get to the counter. There are so many options for shakes and sundaes.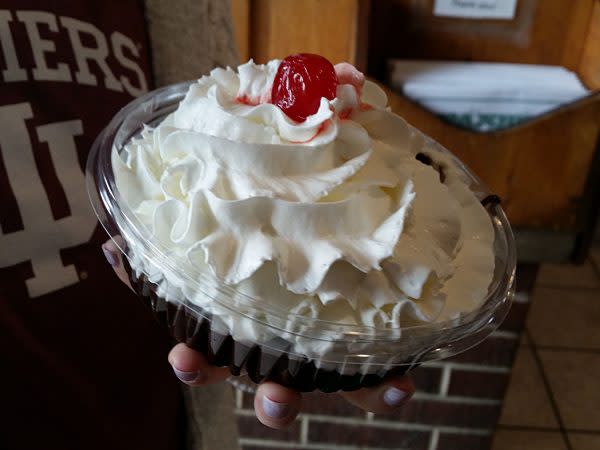 Yep, this is a mini sundae! You have been warned.
---
DeBrand Fine Chocolates, 4110 W Jefferson Blvd, Fort Wayne Website  Facebook
Okay, I know what you are thinking, this is a chocolate shop so how does it fit in with ice cream? Well, they happen to serve up one of the most decadent and rich sundaes that you could ever imagine. The marvelous team at DeBrand has taken the sundae experience to a whole new level and may I suggest you plan to share. The ice cream sits in a chocolate bowl (milk or dark chocolate), made in-house of course, and then it's drenched with your choice of toppings that include caramel, milk chocolate, dark chocolate, peanut butter or tart raspberry. You can also add pecans or roasted almonds and it's adorned with a chocolate disk stamped with DeBrand at the top. Both of my kids and I shared this deliciousness although secretly I wished I was able to eat it all myself because I didn't want the experience to end. While their price points are higher than other ice cream shops, you must realize that this is as good as it gets in the sundae world and definitely a special treat. There are several locations in Fort Wayne so click through the website link for details on each.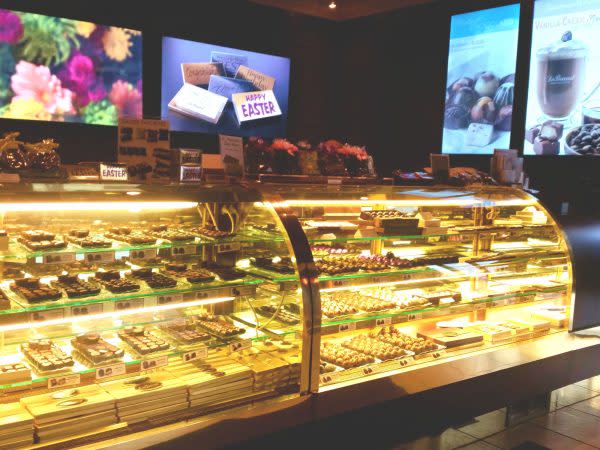 Feel free to pick up some truffles or chocolates to go.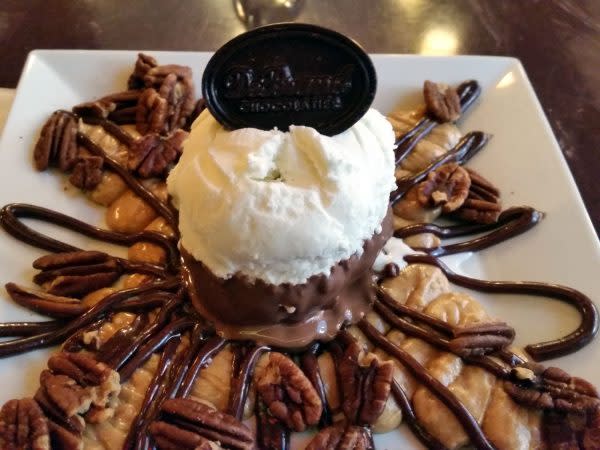 This sundae is not only absolutely delicious, but it's also a work of art.
---
Yummi Bunni, 123 W. Wayne St., Fort Wayne  Facebook
Yummi Bunni is the newest ice cream place to take Fort Wayne by storm. The owners have developed the most genius idea ever of creating an ice cream sandwich made out of glazed doughnuts and I must say that the result is nothing short of heavenly. The best part is that you can completely customize your bunn. Choose your favorite ice cream flavor, place it on a glazed or unglazed doughnut, plus they will roll the sides in other fabulous add-on toppings to kick things up another notch. They also have some suggested combinations for those of you who need help. Do not ask about calories - just sit back and enjoy this morsel of goodness. My children are constantly begging for their next opportunity to visit Yummi Bunni and if you are considering a special trip to the Fort for this treat, we say go for it and we will likely see you in the line.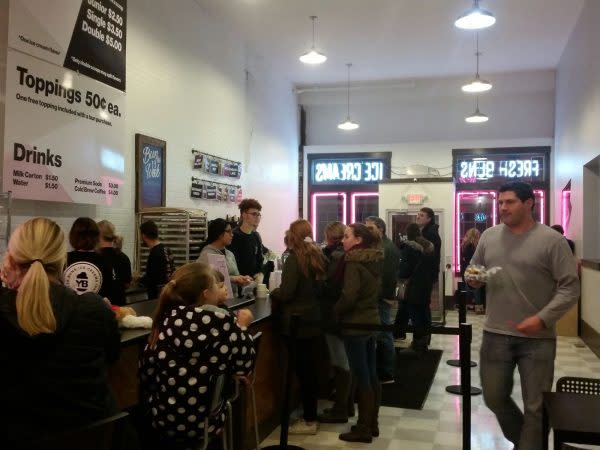 Why didn't someone think of ice cream sandwiches made of doughnuts sooner?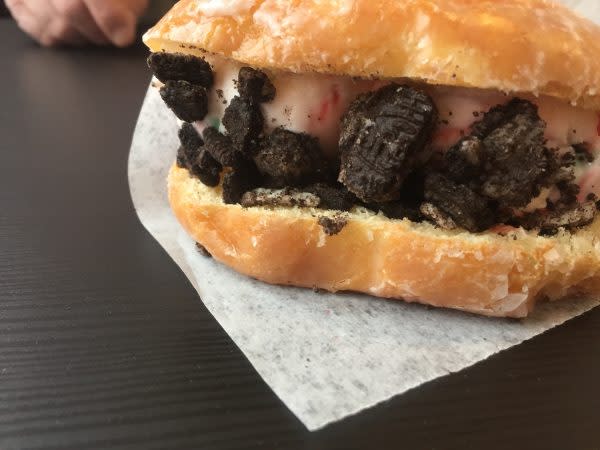 Photo credit: Fort Wayne Insider Blog
For a list of the Best Ice Cream Shops in Indiana click here.