Chocolate lovers, rejoice! From truffles to turtles and everything in between, Indiana has some of the best places to indulge in chocolate delights. From small town experiences to large scale operations, I've compiled a list of five of my most favorite chocolate and candy shops that are a must-stop on any visit. These shops offer experiences as spectacular as the chocolates and candies that they sell, but no worries, even if you can't make it to their doors they each have online ordering available as well.
In alphabetical order.
---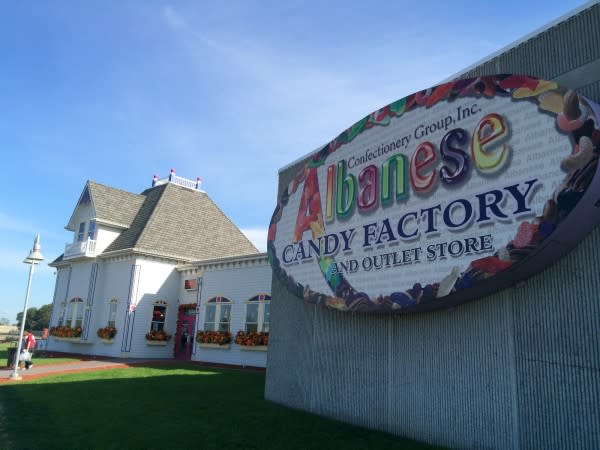 You need only take a few steps inside the doors before being offered your first sample by a greeter at this spectacular candy shop in Merrillville. The store is bright, whimsical and jam packed with every type of candy imaginable in every size, shape and flavor.  Albanese is known for its world famous gummies that they've been making for the past 30 years, but one visit here will have you craving many of their chocolate creations as well. The best part is that you can sample candies before you purchase. I tasted their dark chocolate peanut butter peanuts, milk chocolate amaretto almonds and my new favorite peanut butter caramel corn. My all time favorite are the chocolate covered gummies. Heavenly! Stop by their factory shop or go online and order your favorites.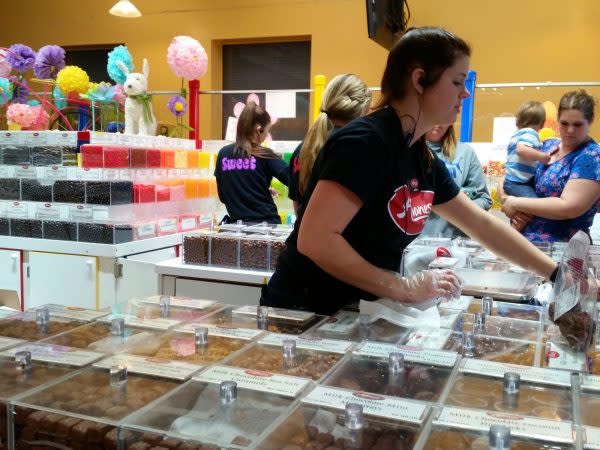 The staff at the Albanese Candy Factory will gladly help you with your selections.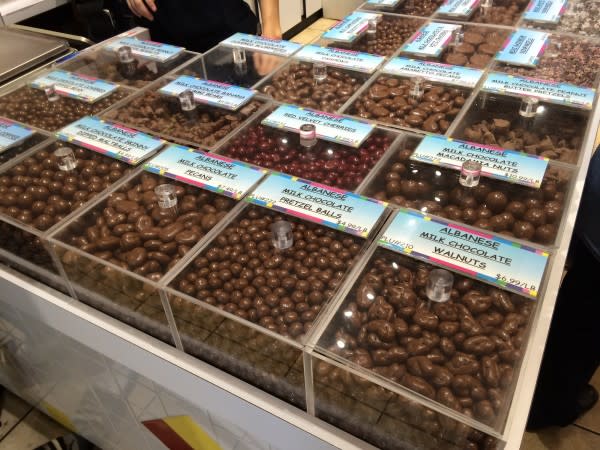 Albanese Candy Factory (5441 East Lincoln Highway, Merrillville, Indiana)
---
DeBrand Fine Chocolates
Ask anyone in Fort Wayne where you can get the best chocolates and unanimously they will tell you to head to DeBrand's. A visit to DeBrand's feels like stepping into a high end department store. The shop is luxurious like it's chocolate and you'll fall in love with both after your visit.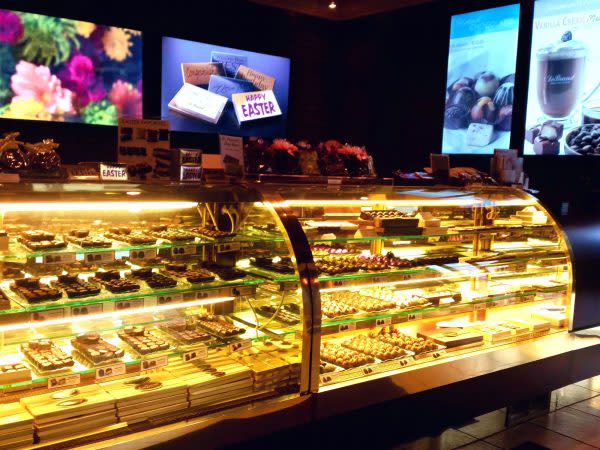 The chocolate is of the highest quality and the case finely displays filled chocolates, a line of creamy truffles and their connoisseur collection with creative blends of spices and flavors. Stay a while and enjoy one of their sumptuous sundaes or desserts and a warm mocha. There are several locations in Fort Wayne or stop by their shop in Indianapolis.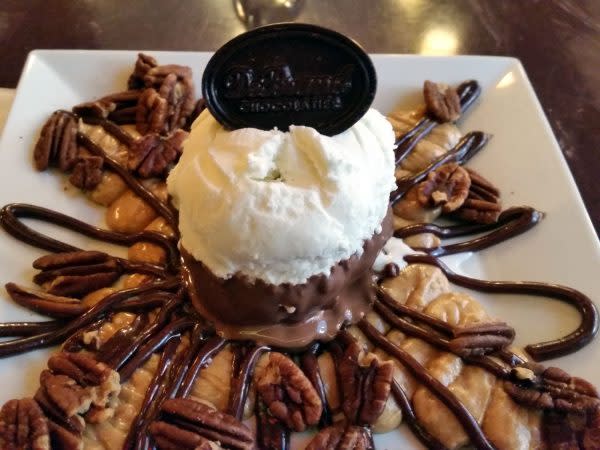 This sundae is not only absolutely delicious, but it's also a work of art
DeBrand Fine Chocolates (Click for Fort Wayne and Indianapolis locations)
---
J. Edwards Fine Chocolates and Gourmet Cakes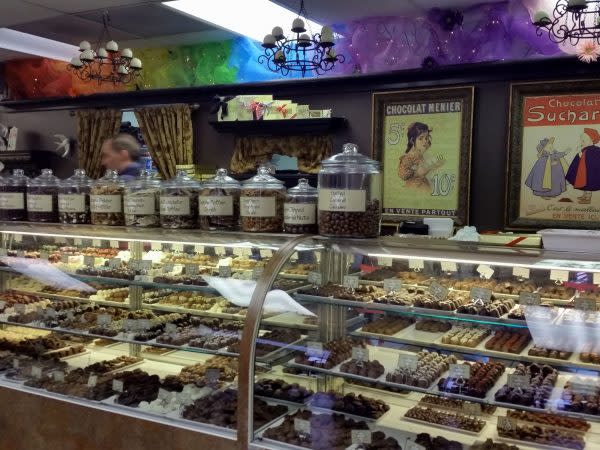 There is no doubt in my mind as to why J. Edwards was voted "Best Dessert" in Kokomo. This bright and charming chocolate shop was bustling with customers even on a downpour of a day. The case is chock full of over 60 types of house-made chocolates including so many of my favorites like caramels, pecan clusters and assorted creams. The cream fillings are fresh and some of the best I've had. While in the shop grab a bag of their pretzel balls for a snack on the way home - that's about as long as ours lasted. The shop is filled with plenty of candy goodies, but they are also known for their gourmet cakes including the six layer rainbow cake and chocolate mousse heaven and a scrumptious list of gourmet cheesecakes. My stomach is growling as I type this blog. The only trouble you'll have here is deciding between cake or candy! May I suggest both!
J. Edwards Fine Chocolates and Gourmet Cakes (2106 W. Sycamore St., Kokomo)
---
Good's Candy Shop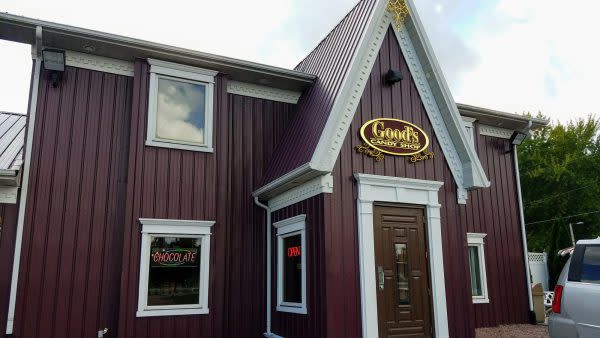 I love everything about about this charming chocolate shop just a few short minutes off Interstate 69 in Anderson. My only regret is waiting so long to make my first visit! Good's Candy Shop has a very formal feel and the candies are displayed in these beautiful cases much like fine jewelry. The family has been making candy since the 1940's and the tradition continues into the fifth generation. Their creations include chocolates, caramels, filled selections, turtles, fudge, toffee, truffles and plenty more. Try the saratogas which are filled with caramel and mocha with a milk chocolate and nutty covering.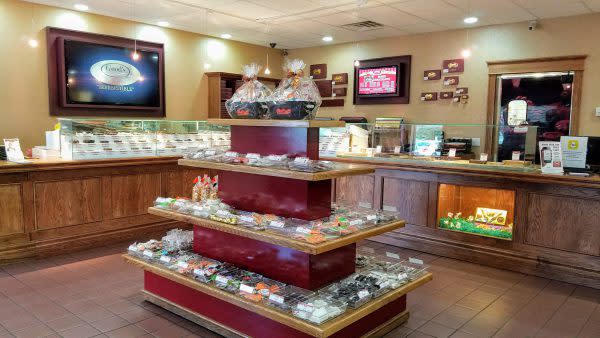 Did I mention that the other side of the candy shop is an equally fantastic ice cream shop featuring their own premium flavors? I'm sure it wouldn't hurt to grab a cone or sundae while picking up a box of chocolates. What's wrong with a few extra calories, right?
Good's Candy Shop (1423 W. 53rd St., Anderson)
---
South Bend Chocolate Company
Founded in 1991, the South Bend Chocolate Company has quickly risen to multiple locations in the Midwest. My recent visit was to the place where all the magic happens, the South Bend Chocolate Factory in South Bend. Take a tour, sample the rich chocolate and tour their onsite museum. There's so much to learn about one of Indiana's rising stars in the chocolate world. The company makes over 500 chocolates and sweets and a visit to the showroom will have you deciding between chocolate covered cherries, nuts, cookies, blueberries and so many more tempting treats. Fudges, chocolates, truffles, caramels, toffees and turtles are all area favorites and lucky for you all available online as well.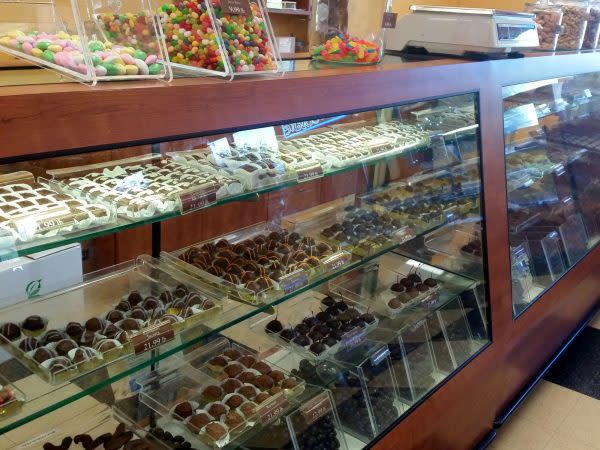 Make sure you stock up in the South Bend Chocolate Factory shop after your tour.
Check this list of locations,  including South Bend Chocolate Cafe's located around the Midwest.
South Bend Chocolate Company (3300 West Sample Street, South Bend)
---