I first met Captains Janet & Paul about 5 years ago when they rode into Madison hoping to start a jet boat tour business on the Ohio River. Five years later, they have expanded their tours, added 2 new crew members (Captain Will & Deck Crew Steve) to the team, upgraded to a new bigger boat, delighted their customers and provided a totally unique experience on the Ohio & Kentucky Rivers. Rockin' Thunder offers a one of a kind experience: the ONLY jet boat tours on the Ohio & Kentucky Rivers. Happy 5th Anniversary!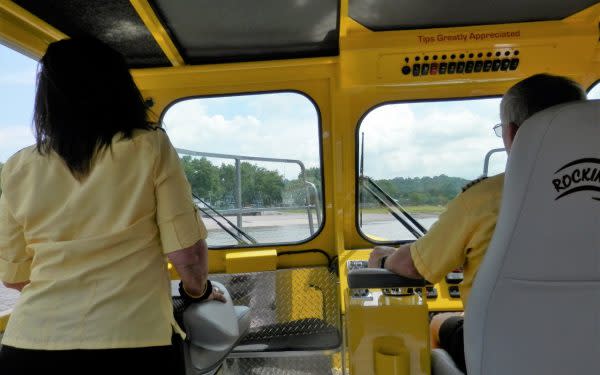 Captains Janet & Paul
Last week, I had the chance to join the team when they launched (for the first time) the new Hell's Canyon Jet Boat (the only one in the Midwest) for the first test run on the Ohio River. It has individual comfy padded seats for 24 passengers (+ 2 crew), a roof for sun protection with removable panels for great views, a quiet engine and all kinds of new technology to give you the best ride possible. It was a fun day on the river and the new boat is ready to rock! Captain Paul says, "This is the first commercial passenger vehicle built to run between Madison IN and Frankfort KY in 100 years and it's the only boat of its kind in Indiana or Kentucky."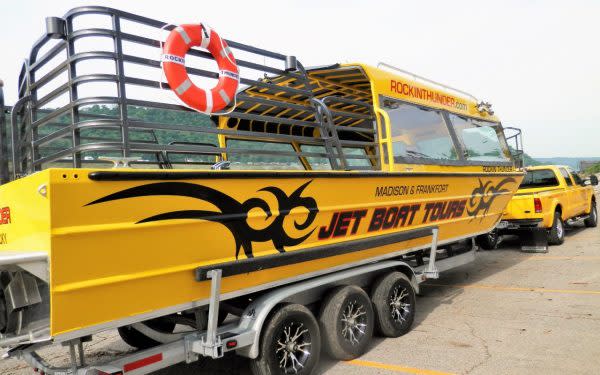 Brand New & Ready to Ride
If you want a totally unique experience, an unforgettable family adventure or a rockin' good time, Rockin' Thunder Jet Boat Rides are a "must do". Check it out and book early!
Choose from 5 tours:
15 Mile Rockin' Thrill Ride Get splashed, scream, laugh, have fun but don't get too scared - Rockin' Thunder has thrilled riders from 8 (kids must be 40 inches tall) to 80+. From the minute the music starts, you're in for the experience of a lifetime. Spins, fishtails, slides, it rocks! It's kind of like a roller coaster ride on the water.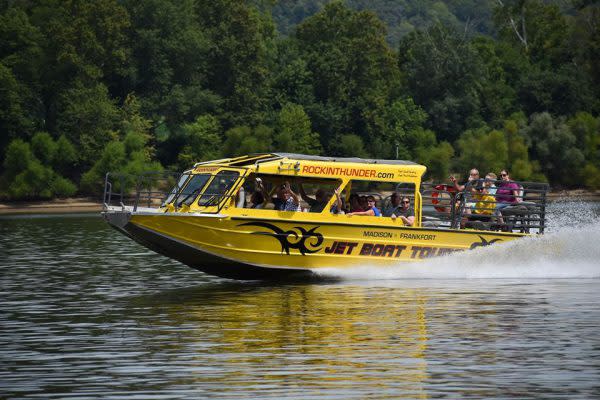 40 Mile Scenic Tour Explore 2 of America's historic rivers -the Ohio & Kentucky. From Madison you'll cruise upriver to Carrollton KY where you'll enter the Kentucky River and cruise to Lock 1, built in 1838. Here's your chance to spot Bald Eagles, Osprey, Great Blue Herons and more. These rivers were very important to westward expansion and your captain will share their stories (think Daniel Boone, steamboats, Underground Railroad).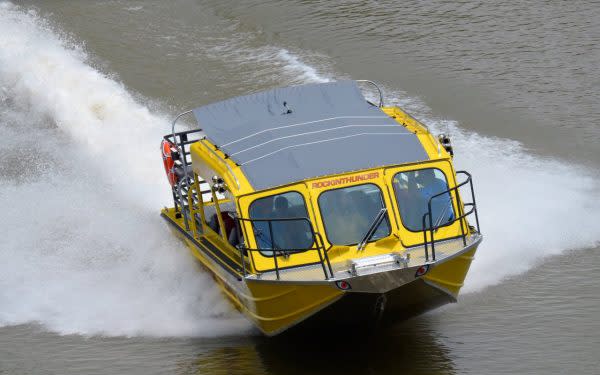 Enjoy the Ride
75 Mile Wednesday Lunch Excursion Board in Madison and head downriver (toward Louisville) for a lunch stop at Captain's Quarters Riverside Grill. See river wildlife, learn about the history and enjoy the beautiful scenery.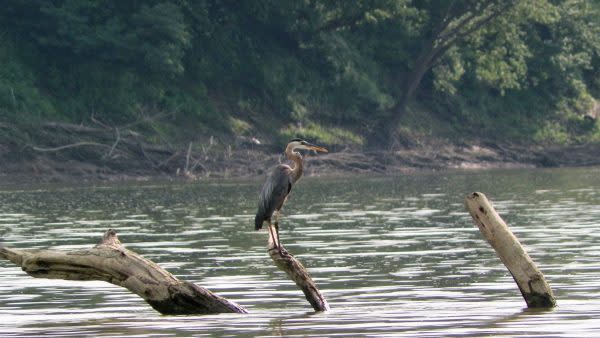 Great Blue Heron
90 Mile Sunday Dinner Adventure From Madison you'll venture up the Kentucky River, lock through two 1838 dams (recently restored), catch a look at some Bald Eagles, learn about river history and most of all have a unique fun experience. For dinner, you'll stop at Blue Wing Landing, an 1850s peach plantation.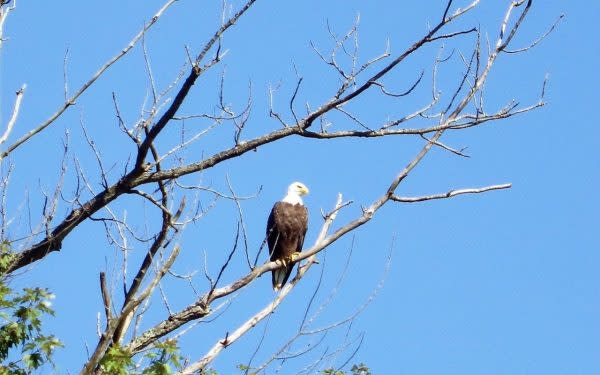 Majestic!
155 Mile Kentucky River Adventure - The most popular choice! This round trip, two day adventure takes you from Madison up the Ohio River, then up the Kentucky River to Frankfort KY. You'll see scenic deep canyons, beautiful scenery, local wildlife, old growth forests, and lock through 4 historic locks built in 1838 and recently restored. Tour Buffalo Trace Bourbon Distillery, explore Frankfort and spend the night. Then head back downriver to Madison (watch for nesting Bald Eagles along the way!) This is a one of a kind adventure, only available with Rockin' Thunder.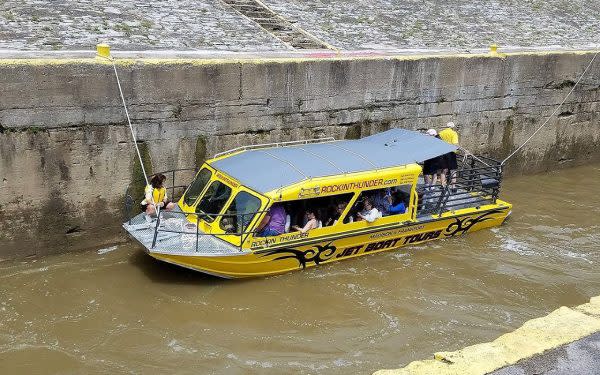 Locking Through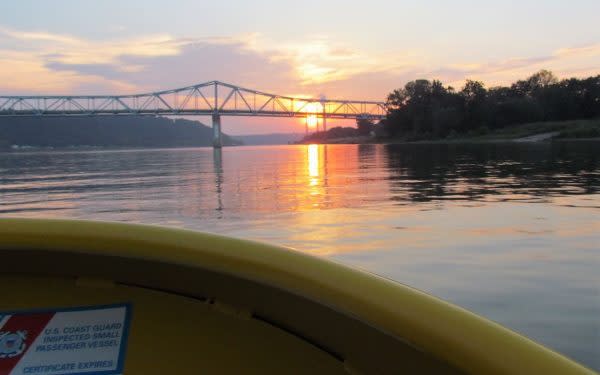 Heading Home
You'll definitely want to stay for a couple of days to explore Madison, find everything you need to know at Visit Madison. For more outdoor adventure, checkout Clifty Falls State Park in Madison.
For more fun on the water, check out the Riverpalooza and Dragon Boat Races in Fort Wayne!