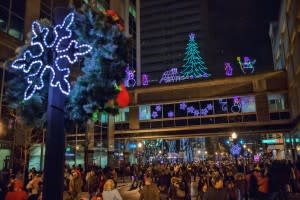 Make time in your Christmas schedule to visit the friendly city of Fort Wayne this year. There's so much to do!
This video may help you make decisions on which to do first!
Here are my favorites:
Downtown's Annual Holiday Lighting Ceremony
This free event really tips the scales in favor of outdoor holiday celebrations! Officially called the Night of Lights, the ceremony takes place the Wednesday evening before Thanksgiving, making this year's event on November 25.
Not only does the Night of Lights include mesmerizing twinklers but downtown businesses host other fun events and activities during the evening. The University of Saint Francis Robert Goldstine Performing Arts Center hosts a Wreath Lighting and Choir performance. Aunt Millie's Bakery and the Community Center with Santa's Workshop are lit at intervals, as are PNC Bank's Santa and reindeer, Wells Fargo and Indiana Michigan Power Merry Christmas wreath.
A few blocks away sip a warm drink and munch cookies during Cocoa and Carols at the Allen County Courthouse.
The Grand Wayne Center's Holiday Open House is gorgeous with miniature houses of days long past.
Did you ever see a live reindeer? Get your chance at the Foellinger-Freimann Botanical Conservatory! The downtown district is also hosting an animated holiday window contest. Expect to see great things!
Across from the Grand Wayne Center is Parkview Field where fireworks will light the already-bright night. Insider tip: Downtown street parking is free after 5pm.
History Center's Festival of Gingerbread
The Festival of Gingerbread at Fort Wayne History Center at 302 East Berry Street,has been on our family's list of must-do events for many years. It attracts crowds who come to view more than 100 creations made by individuals, families and professionals. The Fort Wayne History Center makes a grand effort to entertain loads of people for this event. My little friend enjoyed completing a craft after oohing and aahing over the fancy houses!
November 27, 2015 - December 12, 2015. Insider tip: The History Center has an elevator for those unable to use stairs.
**
The Embassy Theatre's Festival of Trees
Talk about breath-taking! The historic Embassy Theatre is already a lovely locale. Combine it with dozens of ornately decorated trees and you've got a fantastic eye-catcher. Don't miss this!
**
Christmas on Salomon Farm
On the north side of Fort Wayne sits Salomon Farm Park with its huge red bank barn. This farm once belonged to a local family. It is now part of the city park system, enabling everyone to enjoy being in the country. During Christmas on the Farm on December 5, families can listen to live music, ride in a horse-drawn wagon (yes please!), make crafts, shop for gifts and talk to St. Nicolas.
Cost: $5.00 per car.
For more information about Christmas events in the Fort Wayne area click here.