You just can't go wrong with a name like Santa Claus if you want to be all about Christmas. Christmas lights displays. Arts and craft shows. A candy castle?! Come on, what is more Christmassy than a freaking castle filled with candy?
So I wasn't surprised to see that CNN has named Santa Claus, Indiana one of the "10 most Christmassy destinations on the planet" for 2013.
If you're interested in running down to Santa Claus for a little Christmas cheer, there's something going on the first three weekends in December, including a traditional Christmas Dinner with Santa at Santa's Lodge; writing a Letter to Santa at the Santa Claus Museum & Village; roasting chestnuts on an open fire at Santa's Candy Castle, the Santa lights display. And of course, you have to swing by the Santa Claus Christmas store, where they sell Christmas decorations and goods — and play Christmas music — every day of the year. (The people who work there either must either get absolutely giddy this time of year, or they just want to beat people with a giant candy cane and sleep until January.)
If you happen to be here in the summer, don't worry, you're not missing out. There's still plenty to do, including Holiday World and Splashin' Safari. Plus all the Christmas shops, restaurants, and sites are open.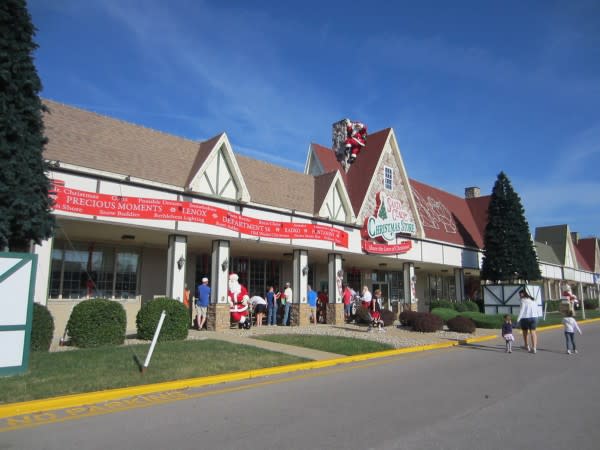 The complete list includes cities all over Western Europe, as well as the United States and Mexico.
Barcelona, Spain;
Rovaniemi, Lapland, Finland;
New York, New York;
Nuremberg, Germany;
Quebec City, Canada;
Reykjavik, Iceland;
San Miguel de Allende, Mexico;
Santa Claus, Indiana;
Strasbourg, France; and,
Valkenburg, The Netherlands.
Of course, this accolade is nothing new for the North Pole town in Southern Indiana. Last year, Hotwire.com named Santa Claus a top Christmas destination, and Forbes Magazine did so in 2011. But it's an especially proud moment for a Hoosier like me to see a little town in my state making the same list as Reykjavik and Quebec City for being Christmassy.
For more information about the Santa Claus Christmas Celebration and hotel specials, call (888) 444-9252. You can also visit the Santa Claus, Indiana website.
Photo credit: Erik Deckers