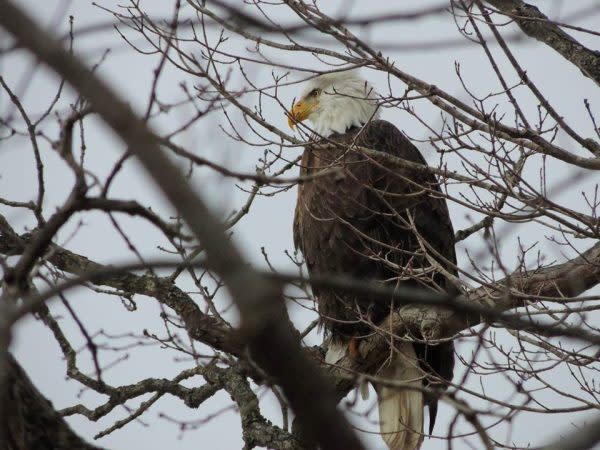 Copyright DNR; Lynnanne Fager
A hundred years ago you would not have been able to find a bald eagle anywhere in the state of Indiana. But thanks to a successful reintroduction program at Lake Monroe in Bloomington during the late 80's, bald eagle sightings are much more common as the population of eagles has soared within the state. The cold winter months are some of the best times to see eagles because they move south as rivers and lakes freeze over. They tend to congregate in areas with open water for their food source and as a result, several of our state parks have become the perfect setting for bald eagle congregations.
If you've witnessed one of these birds in flight, you probably noticed how impressive they can be. With a wingspan from 6 to 7 ½ feet, they command the skies and it's easy to see why they are a symbol of our nation's strength and authority. The bald eagle was taken from the endangered and threatened species list in 2007 and is flourishing in Indiana and across the nation.
There is an increasing interest in viewing bald eagles and the Indiana Department of Natural Resources (DNR) has responded over the years by developing amazing Eagle Watch programs for the public to come and see them and to learn more about this majestic bird species. DNR staff have scouted out the areas where they fish and roost and have organized eagle-themed programs in several key locations in the state. This program gives bird lovers of all ages a unique experience in bird watching. Depending on the location and other factors, such as weather, attendees have seen anywhere from 3 to 100 eagles during previous events.
Now is the time to get signed up for one of these exciting Eagle Watch programs. Make sure that you register in advance (many charge a participation fee and/or gate fees) and  plan ahead and dress for the weather. Don't forget your binoculars and cameras and make sure your car is filled up with plenty of fuel for the caravan.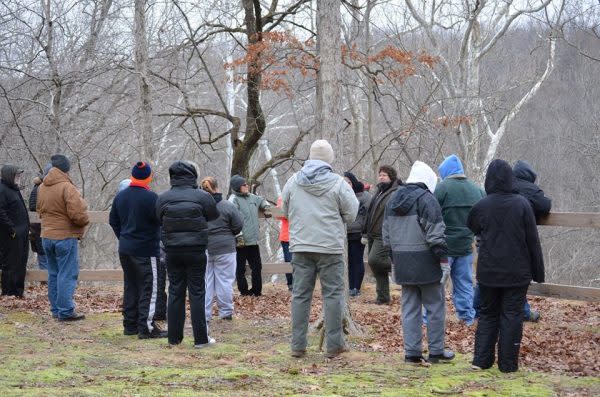 Plan ahead and dress warm - many events include outdoor hikes to viewing areas. Copyright DNR
30th Annual Eagle Watch
Patoka Lake – January 6
Feel the wind of an eagle's wings while experiencing the world of eagles in Indiana with indoor & outdoor programs at Patoka Lake Nature Center on Saturday, January 6th from 10am –4:45pm E.S.T. during the 30th annual Eagle Watch. Featured will be a resident bald eagle & other live raptors. Dana Reckelhoff, DNR Patoka Lake Interpretive Naturalist, will share the life and story of these amazing birds of prey. Join Brian Finch, Patoka Lake Wildlife Specialist and his team on driving tours to hot spots for eagle viewing.  Allisyn Marie- Gillet, Indiana's Non-game Bird Biologist will share the history of the 1980's Eagle Reintroduction Program and the success of this species!  Discover interesting information about eagles found in your part of the state. Other short topics include flight and osprey.  A catered meal will be provided. Kid's activities and crafts will be available from 12:45 - 4:00p.m.  Cost is $15/person.  Registration is required and can be submitted by calling the Patoka Lake Nature Center at (812)685-2447.  
---
Sunrise Eagle Watch
Mississinewa Lake – January 20
Come out for an early 6:30 a.m. eagle watching session at Mississinewa Lake in Peru that includes a drive to the roost to see the birds take their morning flight followed by a Breakfast with the Birds at 9:30 where raptors visit with the attendees. Register by calling 260-468-2127. Donations are appreciated.
---
Eagles Over Monroe Lake
Fairfax State Recreation Area– January 26-28
Join other eagle enthusiasts at Fairfax State Recreation Area at Monroe Lake for an event-filled weekend of celebrating this majestic bird and to learn more about its reintroduction program. Activities include an owl prowl, tips on bird photography, education, self-guided lake tours to view the eagles, tips on apps for bird watching, hikes and plenty more. Advance fees are $10 by January 24 or $15 for walk up registration. Lunch with the Eagles requires a separate ticket and fee. Register online
---
Eagles in Flight Weekend
Turkey Run State Park – January 26-28
Spend the weekend with the Turkey Run State Park staff to learn more about eagles and other raptors; discover nests, roosts and hunting grounds; and enjoy educational programs. Costs are $15 for ages 13+, $10 for ages 4-12 and under 4 free. Gate fees apply. Stay at the Turkey Run Inn and make it a fun family weekend. No registration needed for the programs, but hotel rooms should be booked in advance.
---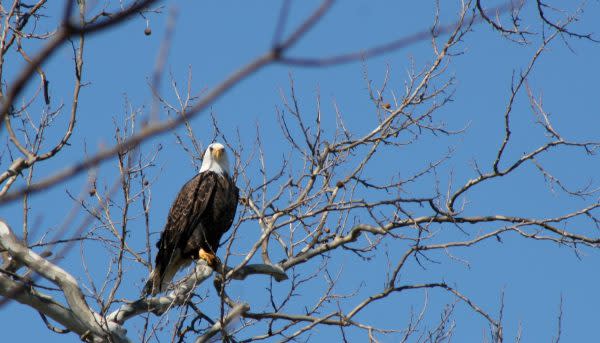 Copyright DNR