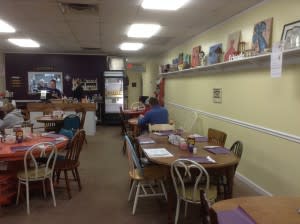 It never fails to amaze me how many sweet restaurants Indiana has to offer!
My latest find was Ginger's Café in Noblesville. Knowing I'd be in the area for research for another story, I had earlier contacted the Visit Hamilton County website for ideas. 
Ginger's Café had such a friendly-sounding name that I chose to look it up. It's now one of my favorite places to recommend!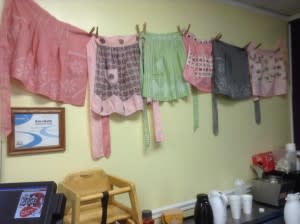 The décor appealed to my husband and me as we live in a small town and like to see people talking to each other across tables. We know they are probably neighbors who see each other regularly at Ginger's. Displays from the 1950s like aprons hanging on the wall and old coffee pots remind me of times when neighbors knew and cared for each other.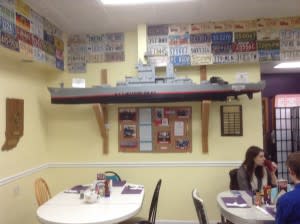 The owner Mikki Perrine (Ginger) has a number of patriotic items on display, including a seven-foot(?) model of the USS Missouri. Reason? A Navy veteran group meets there for camaraderie.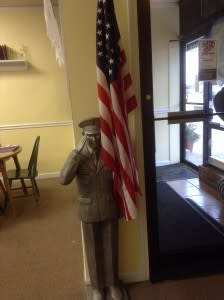 She posts a statue of an American soldier saluting by the front door holding an American flag. To be honest, the food could be terrible and I'd still visit just to support her patriotic displays.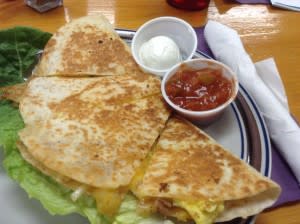 But the food is not terrible. My breakfast quesadilla was delicious and such a large portion that I took half home.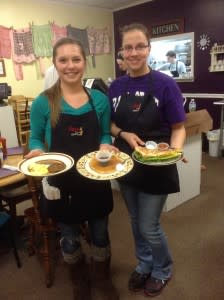 My husband loved his meal of scrambled eggs, pork patty and pancakes as well. Service was prompt and efficient, making a return visit inevitable. Another benefit: Breakfast is served all day every day.
Insider tip: Arrive early to be assured of a table.
1804 E. Conner State
Noblesville
317.773.0303