Outdoor concerts are fairly easy to come by in the summer. All of them provide the opportunity to hear wonderful music while enjoying the best of the summer weather. But one of my favorites is Symphony on the Prairie.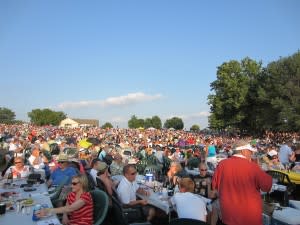 This is the 32nd year for the symphony to partner with Conner Prairie and while the Indianapolis Symphony typically represents about half of the shows, the rest of the schedule is comprised of various other entertainers. My all-time favorite is probably their July 4th celebration. You can't beat the fireworks at the end!
This year we have already attended the Rolling Stones and next month we will be at the Big Bad VooDoo Daddy concert. This picture was taken early on in the night before the dance floor was really rockin'!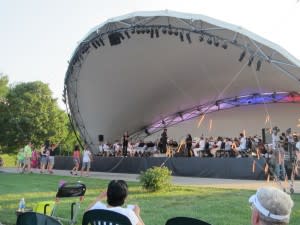 Couple notes for you first timers ...
* You can take in chairs, blankets, food, drinks, coolers, etc. Our group typically reserves a table at the front (an extra charge) and then we have a front row seat to the concert and plenty of space for all our food - not to mention the chairs that are provided with the table rental. And as you can see, we didn't lack for any food!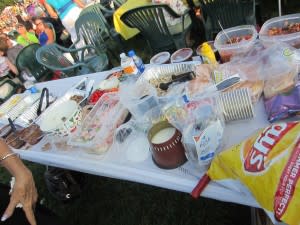 * If you get the chance and the 1859 Balloon Voyage is operating, go on it! You can float above the symphony before or during the show and get an even better view of the Indiana landscape.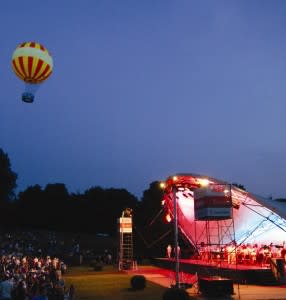 * Hurry up ... there are only six weekends left this season. You can purchase tickets in advance through the Symphony or Marsh supermarkets and of course tickets are also available at the gate.