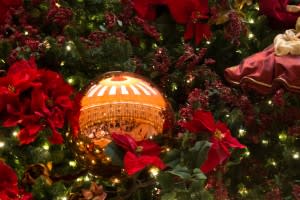 While you may have to spend several months drooling over the possibility of Thanksgiving 2015 at West Baden Springs Hotel, there are many more delightful meals available there for other holidays (including Christmas Feast at Sinclair's, New Year's Eve festivities, and Easter Brunch-- start planning your calendar accordingly).
But, what's not to love about Thanksgiving?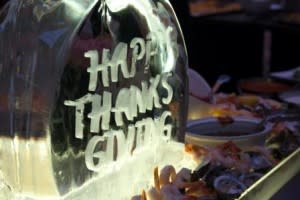 West Baden Thanksgiving
There's family. There's turkey. Unless you're a vegetarian, it's perfection.
As a Holiday World employee, I must say the Thanksgiving holiday is a bit complicated. For more than 100 days of the year, Thanksgiving doesn't refer to a holiday, or a meal. It's a section of the park you walk through. It's where you can enjoy Thanksgiving dinner on any given day. It's where, as of next year, you'll be able to ride two amazing roller coasters (The Voyage and our new steel coaster, Thunderbird).
So when Thanksgiving (the holiday) rolls around, I've already consumed about six Thanksgiving dinners in just as many months (okay—realistically it's probably more like 20, but let's be conservative here).
Apparently, the amount of times I can stuff my face with green beans then walk a few miles in 90-degree weather is finite. Even by the time the actual holiday comes and the weather has cooled, I've eaten my share of the Thanksgiving feasts (and I'm sure everyone else has too).
Frankly, the last thing my family wants to do each fourth Thursday in November is cook more of the same, as good as it is.
And so, in recent years, my family has started going to West Baden Springs Hotel for our Thanksgiving feast. My family has since developed a slight obsession with West Baden (my sister even got married there this year—how's that for "slight"?).
Plymouth Rock Café at Holiday World is excellent and has a generous selection—but the menu for West Baden's Thanksgiving buffet is nothing short of stunning. You could fill a plate with just meat—they have prime rib, ham, Cornish game hen, and, of course, turkey. They have more dessert options than Plymouth Rock Café has sides (and don't even get me started on West Baden's gourmet sides). Plus, they have a crab-stuffed trout—which I definitely don't eat repeatedly throughout the year.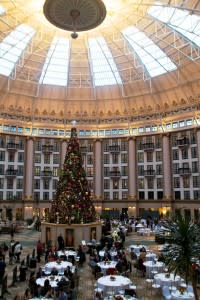 Beautiful, isn't it?
The incredible food alone is worth the pilgrimage on Thanksgiving Day, however we have a few ulterior motives as well.
First, we don't have to cook and we don't have to wash dishes. The cooking part was especially important this year, as all of our "A-Team" cooks for our holiday dinners were visiting other family members (I would likely have been the default cook, and nobody wants to eat that meal—especially not for a major holiday).
Second, eating there also allows us to dine with my mom's cousins, who come from Indianapolis just for us (and I'm sure the excellent food) every year.
Wait—switch the order of the ulterior motives. I'll gladly cook and clean if I get to see Mom's cousins.
Finally, dining at West Baden is an extraordinary experience. The atmosphere is welcoming. The dome is beautiful. The service is always incredible—our waiters and waitresses are always friendly (and we like to think we're pretty good judges of friendliness).
As our last plates are cleared, the sun sets and the dome lights up over the grand Christmas tree. It's a magical way to transition into the Christmas season.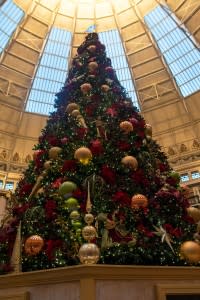 This is how I prefer to start the Christmas season.
Oh, and did I mention there's a chocolate fountain? I should have just started with that.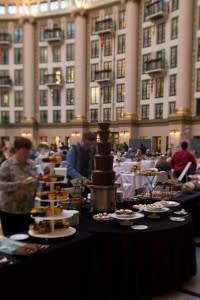 The glorious chocolate fountain.
I know this is a little early for next year, but it's never too soon to start planning: Happy Thanksgiving!