This past weekend my boyfriend and I were looking for a place for date night. Wanting something nice, but still within our price range, we chose Fire by the Monon. We pulled up to the restaurant uncertain if there would be seating due to the buzz that emitted from the restaurant. However, we were seated right away. The wood interior created a comfortable, homey feel. The restaurant itself was nicely divided with different areas being secluded from others allowing for a sense of privacy and intimacy.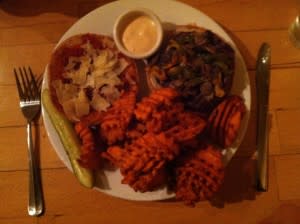 The Bella Burger with its great array of veggies along side sweet potato fries
We decided to skip the appetizer to save room for the entrée. After deliberating on the various options, we made our choices and received our meal in a prompt fashion. I ordered the Bella Burger with sweet potato fries on the side. A juicy burger was placed in front of me stacked with sautéed portabello mushroom, roasted red pepper, sun-dried tomato pesto and Parmesan cheese. The sweet potato waffle fries dipped perfectly in the house Monon sauce, a smooth ranch-like sauce with a little pow factor infused in.
My boyfriend decided to go with a sandwich as well and got the breaded tenderloin. The piece of meat was so large he could barely see the plate underneath it. He also ordered sweet potato fries and raved about the Monon sauce that accompanied them. While too occupied with my own meal to eat any of his, he said that his sandwich was very tasty.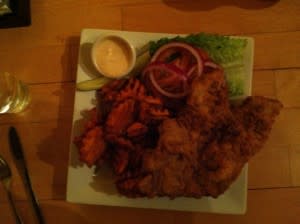 An enormous breaded tenderloin atop bread with sweet potatoes as a side
Overall the meal was a perfect getaway from homework. But speaking of which, I should probably get back to it! Check back soon!