Central Indiana's newest outdoor experience opens July 1 at Conner Prairie.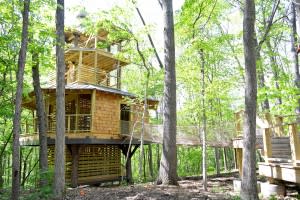 Treetop Outpost is a 6,000-square-foot destination nestled in woods that features a four-story treehouse.
Surrounding the 45-foot-tall treehouse are experience areas that will allow visitors of all ages to investigate nature and its resources, dig in a re-created archaeology site, build like Hoosiers of the past, create art and fill the forest with music.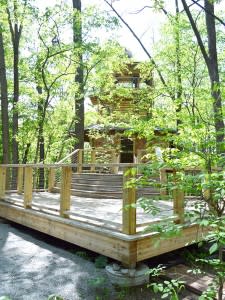 Treetop Outpost also includes a 30-foot suspension bridge and a connecting Nature Walk that leads visitors through the woods and along the White River to a prairie lookout.
Construction on the $800,000 project began Nov. 1.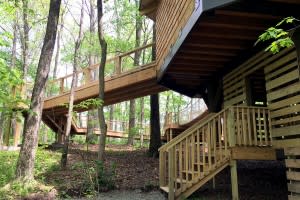 "Our goal is to help get children and families outdoors to investigate, explore, create and imagine," said Conner Prairie President and CEO Norman O. Burns. "Our focus with Treetop Outpost is to spark visitors' curiosity about how people throughout history used nature for necessity and inspiration, how we use natural resources today and how we can preserve those resources for the future."
Treetop Outpost is an official Indiana Bicentennial Legacy Project as part of the Bicentennial Nature Center Network, a statewide coalition created to ensure that all Hoosier youth have access to environmental education and creative outdoor experiences within 60 miles of where they live.
Spanning 800 wooded acres in central Indiana, Conner Prairie welcomes nearly 390,000 visitors of all ages annually. As Indiana's first Smithsonian Institute affiliate, Conner Prairie offers various outdoor, historically themed destinations and indoor experiential learning spaces that combine history and art with science, technology, engineering and math to offer an authentic look into history that shapes society today.