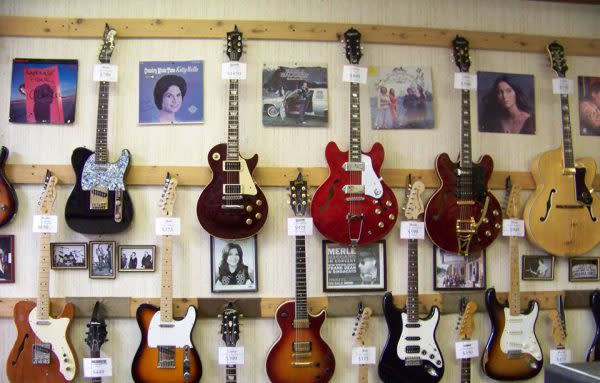 People have come from as far away as Germany and New Zealand to visit this guitar shop in Franklin to hear stories about, and see memorabilia from, some of the most famous musicians of the past several decades.
Frank's Guitars owner Frank Dean has met, been the opening act for or jammed with the likes of Emmylou Harris, Johnny Cash, Stephen Stills, Merle Haggard, 38 Special, Hank Williams Jr. and countless others.
His band, Sindacato, was a popular opening act for the famous bands because they created their own original music and because they had a reputation for making themselves available when opportunity knocked.
These days, Dean keep busy with his store, located at 55 E. Jefferson St. in downtown Franklin. He sells guitars, basses, mandolins, dobros, amps and accessories. The store also offers repairs and lessons.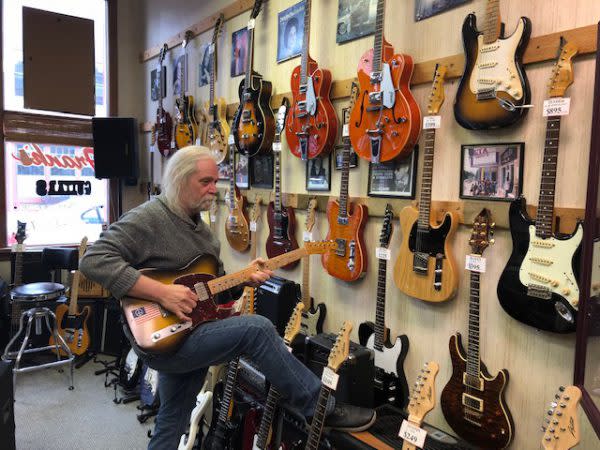 Frank Dean in his shop, Frank's Guitars in Franklin.
He describes his job as the "best worst-paying job in the world," one that allows him to come in every morning, have friends stop by, drink coffee and talk about music.
He also finds time for 100 to 120 performances each year, including from 6 to 9 p.m. the third Saturday of each month at Richard's Brick Oven Pizza, 229 S. Main St., Franklin. And to give other musicians a stage, he organizes live music nights from 6 to 9 p.m. every Tuesday, also at Richard's. Everyone from musicians who have taken lessons at Frank's Guitars to veteran musicians who had to give up being in a band to raise a family, but who still long to perform, take the stage for four songs each.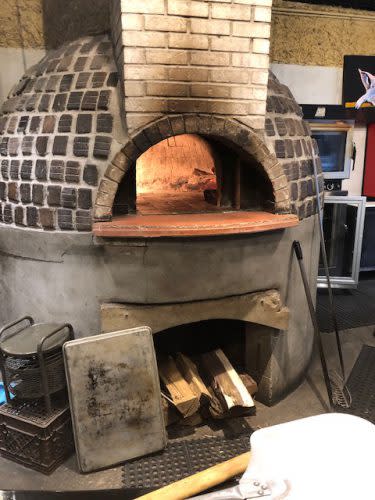 Richard's Brick Oven Pizza has tasty pizza and top notch live entertainment in the heart of Franklin
Dean has been playing guitars since he was mesmerized by them a small child.
Dean grew up in Indianapolis in the 1960s and came to Franklin to play his music at The Willard Restaurant. He came to appreciate downtown Franklin and opened his guitar shop there 15 years ago. Since then, the number of establishments in the area with live music has grown from one to at least seven. It's part of the reason, along with the festival scene, that the area is called Festival Country Indiana.
Sitting in his guitar shop, Dean looks around at Hank Williams Sr.'s jacket and pocket knife in a display case. He sees countless pictures of himself as a young musician hanging with famous musicians.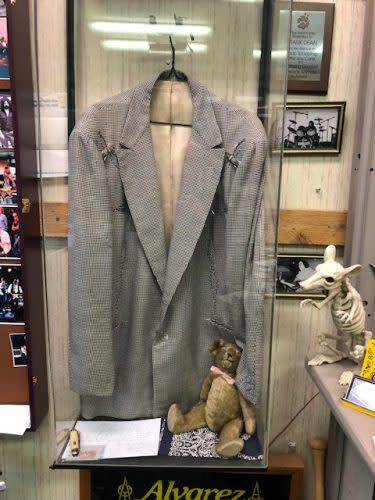 This famous jacket, which belonged to Hank Williams Sr., is just one of the pieces of memorabilia at Frank's Guitars.
Two of Dean's albums won album of the year awards and one was nominated for an international award. Although he missed out on the huge record deal and the fame, it doesn't bother him one bit. The memories on the wall, and still being able to make a living with music, mean more to him than fame and fortune.
Visit the Frank's Guitars website or Facebook page to learn more.
Plan an extended visit by stopping in the guitar ship, catching live music and great pizza at Richard's Brick Oven Pizza, and visit other nostalgic attractions, like The Historic Artcraft Theatre in Franklin  and the Ray Skillman Classic Car Museum in Greenwood. The area has great lodging choices, including B&Bs and family-friendly hotels.
A picture of Frank Dean with Johnny Cash, one of many famous musicians he met, opened for or played with.