It can be difficult to find time to disconnect and explore. Luckily, in Hamilton County, Indiana an outdoor adventure is closer than you think. Just ten minutes north of downtown Noblesville off IN-37 is Strawtown Koteewi Park, a 750-acre park open dawn to dusk, 365 days a year. This park is more than trees and trails, though – it's a destination park that packs a day's worth of fun.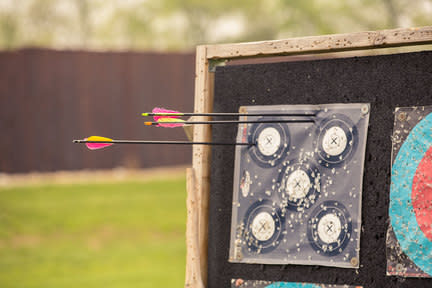 Photo by Chris Flook
1.    Try your hand at archery at Koteewi Range: Sport & Target Archery Center. Never held a bow and arrow in your life? No problem – the instructors here will give you a tutorial before you aim at foam animals in the fun zone or the traditional bullseye targets in the range. Try testing your new skills along the 3D archery trail that winds through the woods. Koteewi Range also welcomes seasoned archers to practice on the Olympic specifications range and browse equipment in the pro shop.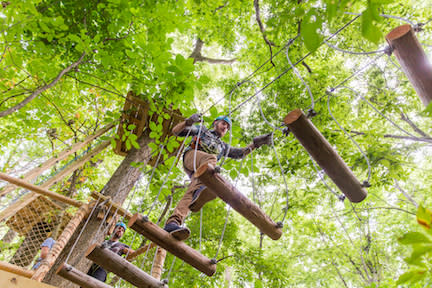 Photo by Eldon Lindsay Photography.
2.    Clip, climb and zip through the trees at Koteewi Aerial Adventure Treetop Trails. Take to the trees and get harnessed for a thrilling adventure, featuring 60 challenging elements and three levels for every skill level. With the unique C-ring technology, thrill seekers are always safely attached to the cables. Perhaps the best part is zipping through the canopy on one of the many zip lines. If you dare, try a twilight climb in the dark while wearing a headlamp.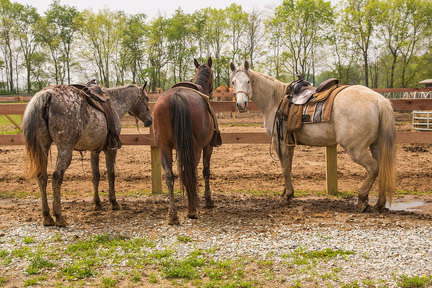 Photo by Chris Flook
3.    Saddle up for fun at K-Trails Equestrian Adventures. The newest addition to Strawtown Koteewi Park's amenities is K-Trails. Saddle up for a guided trail ride through the park – no experience necessary. Staff will pair riders with one of more than 15 horses and lead them along the trails for a peaceful experience. Enjoy the gorgeous Indiana sunsets by taking a sunset ride. For the littlest riders, pony rides are available.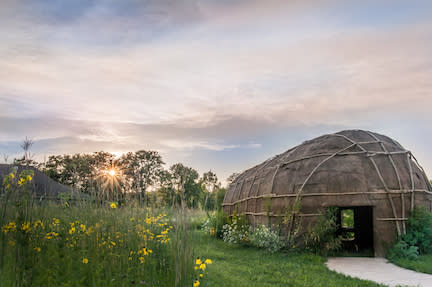 Photo by Allison Mayer
4.    Discover history and archaeology at Taylor Center of Natural History. Learn about the historical and archaeological significance of the park through exhibits and programming in the nature center. Just outside the building is Koteewi Trace, a comprehensive outdoor interpretive archaeological exhibit with full-scale, American Indian structures like the Strawtown Enclosure.
At Strawtown Koteewi Park, visitors can also: *Launch canoes and kayaks into the White River for boating and fishing. *Stay overnight at the White River Campground, located across the new historic bridge. *Hike or bike along the numerous nature trails. *Admire the park's natural beauty, featuring wetlands, prairies and more.
Strawtown Koteewi Park is a perfect place to visit for an outdoor adventure, no matter your interest or skill level. It's no wonder why some families spend all day exploring here. Put this park on your list of places you must visit in Indiana, and start planning your trip today at visithamiltoncounty.com.