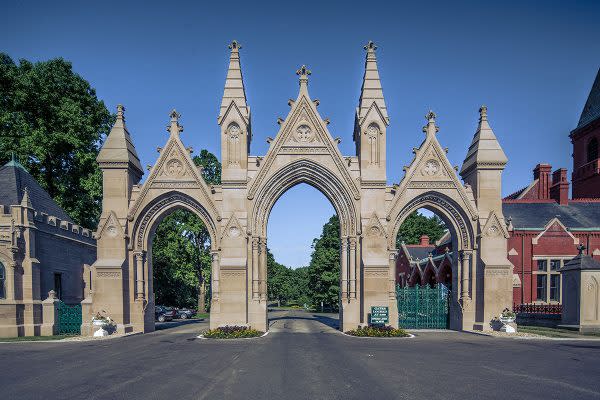 The 34th Street Gate
The history of Indianapolis and even much of Indiana is literally buried within the gates of Crown Hill Cemetery. For those Indiana history buffs wishing to pay their respects to famous (and sometimes infamous) Hoosiers, or to their own relatives, an afternoon trip to Crown Hill Cemetery is a must-do excursion during warmer months.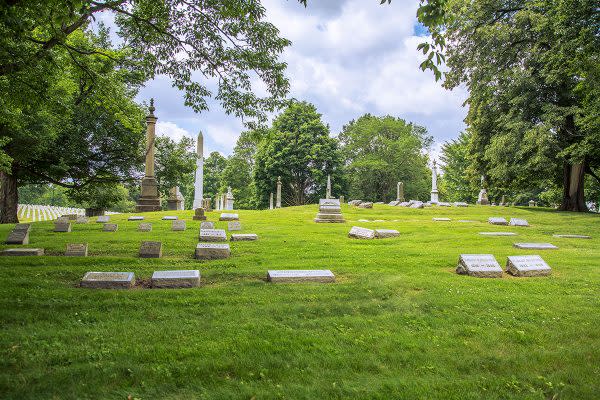 Crown Hill Cemetery
Founded in September of 1863, Crown Hill has served as the principal cemetery for the city of Indianapolis. Mayors, governors, artists, civil rights leaders, pioneers, veterans of every American conflict, poets, outlaws, preachers, and everyday men and women are buried here, some of whom have played instrumental roles in local, state, and national history.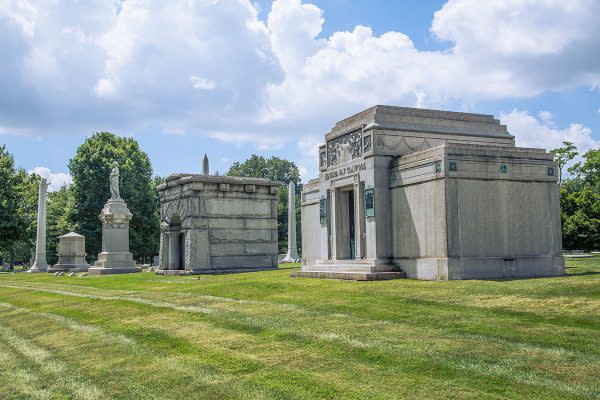 Crown Hill Cemetery
Crown Hill Cemetery is huge! With over 25 miles of paved roads, hundreds of species of plants, and with approximately 200,000 graves, the 550 acre cemetery offers a bucolic setting in the heart of Indy, where visitors can honor the men and women who have played significant roles in Hoosier history.
Developed in the decades after the Civil War, Crown Hill became an iconic lawn-park styled cemetery of the Victorian Era. Stemming from the rural-landscape cemetery movement in the middle 1800s, lawn-park styled cemeteries offered a city's inhabitants a beautifully landscaped green space in which to bury their loved ones. Lawn-park cemeteries became extremely popular during the late 19th and early 20th centuries after the establishment of Spring Grove Cemetery in Cincinnati - designed by the landscape architect Adolph Strauch.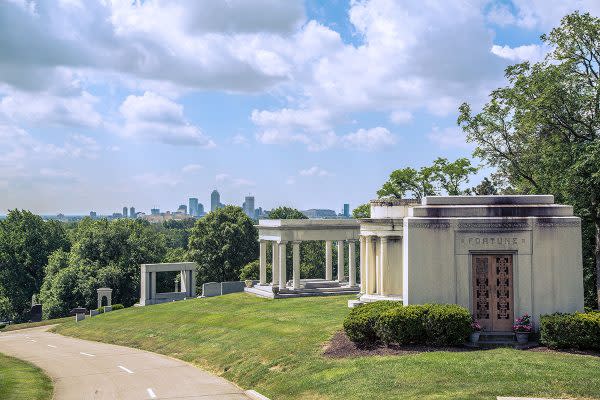 The view from 'Strawberry Hill' - James Whitcomb Riley's Memorial
In 1863, private individuals in Indy formed the Association of Crown Hill and began buying property around the relatively large Strawberry Hill, which overlooked the city about three miles northwest of downtown Indianapolis. The association hired the urban landscape architect Frederick Chislett as first superintendent and to begin building a lawn-park styled cemetery similar to those appearing all over the United States.
Over the years, Chislett and his successors added the beautifully landscape design we see today, along with monuments, the gateway, waiting station, and mausoleums. In time, artists, sculptors, and architects added unique monuments and funerary architecture on the grounds.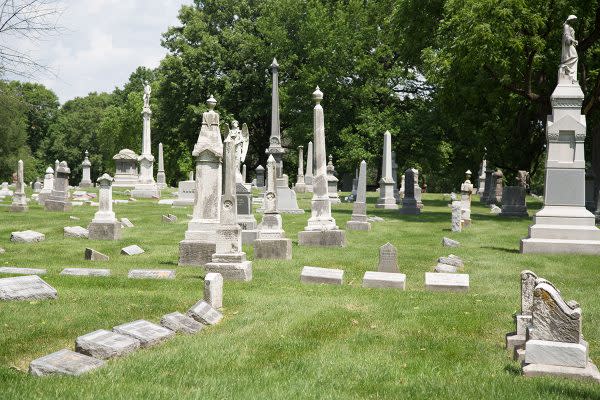 19th Century Markers
Today, the cemetery offers visitors a magnificent space to pay respects to loved ones, famous Hoosiers, or just a quiet retreat from the hustle and bustle of urban life.
There are many famous Hoosiers buried here and certainly too many to adequately explore in this post, but for those needing some guidance, I took the liberty to highlight some of the more famous interments.
---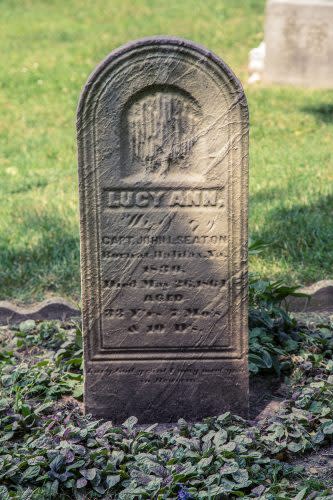 Lucy Ann Seaton
LUCY ANN SEATON (1831 - 1864) Lucy Ann was the first burial at Crown Hill Cemetery in 1864. She died of tuberculosis. The weeping willow tree engraved on her marker was common on tombstones of the time, symbolizing mourning and loss (weeping). In some cases, they also meant eternal life. Seaton's marker is located in section 4.
---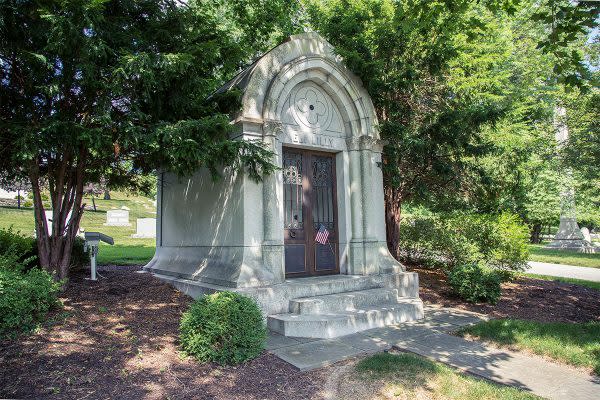 Eli Lilly Mausoeum
ELI LILLY (1838-1898) Eli Lilly was both a colonel in the Union Army during the Civil War and the founder of the Eli Lilly and Company pharmaceutical corporation that has become an Indianapolis mainstay. A native of Baltimore, Lilly moved with his family to Greencastle, where he attended Indiana Asbury University (DePauw). After graduating, he opened a drugstore in Greencastle and later a business in Greenfield. During the Civil War, Lilly became a colonel in an artillery unit for the Union Army and later a cavalry officer. After the war, he founded Eli Lilly and Company, which became a preeminent pharmaceutical corporation, with many successful patents. Lilly is also known for his extensive philanthropy.
Eli Lilly Memorial
Lilly's mausoleum and memorial are located in section 13.
---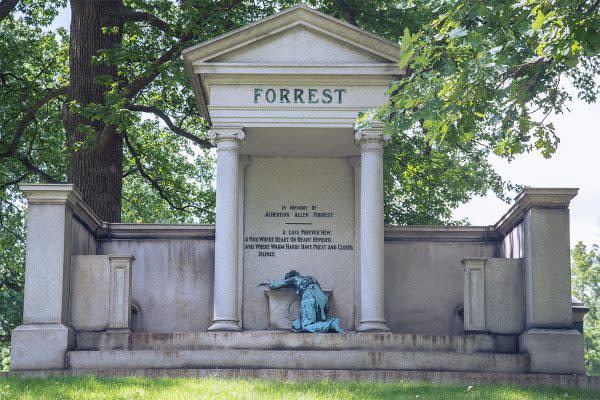 Albertina Memorial Tomb and Monument
ALBERTINA FORREST (1872-1904) Albertina Forrest was a sociology professor at Butler University (then college). Forrest died unexpectedly while vacationing in Florida. Her husband Jacob was so entirely grief stricken, that he commissioned the granite and bronze sculpture and monument in her honor from Rudolf Schwartz. Forrest's monument is located in section 25.
---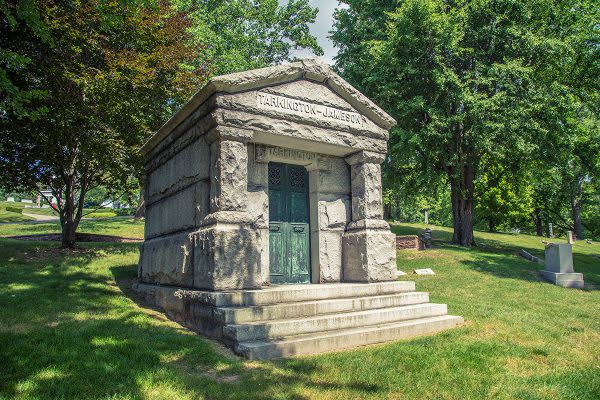 Booth Tarkington Mausoleum
BOOTH TARKINGTON (1869-1946) The famous Hoosier novelist Booth Tarkington is also buried at Crown Hill. He's probably most famous for writing The Magnificent Ambersons and Alice Adams. He also served for one term in the Indiana House of Representatives in 1902. Tarkington is buried in section 13.
---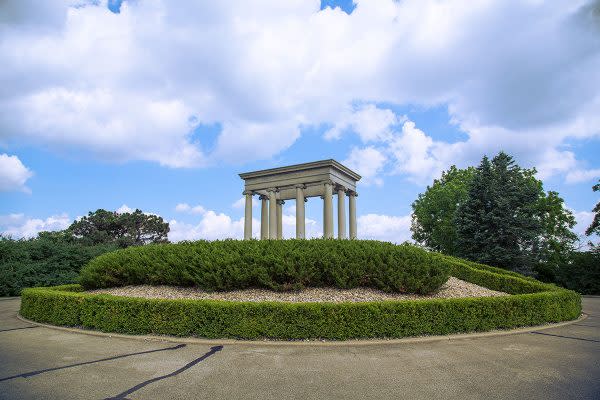 James Whitcomb Riley Memorial
JAMES WHITCOMB RILEY (1849-1916) Arguably Indiana's most notable poet, James Whitcomb Riley is famous for writing numerous poems and short stories including Little Orphant Annie and The Raggedy Man. After an extensive career in newspaper writing, Riley toured the United States writing and reciting his work. He has had a lasting legacy on the Hoosier state, including a children's hospital named in his honor. Riley is buried on the summit of Strawberry Hill, overlooking the city of Indianapolis.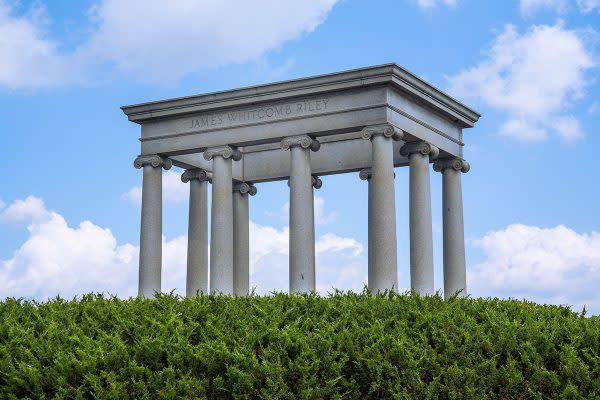 James Whitcomb Riley's Memorial on 'Strawberry Hill'
In recognition of his legacy, coins are often placed on his burial marker, which are later donated to Riley Hospital.
---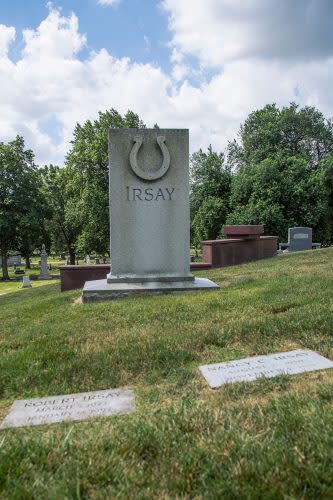 Robert Irsay Memorial
ROBERT IRSAY (1923-1997) Robert Irsay became the owner of the Colts, after acquiring the Baltimore franchise in 1972. In March of 1984, Irsay moved the Colts to Indy and owned the team until his death in 1997. Irsay is buried in section 88.
---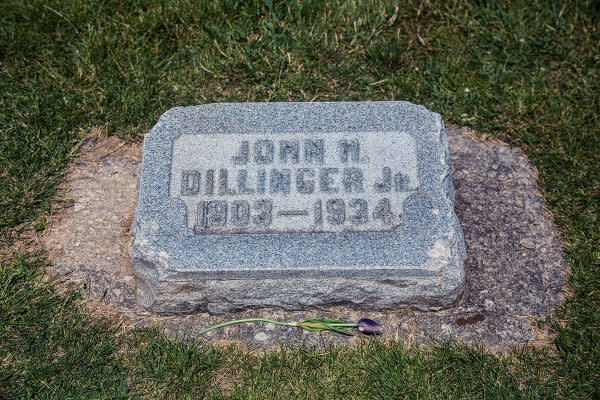 John Dillinger's Marker
JOHN DILLINGER (1903-1934) John Dillinger, arguably Crown Hill's most infamous burial, is supposedly interred under four layers of concrete and steel at his family's plot. Dillinger and his various gangs went on a bank robbing spree across the Midwest in 1933 and early 1934. He broke out of jail twice and was designated as Public Enemy Number One by the FBI. He was ambushed outside of the Biograph Theatre in Chicago on July 22, 1934 and was shot dead. Dillinger is buried with his family in section 44.
---
Several prominent local, state, and national politicians are buried at Crown Hill including one president and three vice presidents.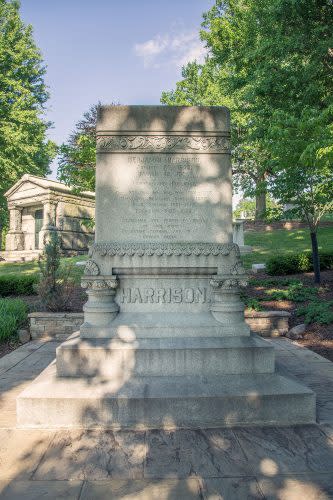 President Benjamin Harrison's Marker
BENJAMIN HARRISON (1833-1901) Harrison was the 23rd American president and was the grandson of William Henry Harrison, ninth president and territorial governor of the state of Indiana from 1801-1812. President Harrison served in office from 1889-1893. Harrison is generally seen as serving with a great deal of integrity as president. After leaving office, he moved back to Indy and was a trustee for Purdue University and lectured across the United States.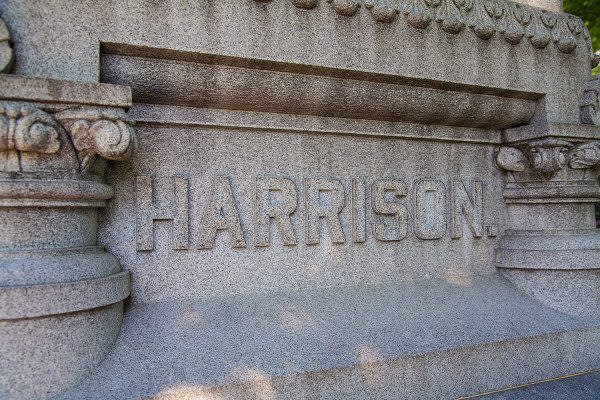 President Benjamin Harrison's Marker
President Harrison is buried in section 13.
---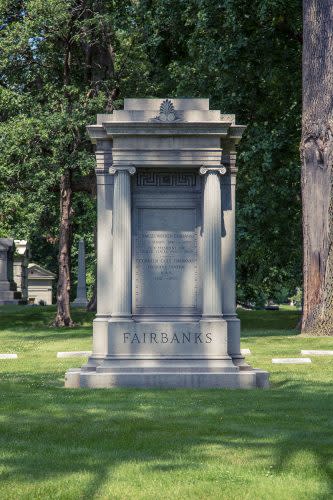 Charles Fairbank's Mausoleum
CHARLES FAIRBANKS (1852-1918) Fairbanks served as vice-president for Teddy Roosevelt from 1905-1909. He was also a U.S. Senator for Indiana from 1897 - 1905. Active in Republican politics, Fairbanks practiced law before and after his political career. The city of Fairbanks, Alaska is named in his honor. He is buried in section 24.
---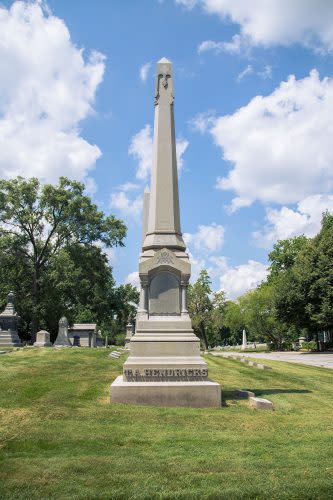 Thomas Hendrick's Marker
THOMAS HENDRICKS (1819-1885) Hendricks served as vice-president for Grover Cleveland in 1885. He died in office, having only served a little over 8 months. Hendricks had a long political career before becoming vice president. He served in the Indiana General Assembly from 1848-1850, as a U.S. Congressman from Indiana's 5th district from 1853-1855, as a Senator from 1863-1869, and as the 16th Governor of Indiana from 1873-1877. Hendricks is buried in section 29.
---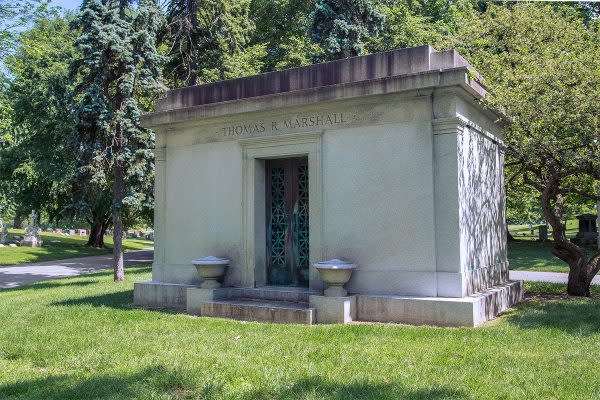 Thomas Marshall's Mausoleum
THOMAS MARSHALL (1854-1925) Serving as vice-president under Woodrow Wilson from 1913-1921, Marshall was a popular Indiana Governor from 1909-1913. An ardent progressive, Marshall quietly filled several ceremonial duties for President Wilson as he recovered from a stroke in 1919. After leaving office, Marshall practiced law and published several books. He is buried in a mausoleum between sections 12, 46, and 23.
---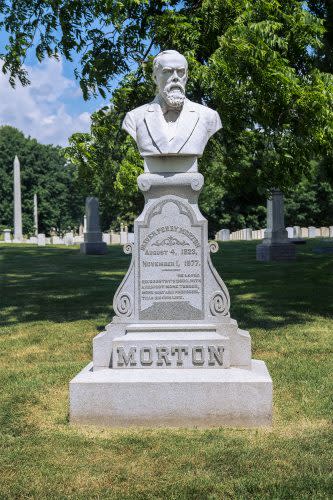 Oliver P. Morton's Marker
OLIVER P. MORTON (1823-1877) Oliver Morton, Indiana's 14th governor, was the famous Hoosier governor during the Civil War. An ardent supporter of President Lincoln, Morton heavily assisted in the Union effort by recruiting thousands of soldiers and being generally hostile to anyone sympathizing with the Confederate cause. Morton is buried in section 9.
---
---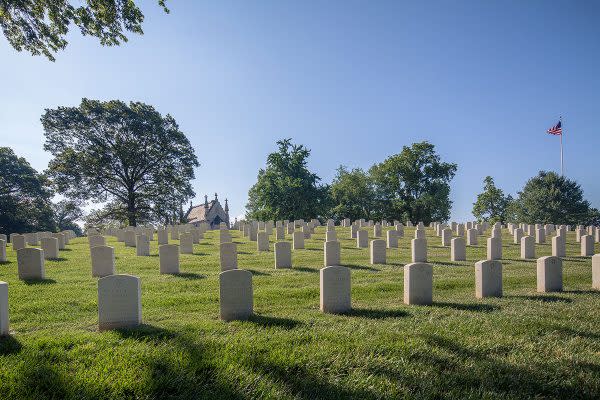 Crown Hill National Cemetery
CROWN HILL NATIONAL CEMETERY In 1866, the United States government dedicated a section of Crown Hill Cemetery as a U.S. National Cemetery. The United States has 147 National Cemeteries, designated as such for burials of American military veterans and are administered by the United States Department of Veterans Affairs. Some of the Civil War burials here were re-interments from the old Greenlawn Cemetery, which no longer exists.
---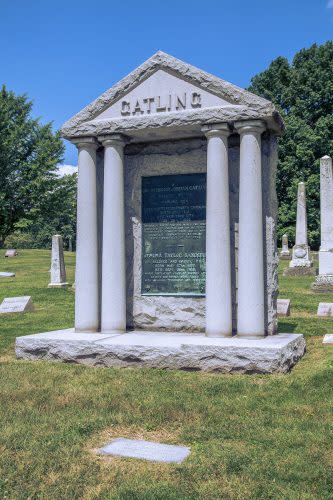 Dr. Richard Gatling's Mausoleum
RICHARD GATLING (1818-1903) Richard Gatling's marker lies across from the Crown Hill National Cemetery in section 3. Gatling was first an inventor and merchant in life, before becoming a doctor in 1850. In 1861, he developed the Gatling Gun, which was a forerunner to the modern machine gun.
---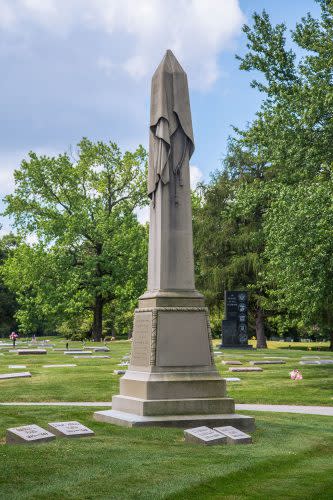 Jefferson C. Davis' Marker
JEFFERSON C. DAVIS (1828-1879) Jefferson Columbus Davis (no, not that Jefferson Davis) served as a highly controversial corps commander under William Tecumseh Sherman in his March to the Sea during the Civil War. Davis, having achieved the ranks of colonel and Brevet Major General, shot and killed General William "Bull" Nelson for an insult in 1862, but wasn't charged with murder due to a dearth of Northern commanders at the time. Davis' monument is topped with a draped obelisk. Obelisks were often used during the era to connect the deceased with a notion of nobility, while draped items (such as urns or obelisks) symbolized mourning. Davis is buried in section 29.
-----
Any proper trip to Crown Hill will take several hours to explore the fantastic sculptures, mausoleums, and funerary architecture throughout the cemetery.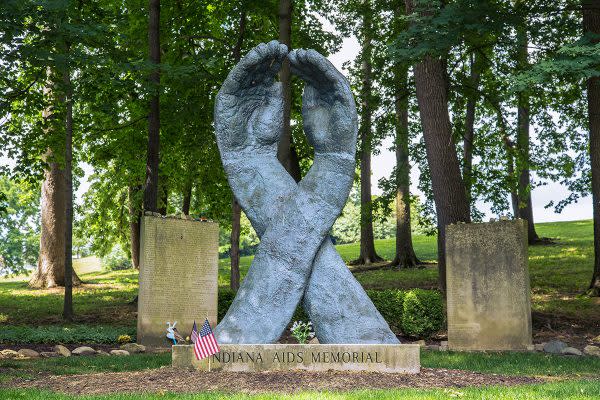 Indiana AIDS Memorial
INDIANA AIDS MEMORIAL The Indiana Aids Memorial was dedicated in 2000 by the Indiana AIDS Fund, the Joseph. F. Miller Foundation, and Crown Hill Cemetery to honor those who suffered and are suffering from HIV and AIDS. The first permanent memorial of its kind in the United States, the Indiana AIDS Memorial features names of Hoosiers who died of the disease in the 1980s and 1990s. The memorial is located in section 89.
---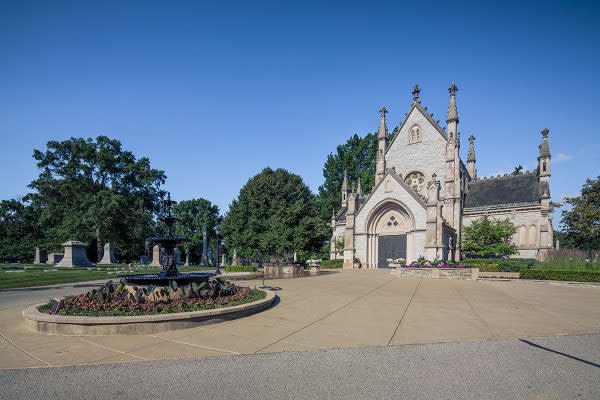 Gothic Chapel
GOTHIC CHAPEL The Crown Hill Cemetery limestone Gothic Chapel was built in 1875. Originally known as the Gothic Vault, the structure was built to temporarily entomb those who could not have an immediate burial due to weather (i.e. frozen ground). The chapel is listed on the national Register of Historic Places and is located in section 9.
---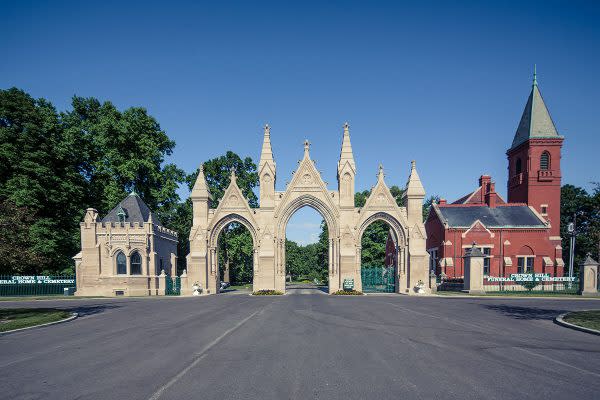 34th Street Gate
34th STREET GATE Also on the National Register of Historic Places, the 34th Street Gate and Waiting Station stand as the grand entrance to the cemetery. Made of Bedford Limestone, the gate was completed by Adolph Scherer in 1885.
---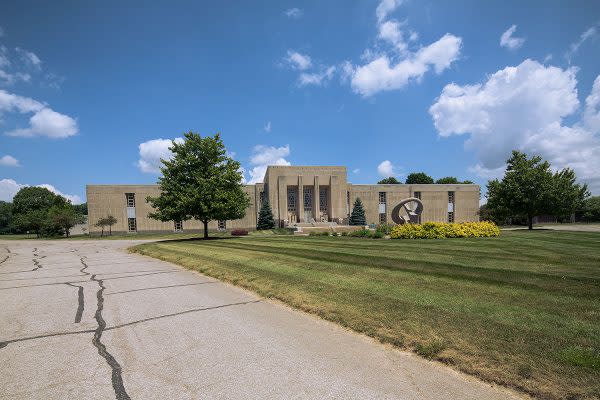 Crown Hill Mausoleum
CROWN HILL MAUSOLEUM The 1951 Crown Hill Mausoleum sits on the cemetery's north grounds and was built of Indiana Bedford Limestone. The mausoleum has several notable interments, including the Civil Rights activist Reverend Mozel Sanders.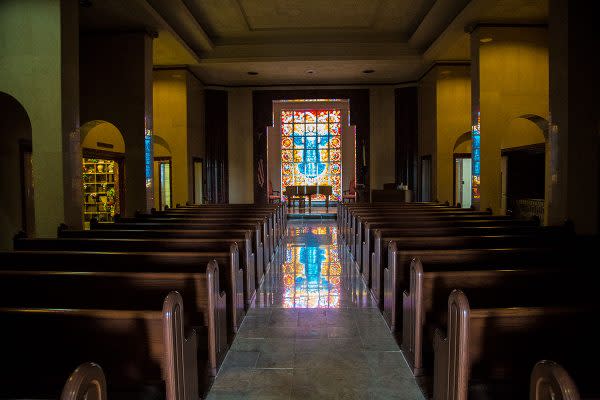 Crown Hill Mausoleum's Peace Chapel
The Mausoleum also features the Peace Chapel, with a beautifully ornate stained-glass window.
---
Crown Hill Cemetery
There is so much to explore at Crown Hill Cemetery. A proper visit will take several hours, if not a few days to take in all of the history, architecture, and landscape design found throughout the cemetery. The Crown Hill Cemetery handles interments, while the Crown Hill Heritage Foundation handles tours and events.
Crown Hill Heritage Foundation Details - Map - Burial Locator (online database) - Structure Info - History - List of Notable Burials - Art and Architecture Info