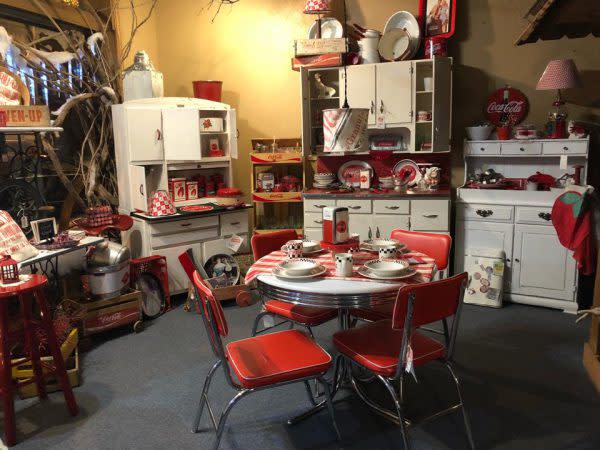 DeKalb County in Northeast Indiana is known for it's world famous Auburn Cord Duesenberg Classic Car Show and Auction held on Labor Day weekend of each year so it's no wonder that the area is also an excellent place for finding antique treasures - and they aren't all car related, I promise! Head north on I-69 just 15 minutes from Fort Wayne to DeKalb County and visit these eight great locations selling antiques of all shapes and sizes.
The area is teeming with plenty of exciting activities to round out your trip. There are three wineries in the area that offer tastings daily. Downtown boutiques offer clothing, culinary delights, local art and decor for your home. Visit Sechler's Pickle Factory for a tour (seasonal) or spend time in one or more of 9 museums in the county. To plan your visit and/or overnight stay, check with the DeKalb County Visitors Bureau. or request a brochure.
Auburn
I'm very impressed with Gallery 326 - it's very well organized with plenty of neatly arranged display cases and booths. They have an excellent variety of automobile industry items, vintage toys, militaria and all of the estate items that we've grown to love. Head all of the way to the back for some very interesting exotic taxidermy mounts, including a giraffe. Make sure you get on their mailing list for auctions that they hold on the property once a month. The shop is located right off the highway near the Kruse Museums and Expo Center so it's a convenient stop if you are just passing through or want to start antique shopping as soon as you arrive. Facebook Page
Antiques on Fifth -109 E. Fifth Street, Ste. E, Auburn
Located in Downtown Auburn, Antiques on Fifth is exactly what you are hoping for when you visit an antique mall – plenty of glass wares, home decor, tools, collectibles etc. and lots to look through. Head to the back and down the hall to find multiple rooms filled with antique goodies. This place was bustling with activity on the day of my visit so be sure to grab your favorites before they're gone. Facebook Page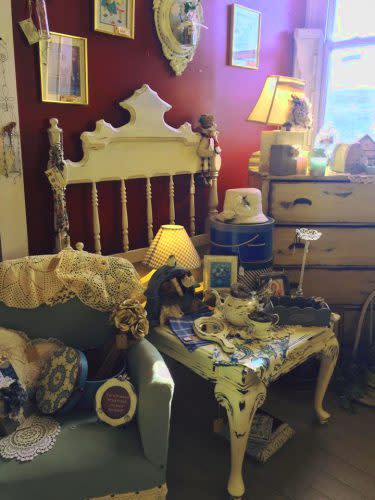 Photo Credit: Cranberry Cottage Facebook
This is another gem located in the Sixth St. corridor filled with boutiques. What's not to love about an adorable old church that houses a cozy cafe, ice cream parlor and fabulous shop? Stop for lunch and finish up with a stroll through antiques, furniture, home decor, clothing and accessories. (seasonal- opens in April) Make sure you don't leave without trying one of her mouth-watering desserts!  Facebook Page
The owners tell guests that the shop is like an English muffin – lots of nooks and crannies. I would say that is a very accurate description of what you find at the Blue Fruit Jar. You'll find a little bit of everything here from estate jewelry and antique glassware to art, vintage linens, toys and decor. Don't be afraid to do a little digging as some of the best treasures might be hidden. Make sure you venture downstairs for plenty more merchandise. Facebook Page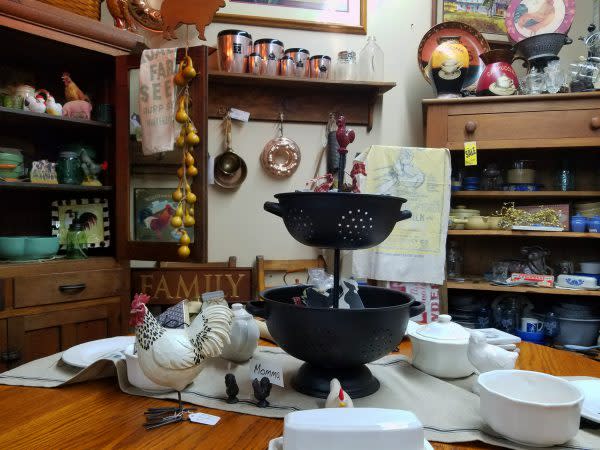 The General Store has a great mix of old and new treasures for your home. Over 65 vendors join together with everything from antiques and vintage items to home decor, handcrafted items, furniture and culinary items. Check out their website for a more inclusive list or better yet, just stop in and see for yourself. This shop really has a little bit of everything and it was fun to take it all in. Our favorite part was the nostalgic candies and we loaded up with plenty of taffy and hard candies at the register. Website
This place is jammed full of great antiques and LOTS of antique toys! The Hissong's have been collecting vintage toys, antiques, diner items, etc. for several years before opening up their shop that's located on their property just a few minutes south of Auburn on County Road 427. They have by far the largest selection of antique doll houses in the area - it's impressive. If you are looking for specific items, they have plenty more that haven't made it to the shelves yet – just ask. They typically open on weekends and if the "open" flag is by the road you simply owe it to yourself to stop and come on in.  Facebook page
Garrett
I love this shop! Miss Vicki's has a perfect blend of antiques and vintage items on the south end of Garrett. It's located in a quaint little strip mall right on 327. The shop also features a selection of boutique clothing, home decor and handcrafted items. Head up town afterwards and have lunch at one of their great downtown eateries or head south on 327 to Country Heritage Winery for tastings. Facebook Page 
St. Joe
Wind through downtown St. Joe on St. Rd. 1 and just as you are heading out of town, you'll find 2nd Time Around Antiques. This barn is filled with collectibles, antiques, vintage toys and second-hand items for your home. There's a little bit of everything. While you are in town, stop downtown for some pizza or pulled pork at Pizza, Subs and BBQ. Facebook Page 
Want to know about more antiquing spots around the Hoosier State? Check out this spot in Madison, the Junkin' Trail, these unique items in Franklin, and these six shops in Angola.