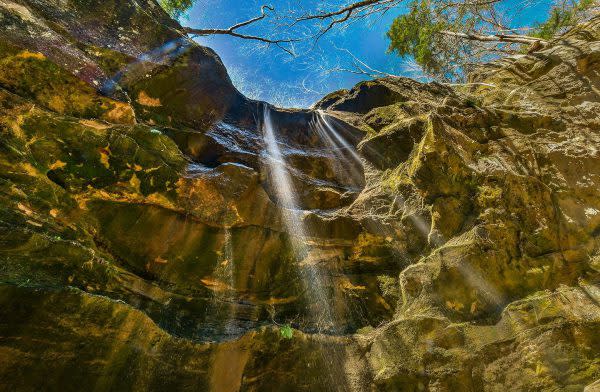 For my fourth journey into the Hoosier National Forest, I visited Springs Valley (Tucker) Lake, the Yellow Birch Ravine, and Hemlock Cliffs. All three locations provide excellent opportunities to explore some of the more interesting features found deep inside Hoosier National Forest. As always, make sure you come prepared - Springs Valley Lake is pretty easy to explore. Still, the paths back to the Yellow Birch Ravine and Hemlock Cliffs are a bit more arduous and should be left to those visitors seeking a more, how shall I say, robust hiking experience.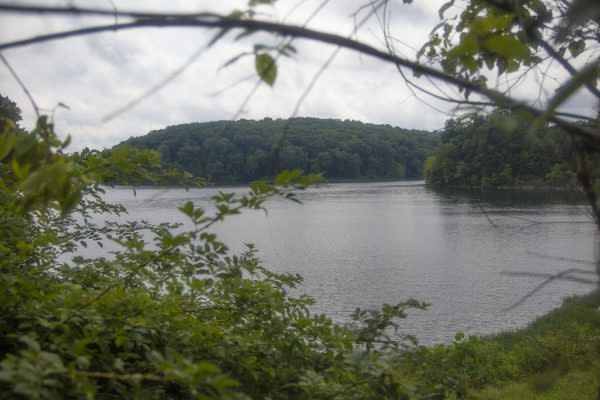 Springs Valley Lake/Tucker Lake
Springs Valley (Tucker) Lake and the Buffalo Trace Also known as Tucker Lake, the Springs Valley Lake is a 141-acre lake at the Springs Valley State Recreational Area center. The 12-mile trail (hiking, horseback riding, or mountain biking) that surrounds the lake also follows part of the old Buffalo Trace that once connected the Falls of the Ohio (New Albany) with Vincennes.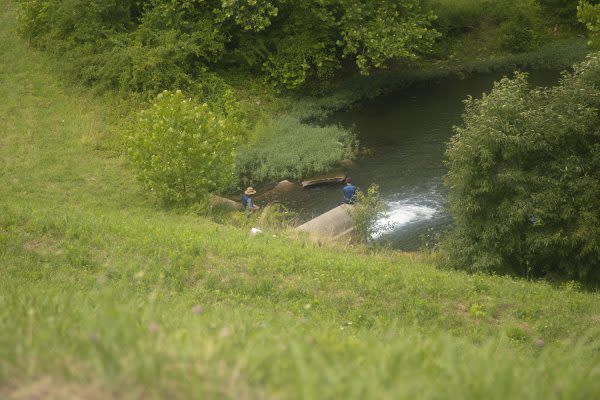 Springs Valley Lake
To get there, travel south out of French Lick on State Road 145. About four miles south, turn left (east) on County Road 410 South (French Lick Road). That road follows along French Lick Creek. You'll come across the entrance to the lake with a gravel parking lot. Just walk up the stairs, and the path begins in an opening to the lake.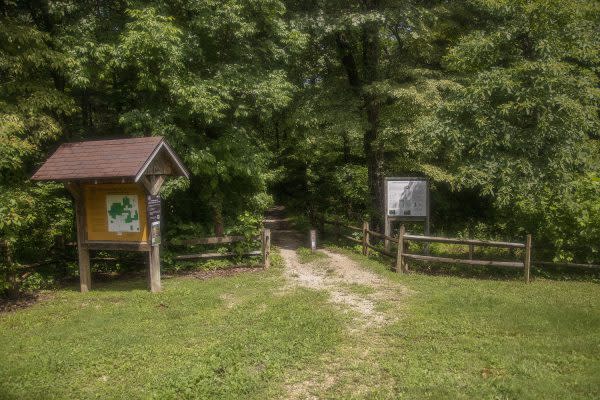 Buffalo Trace
There are several points to get on the old Buffalo Trace. The U.S. Forest Service has put together this handy interactive map for those more interested.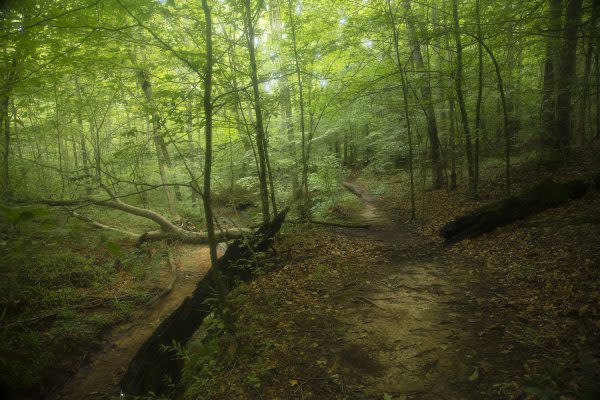 Yellow Birth Ravine
Yellow Birch Ravine Located near Taswell, Indiana, the Yellow Birch Ravine features a seldom-used, rough trail that travels through a ravine back to some stunning rock formations along the nearby creek.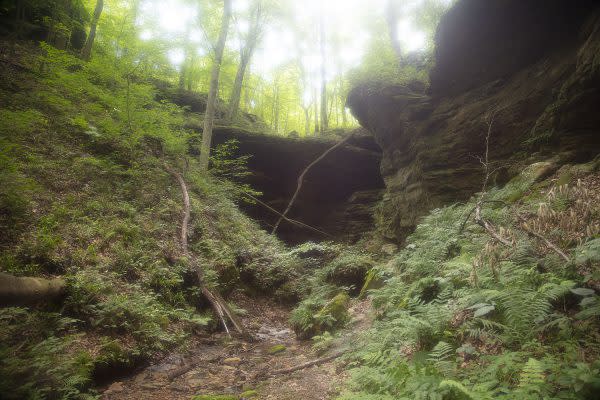 Yellow Birth Ravine
To get there, travel south on State Road 37 out of Paoli. Just before English, head West on State Road 64/37 until you get to Taswell, then turn south on County Road 139/Trestle Road. You'll see a small gravel parking lot about a mile south on the road's right/west side. The trail directly from the parking lot heads west, but you'll want to cross the road and hike east/northeast on the path that hugs the creek, heading east/northeast. The central feature of the trail is the Ravine Arch, which is about a mile or so in.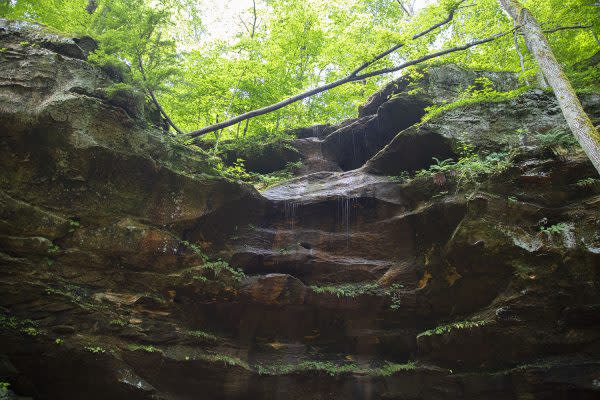 Hemlock Cliffs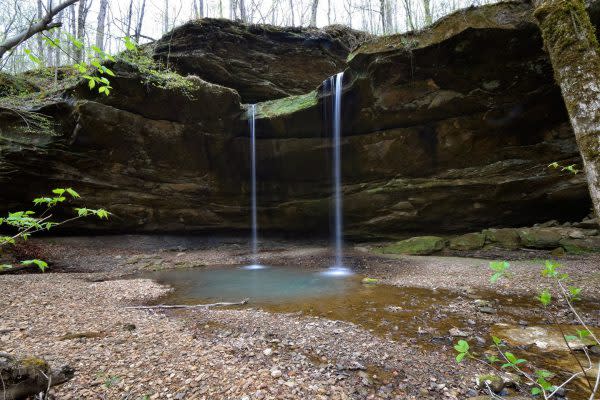 Hemlock Cliffs The most spectacular part of this journey into the HNF for me was Hemlock Cliffs, a beautiful stretch of sandstone formations found literally in the middle of nowhere. To get to it, travel south on State Road 37 out of Paoli. In English, continue south on State Road 237 until you get to County Road 8, about 5.5 miles south of English. Head west/right on County Road 8 as it winds its way. The road will eventually become Hatfield Road, then County Road 13. You'll see the turn-off for 'National Forest Road,' which leads to the entrance of Hemlock Cliffs.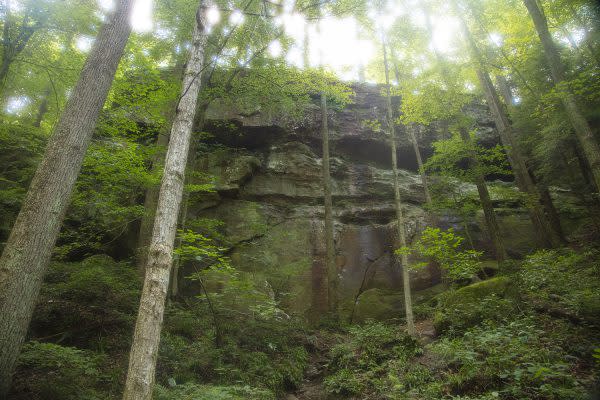 Hemlock Cliffs
The trail is fairly easy but probably best left to more experienced hikers (about half of the trail requires walking uphill). Many features make Hemlock Cliffs interesting, but the sandstone formations and the seasonal waterfalls make the experience genuinely magical. Plan to spend some time back at these formations, as there's MUCH to explore. Bring your camera, or have your smartphone ready for amazing photos!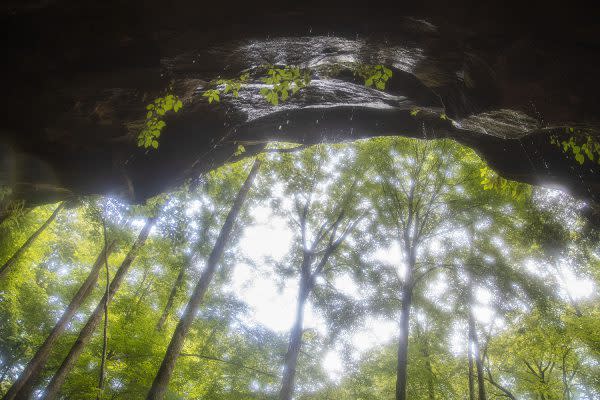 Hemlock Cliffs
According to the Hoosier National Forest website, "A one-mile hiking trail leads you down into the canyon under a lush canopy of large trees, through rock shelters, and past high seasonal waterfalls. Parts of the trail are steep and slippery when wet, so use caution. It could take two leisurely hours to complete the loop."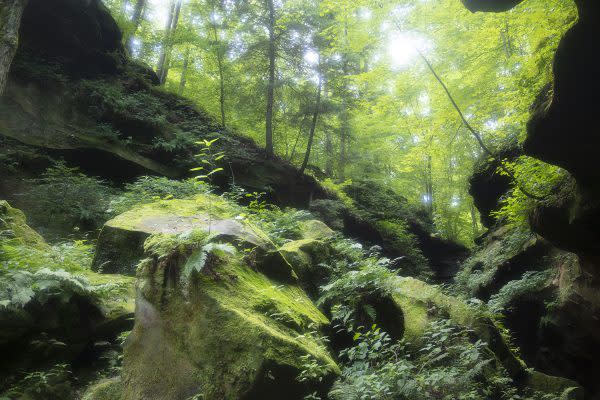 Hemlock Cliffs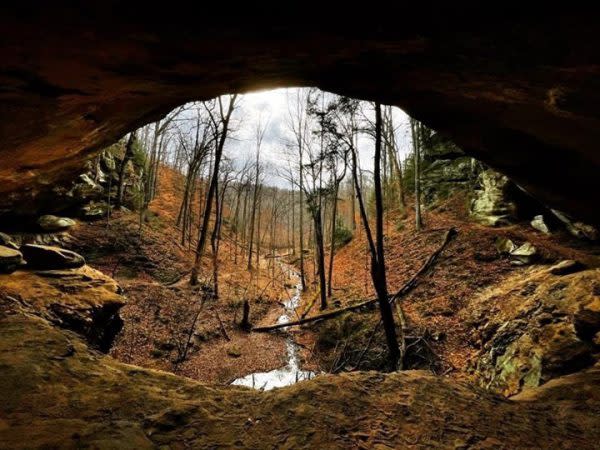 As With Every Trip... ...always wear bug spray if you travel in warmer months. Pants and long sleeves are also ideal for preventing ticks. We had no cell service when we went, so plan accordingly. Bring water too; it was blazing hot when we went.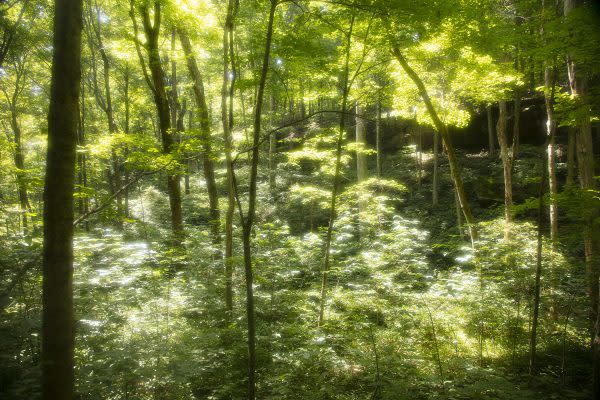 Hoosier National Forest