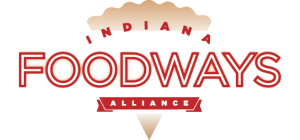 Spring can mean Seafood or Vegetarian meal options so Indiana Foodways Alliance has made a list of meatless delicious Indiana seafood spots within the landlocked Hoosier State. Check out IFA's entire Here Fishy Fishy Food Trail.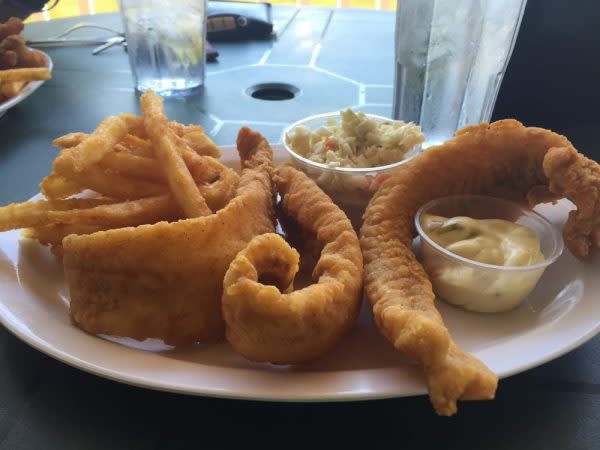 Coody Brown's Restaurant. Photo credit: Yelp!
Coody Brown's in LaGrange County is located on a channel of Witmer Lake. Fill up your proverbial tank whether your boat tank or stomach, this is your one stop shop. If you love fish, be sure this place is on your bucket list. Â Friday Specials include All You Can Eat Fish. Enjoy boating on the lakes and just pull up when you get hungry. There is a wide variety of food to choose from including salads, burgers, chicken strips, pizza, specialty sandwiches, of course seafood and more!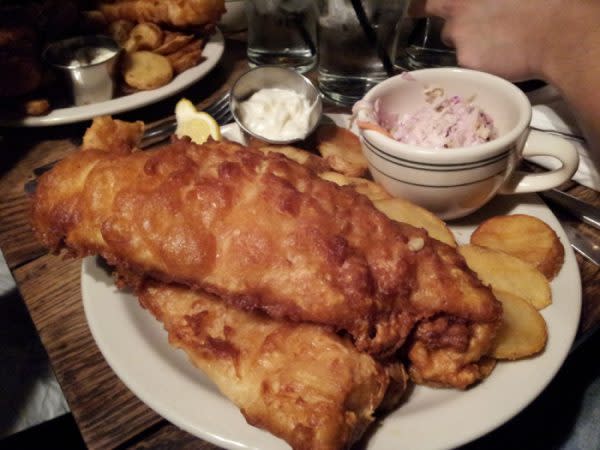 Photo Credit: Chu On This
O'Bryan's Nine Irish Brothers in West Lafayette has several house favs to include Tiger Mike's Fish and Chips, The Fish Sandwich, and the Stormin' Norman Atlantic Salmon. Want something other than seafood? The Indiana Pork Tenderloin Sandwich is the word here. In 2016, Nine Irish Brothers in West Lafayette was named best Indiana Pork Tenderloin Sandwich by USA Today 10Best Choice Contest.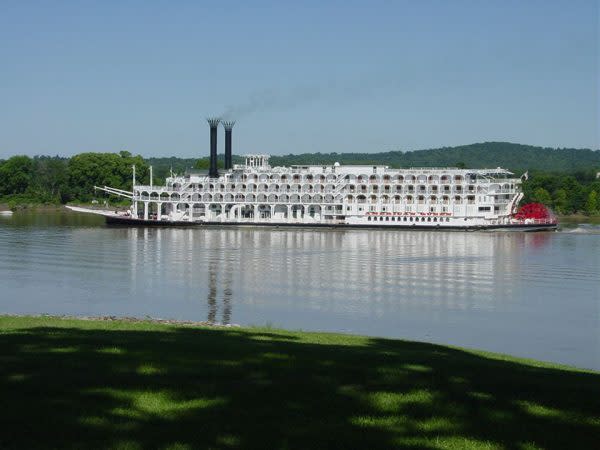 American Queen passing by Smackwater Cove
Smackwater Cove Restaurant in Derby has a beautiful view of the Ohio river. Try their delicious catfish or their cod sandwich. They also have a seafood buffet during certain days of the week, so be sure to call for availability.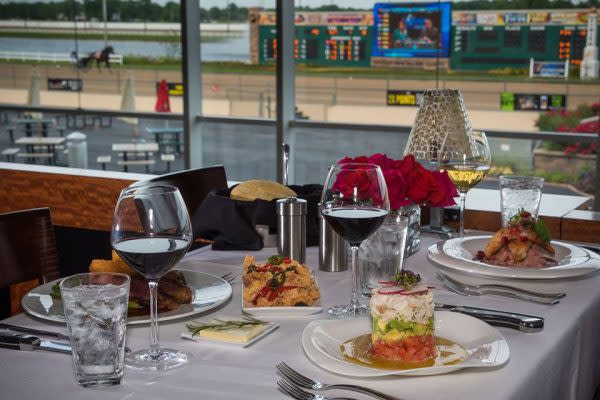 Feeling Lucky? Stop by Hoosier Park and Casino for a little entertainment before you dine at Homestretch Steakhouse. Take in a few horse races and partake in their delicious Alaskan King Crab Legs or the Pan Seared Sea Bass. Â Whether you win on the races or slots your taste buds will land a victory.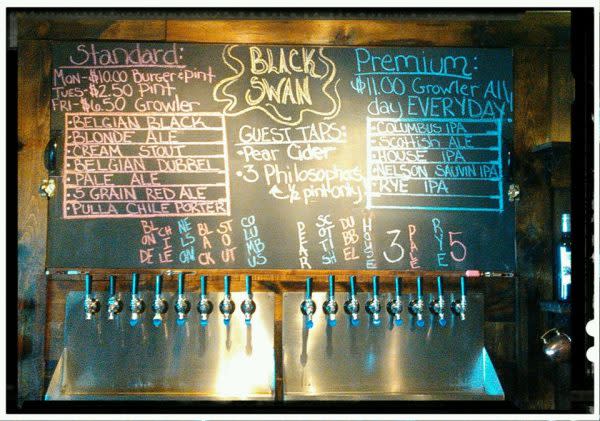 Black Swan Brew Pub in Plainfield has 19 handcrafted beers on tap. Pair them with Seared Salmon or the Black Swan PoBoy with Catfish or Andouille Sausage. From IPA's to Stouts, all the beer is brewed on site, handcrafted to perfection. Get a growler to go for a little fun!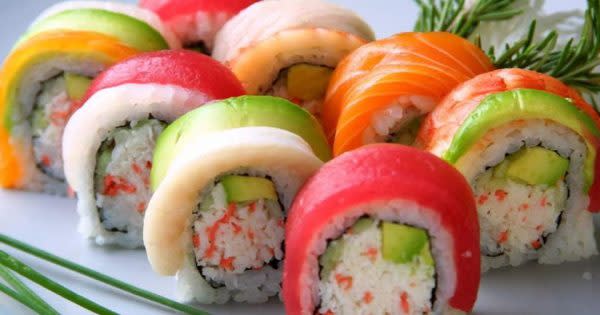 Zing was one of 10 restaurants in the Midwest Living Foodie Trail, named as one of their favorite restaurants to visit in South Bend. Zing's sushi chef have mastered the art of sushi so next time you are visiting the home of Notre Dame, treat yourself to fresh sushi made daily. Zing's extensive menu gives sushi lover's plenty of options. Wasabi Heaven Signature Rolls to the Sushi the Tuna or Avocado Roll, Zing will make your taste buds zing! Want to read more about South Bend?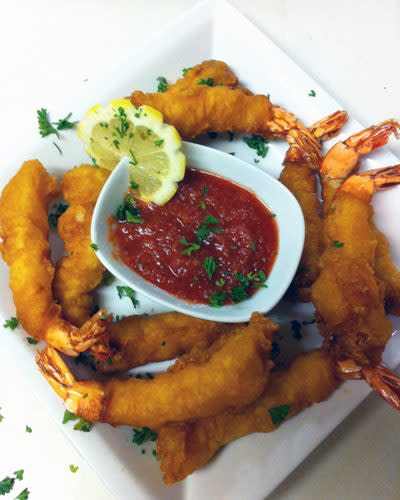 Captain's Cabin overlooks Crooked Lake in Angola. Outstanding food and warm atmosphere brings in the crowds so be sure to arrive early! Seafood Baskets are very popular but if you palate wants something a little fancier, try the Lobster Tail.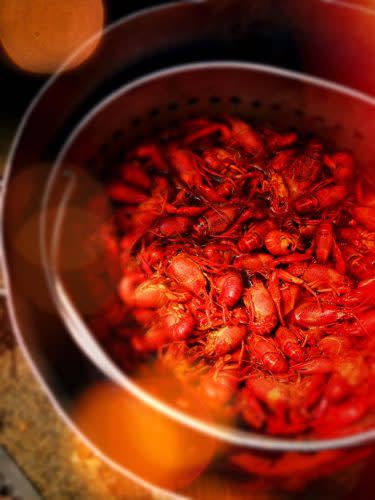 Zydeco's Cajun Restaurant is a little bit of seafood mixed with Southern Louisana Cuisine. Let the good times roll with this fabulous restaurant located in beautiful downtown Mooresville. Celebrate Mardi Gras all year round and try the Crawfish Maque Joux, Vegetarian Red Beans, Crawfish Boil, or Red Beans and Rice. This authentic Cajun restaurant has a plethora of choices to get your southern groove on!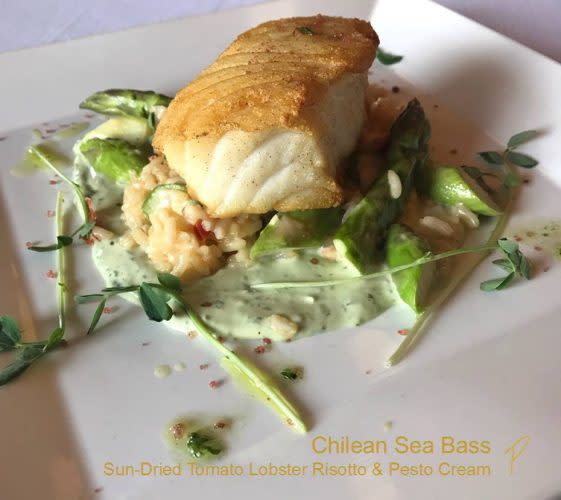 Peterson's Restaurant located off of I-69 and 96th St. in Hamilton County, is a family owned restaurant offering an array of menu options to satisfy a the most distinguished palates! Awarding wines pair great with their extensive steak and seafood options. Daily shipments of the highest quality of meats and seafood create vast options whether crazy for seafood, vegetarian, or meat. We recommend the Chilean Sea Bass, Alaskan King Crab Legs or the Jumbo Grilled Sea Scallops. Â Craving Red Meat? The succulent steak selection is perfect for the meat lovers in the family. Leave room for the Mile High Triple Chocolate Cake, it is pure bliss!