Have you ever wondered what it would be like to soar majestically through the sky like a bald eagle? If so, you're in luck! Indiana is home to many scenic zip lines that provide thrilling experiences for visitors of all age levels. Glide through the "Little Smokies" in Brown County or hover for thousands of feet over Timber Lake. If you aren't quite ready to spread your wings fully quite yet, there's also some more tame indoor ziplines in the Hoosier state. No matter what, these 15 Indiana Zip-Lines will have your legs dangling and heart thumping!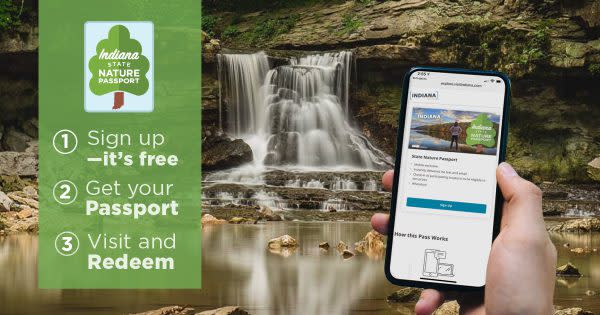 There are over 59 destinations on the Indiana State Nature Passport! Check-in and explore participating locations throughout the state to earn great prizes! The more you visit, the more you win. This program is 100% free, but property entrance fees apply when you visit. Learn More.
Indiana Zip Lines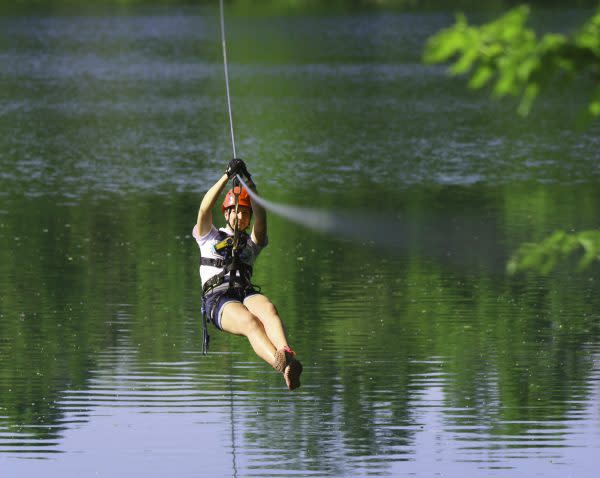 The owners of Zip Timber Lake conceptualized their course while on vacation in Honduras.  With eight zip lines and four bridges, fears are put to the test. The centerpiece of the course is the "Flying Squirrel Zip" that soars 1,000' over a beautifully wooded private lake. Take the High Adventure Tour to do all 8 ziplines, 4 aerial bridges, 2 climbing elements, and the skyhook.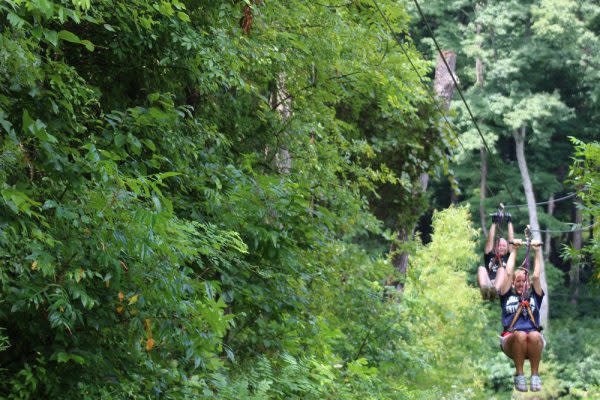 Among the rolling hills of Southern Indiana, the beauty of Lark Valley's Ziplines tours can match up with just about anyone. The Canopy Tour features their original 10 ziplines, but the Mega-Zip Canopy Tour also includes Lark Valley's Mega Line zips that range from 1600-2500 feet! Its ziplines are designed to be platform-to-ground so that the flight starts on a platform and always lands on the ground.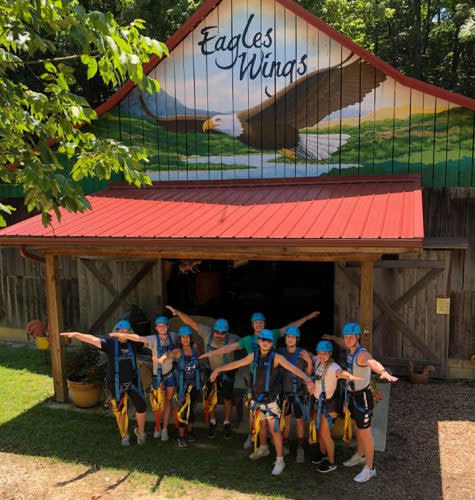 Eagles Wings Zipline consists of 8 lines that stretch out to 3,800 feet of fun. Speeds reach up to 40mph! The breathtaking views will have you amazed, but don't forget to enjoy the rest of the property after your adventure. Take a hike around the lake or have a picnic!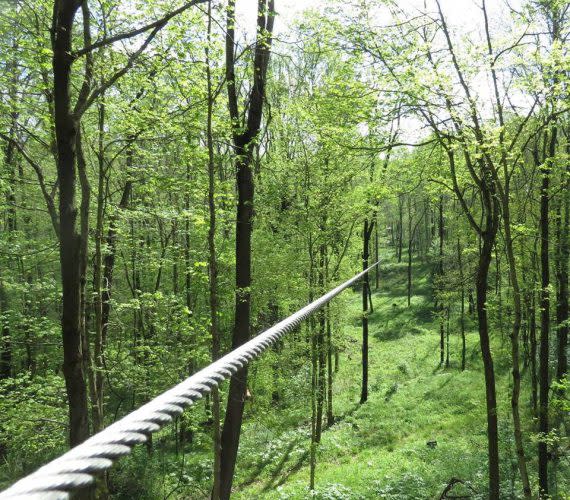 Located just a few minutes from Turkey Run and Shades State Parks, Indiana Zipline Tours welcomes kids of all ages. The longest of their 8 zips is 2000', making it one of the longest in Indiana! Not quite ready for that yet? Its relaxing 150' zipline might be more up your alley.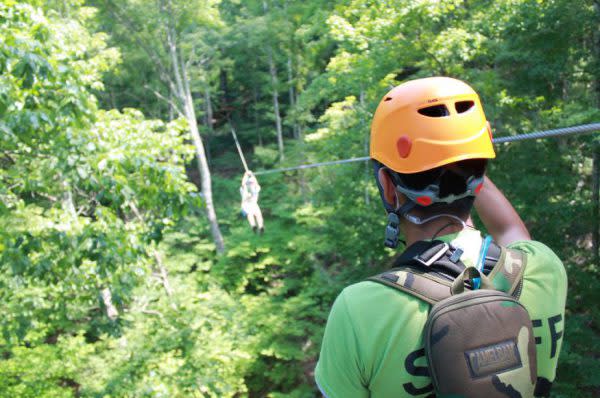 Descend over creeks, fields, and woods with a view of the valley at Squire Boone Caverns Zipline Adventures! There are two zipline adventure options; The Canopy Course and The Long Tour Course. The former possesses six canopy ziplines and a swinging suspension bridge while the latter has eight zip lines and two bridges. After your flying experience, an underground tour of the caves at Squire Boone is a must.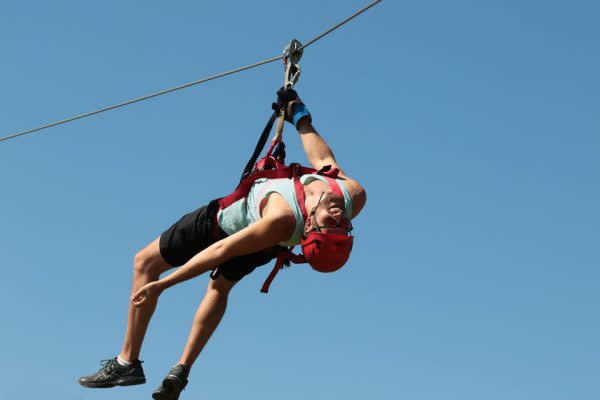 Did you know that Santa Claus was a thrill-seeker? Santa's Express Ziplines and & Outdoor Activities will have you experience what Mr. Kringle does while flying with his reindeer! Sail over the lake on one of the four ziplines on the campus. Stay at Santa's Lodge, and don't forget to visit Holiday World & Splashin' Safari for more adrenaline-inducing fun.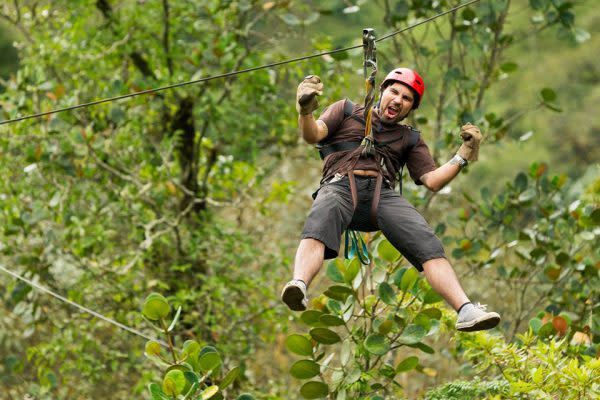 Fly high above South Bend at Edge Adventures Zip Line at Rum Village Park! Over 160 acres of rolling woodlands play host to a variety of zip lines ranging from 16' to 70' in the air. The Aerial Adventure Park also features multiple mounted trails with a series of 12 to 15 bridges each.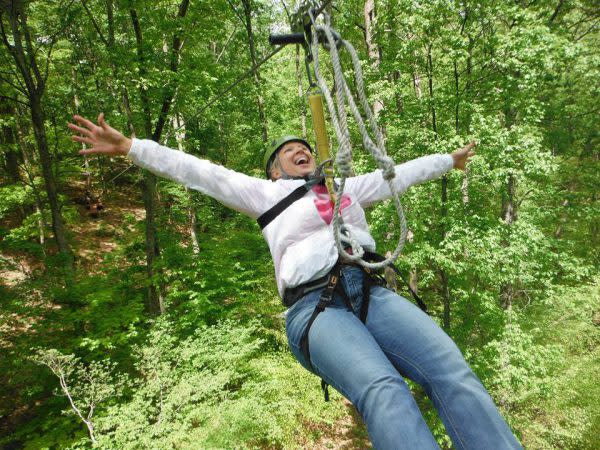 If you're looking for outdoor adventure, eXplore Brown County at Valley Branch Retreat offers over 1,000 acres of year-round fun. Fifteen world-class ziplines create a Tree Top Canopy Adventure for all ages, including the Explorer Tour (that crosses the lake three times), the Screamer Tour (Indiana's fastest and longest tandem racing zipline) and the Super Hero (fly in the Superman position). You'll also find ATV trails, mountain bike trails, hiking, and an incredible paintball set up.
You'll feel as if you're miles away from the city as you zip through the woods at Eagle Creek Park on Indianapolis' northwest side. Go Ape! Treetop Adventures opened its first course in the Midwest in 2012. The course includes five zip lines plus numerous rope ladders with 39 crossings, including challenges called Log Balance, Flying Carpet, and Tic Tac Toe.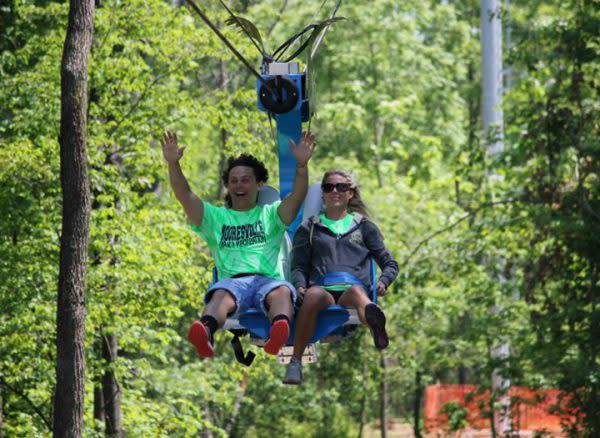 This one is a bit different than the other Indiana ziplines! The unique Soaring Eagle Zipline Ride at Pioneer Park straps up to two people in a molded plastic seat and lets you zip both ways! Unfortunately, the zipline will not open for the 2020 season. But, start making your flight plans for 2021!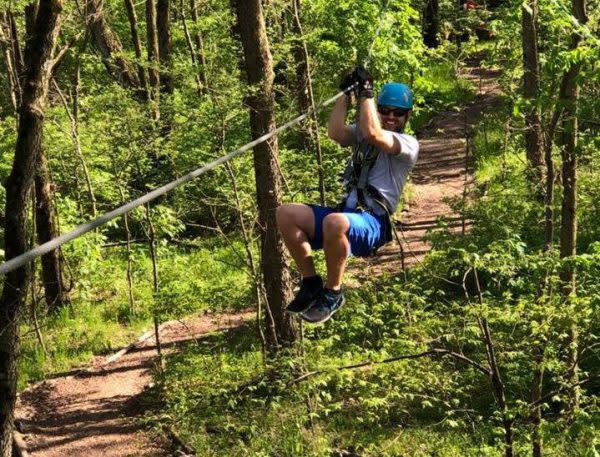 Strawtown Koteewi Park is a unique destination in Hamilton County with a diverse selection of things to do. There you'll find Edge Adventures, with over 60 challenging treetop trails and ziplines. The course is self-guided, so these thrills are real.  Bring the whole family because there's also horseback riding, archery, a history center, and an archaeological exhibit!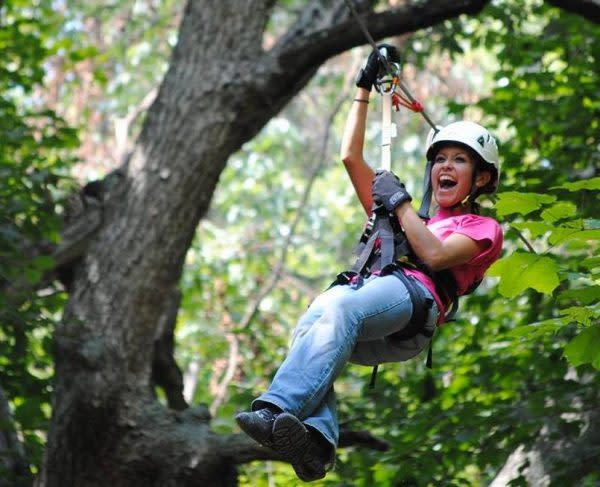 Skyward Adventures Zipline tours is a family-friendly zipline course taking you through 30 acres of hillside in Brookville. All 10 ziplines are bundles of fun, but the Zip 7 is the tallest at almost 60' off the ground. However, the best zipline of the course is the final one! The Signature Defy Gravity Line forces you to take a leap of faith where you experience a free-fall feeling of 3-4'. The zip trolley will then engage you and zip back forth in a pendulum pattern until you rest safely.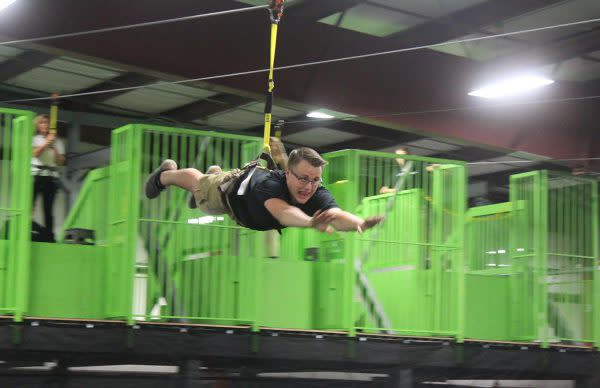 The goal of Zip City is to provide a maximum fun experience. That's never more evident than on their 4 indoor ziplines spanning almost 275 feet apiece. Spanning three stories in the air, your flight may reach speeds of up to 20 mph! Zip City is full of so many fun attractions, including a trampoline park, trampoline dodgeball, a rock wall, laser tag, ropes course, and more.
There's a brand-new reason to spend some time above ground at Indiana Caverns Family Adventure Park in Corydon. The Bat Chaser, a first of its kind zip coaster in the Midwest, marries the best elements of ziplining, hang gliding, and roller coasters. Indiana Caverns also just added a free-fall drop option named The Plunge!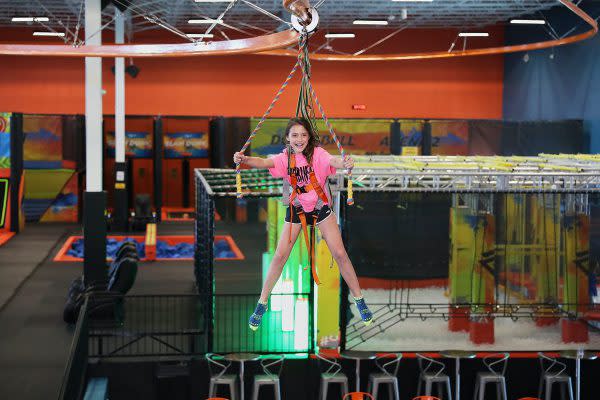 Urban Air Trampoline and Adventure Park in Franklin features an array of attractions including climbing walls, ropes course, tubes obstacle course, dodgeball courts, and more. The Sky Rider is a fun indoor zipline that zigzags over all of the other attractions at the park. It's no skill and all thrill, making it perfect for anyone wanting an enjoying ride!