After counting over 28,000 votes, we have narrowed down our list to find Indiana's best donut shops. While the voting was fierce, 0ur voters had an overwhelming favorite! The top donut shop broke the all-time record for votes in Best of Indiana history! Did your favorite make the top 10? See the results below!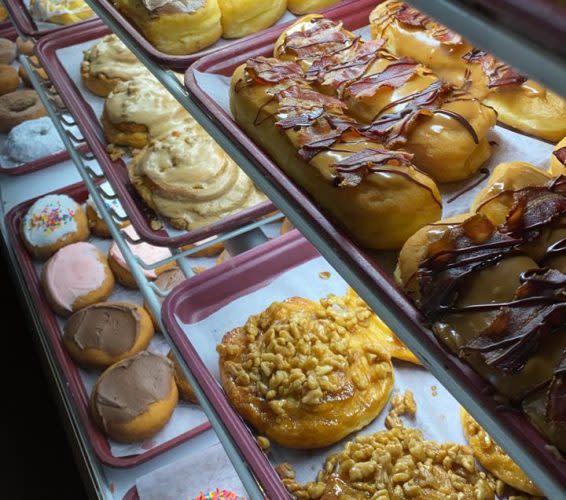 Concannon's Bakery has become famous for its delicious donuts! Opened in 1959, Concannon's Bakery quickly grew and needed a new facility by 1978. Due to the immense popularity of its homemade donuts, Concannon's has had to expand four times since then. Its expanded bakery cafe now features new treats like fine chocolates, coated pretzels, and gourmet popcorn.
Schmidt Bakery sold 160,716 Cherry Thing-A-Lings in February 2020!
Schmidt Bakery opened in 1963, initially selling both pizza and donuts. Now a full-line bakery that no longer offers pizza, its donuts still steal the show. During select happy hour days, its delicious donuts are only 50 cents!  Schmidt Bakery also whips up Cherry Thing-a-Lings once a year in February as a treat to its guests.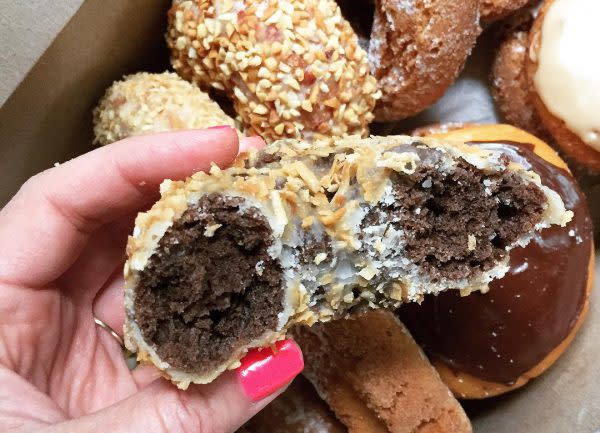 It doesn't get much better than a donut run on a Saturday morning to Munster Donut. Sweet and tasty is the best way to describe its Chocolate Bavarian and Chocolate Angel Cream donuts.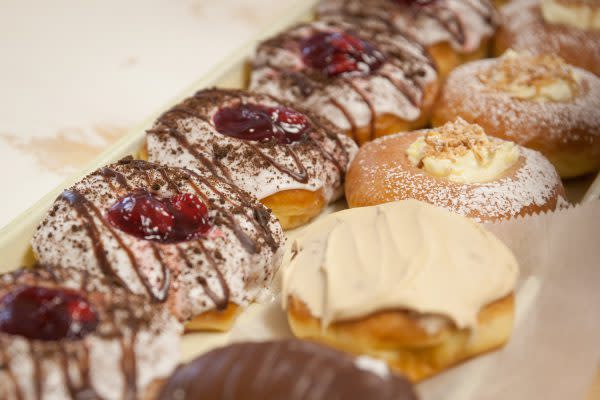 Titus Bakery is a third-generation, family-owned business with a top-notch reputation of making amazing donuts. Beyond its award-winning donuts and pastries, Titus has expanded its selection treats to include homemade pies and cakes. Westfield is home to the second Titus Bakery location.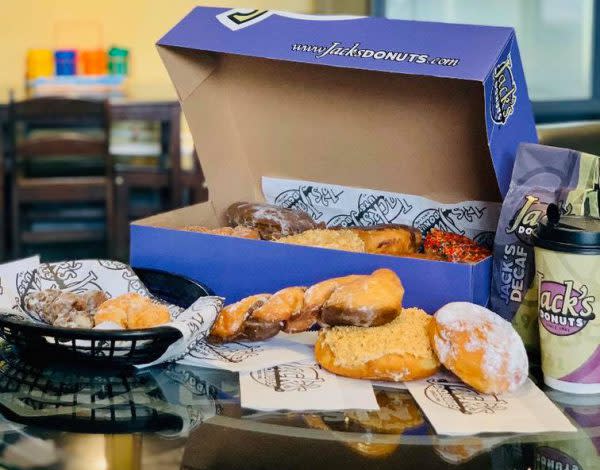 Jack's Donuts is one of the most iconic donut brands in Indiana! Jack and Ada Marcum opened the first Jack's Donuts in 1961 after they bought a New Castle shop. Three generations later, Lee Marcum decided to franchise, which means there are now 25 Jack's Donuts throughout Indiana. However, nothing can beat the nostalgia of the original. From a classic cake donut to a bavarian cream-filled donut, the flavor can't be understated. Carry-out, drive-thru and delivery are available at most Jack's Donuts locations.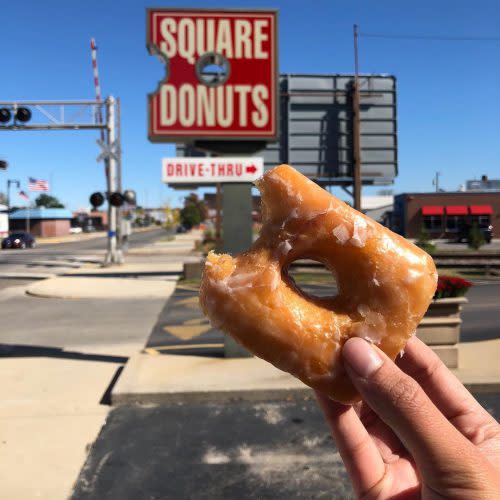 Photo by @tmanaolo21 on Instagram
Terre Haute can't be experienced without a morning visit to Square Donuts. Just like its name indicates, the donuts are uniquely square and surprisingly fluffy. College students, locals, and visitors all keep coming back to Square Donuts, and we think you will too after your first visit.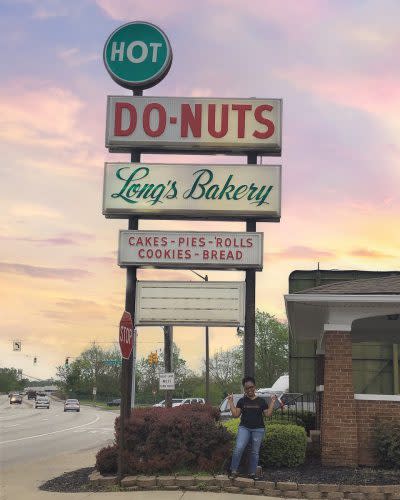 Long's is an Indianapolis staple, baking up fresh donuts for over 60 years! Customers far and wide really come to Long's Bakery for its world-renowned yeast donuts. This classic institution serves up a variety of treats beyond just donuts, including danishes, fritters, and cakes. The best time to arrive is about 7:30 am as the line won't be too bad. Please keep in mind that Long's Bakery only accepts cash.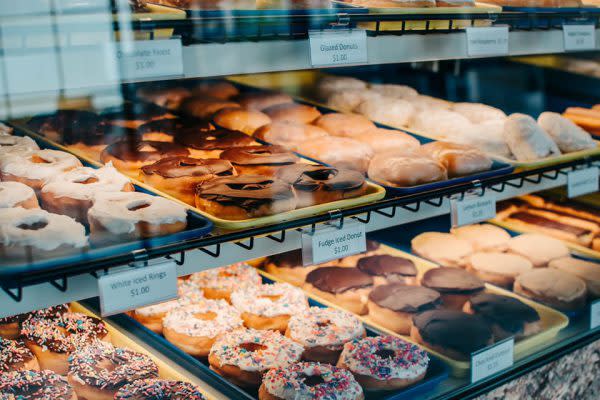 H&R Bakery now has an awesome new building on the square in Salem. Donuts continue to be its signature product, but H&R Bakery is known for adding new and exciting treats. Be careful, as the donuts holes can be seriously addicting.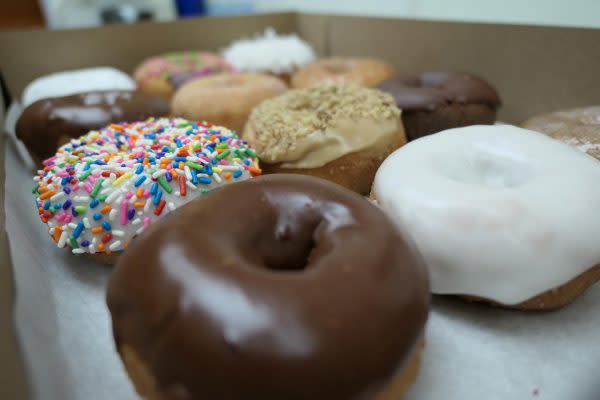 Brothers Doug and Greg Fingerhut are seventh-generation bakers with their family tradition dating back to the 1700s in Bohemia. The brothers still whip up mouthwatering goods in the form of donuts, cookies, and specialty cakes. Fingerhut's version of the Pączki, a filled donut that originated in Poland, is one of the best you will ever eat.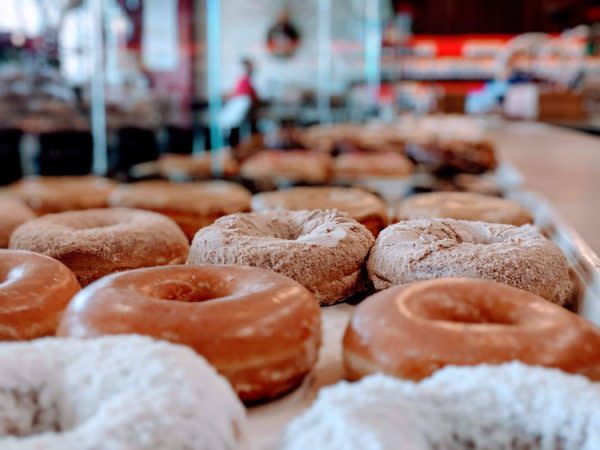 A young Amish couple began Rise'n Roll in 2001 by selling baked goods from their front porch. The first storefront location opened in 2004 without using any electricity or refrigeration, meaning that everything was prepped by hand. New owners bought the company in 2009, expanding the bakery to now include 13 different locations throughout Indiana. Rise'n Roll still does things 'the old-fashioned way,' with its signature breakfast item being the Cinnamon Caramel Donut. You must also check out the Peanut Butter Filled Donut that's made with Amish-made peanut butter! Rise'n Roll received more votes in the 2020 Best of Indiana campaign than any winner in any category in the history of the program!