It had been a few years since I ate at Mama Carollas and I remembered my food fondly so we decided last month to head there once more. Located just south of Broad Ripple in Indianapolis, Mama Carollas' charm is all about the atmosphere. It is housed in a villa that was built in the 1920s as a model home for a new style of houses to be built in the area.
Over the years the house has been home to families, a glass factory and even a woodworking shop. Its decor is similar to the original design and all of the wrought iron and most of the original light fixtures remain. It really makes you feel like you are transported to another place.
We enjoyed our dinner in the upstairs room (very quaint - only space for maybe 20 guests at a time). It was the perfect setting for my husband, daughter and I to enjoy a nice family dinner. The last time I went I thoroughly enjoyed their salmon, but this time decided to try something new. The Chicken Parmesan that came was enough food for an army!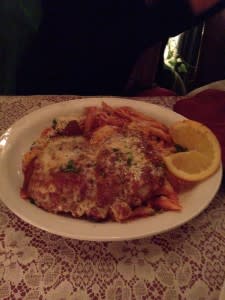 My husband ordered the Mediterranean Pasta. Another delicious dish ...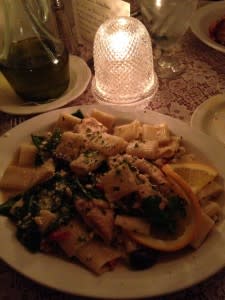 They unfortunately didn't have a children's menu. But we were able to order an appetizer for our daughter which was more than enough for her.
If you are looking for a quaint dining spot, Mama Carollas is a great choice. And with its location you can easily make a night of it (show at Clowes Hall, shopping in Broad Ripple). I'm already thinking about what my next meal will be!