When you hear "film festival," you probably think: expensive, far away, gotta have an industry connection to even get near it.
Middle Coast Film Fest, happening August 13-15 in Bloomington, is something entirely different: affordable, accessible, and close to home.
More than 60 movies will screen at a variety of venues over the weekend, including a mix of feature-length and short films. There's everything from comedy to horror, animations to documentaries, coming-of-age tales to love stories. Some are being shown to the public for the very first time, and others have already screened at big-name film fests, like Sundance.
A day pass for the festival is $25 and a weekend pass is $40, available here.  Early-bird pricing through Aug.1 is $20 for a day pass and $30 for a weekend pass. At the door, day passes are $30 and a weekend pass is $50.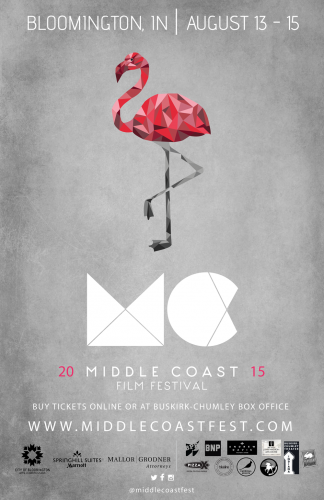 It's the second year of the fest for co-founders Jessica Levandoski and Chelsea Sanders. The fest was a trial of sorts last year, Levandoski says, and it has grown immensely in just a year.
We spoke with Levandoski, the festival director and a filmmaker herself, about what to expect:
Visit Indiana: What made you decide to start Middle Coast?
Levandoski: We are in an often-overlooked state, a "flyover" state if you will, and yet you come here and you just. can't. believe all the hidden treasures Bloomington has. We are one of the country's best kept secrets both geographically and culturally speaking, and our festival reflects that. We are The Middle Coast. Our shorelines are different and way less expansive but it's the people here that provide the creative buoyancy that keeps projects like ours afloat.
We are a festival aimed at providing an intimate connection between filmmakers and our audience, we want all aspects of filmmaking to be showcased and talked about. From the on camera talent, to screenwriters, directors of photography, and set and costume design, to CGI and marketing, all the way to the catering teams that keep film crews fed. We want to implore our Midwestern audience to consider filmmaking as another industry that can grow and thrive here, and we want Bloomington to be at its epicenter.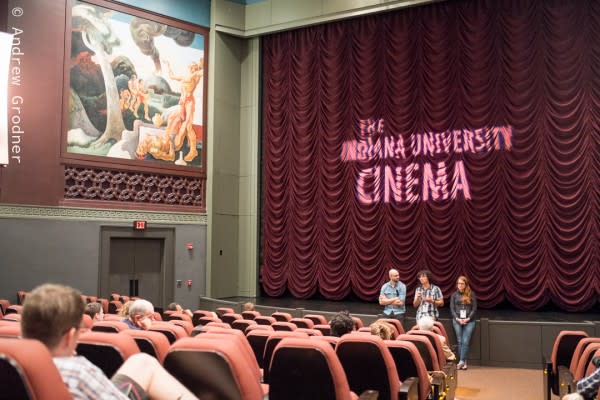 Middle Coast Film Festival movies are screened at a handful of Bloomington venues, including the Indiana University Cinema.
Visit Indiana: Which movies will everyone will be talking about?
Levandoski: I think Runoff, Wildlike, The Manifesto and I Dream Too Much will have the most buzz. Especially I Dream — it was directed by Katie Cokinos and exec-produced by Richard Linklater, and it stars Diane Ladd. Katie is coming to the Festival to hang out and do a panel called "Creating Where You Are, With What You Have" with director David Anspaugh. Katie is THE nicest person, so down to earth and approachable, and David is just a wealth of knowledge and an inspiration to so many filmmakers. They both can speak about going against the Hollywood format and creating on their own terms, so it should be a fantastic experience that tons of folks will be tweeting and snapping pics about.
I also think festival goers will be talking about the web-series programming that will play before each program block. It's not like anything they've seen before, it is a completely refreshing spin on the classic "Friends" setup. It's called "Weekend Plans."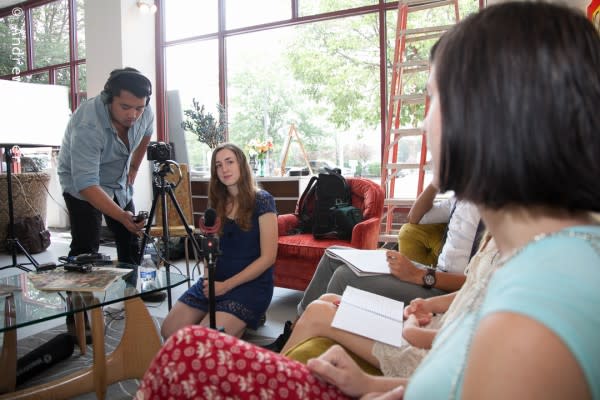 Middle Coast FIlm Festival event in 2014 at Blueline in Bloomington.
Visit Indiana: Are any movies made by Indiana residents and/or filmed in Indiana? 
Levandoski: Absolutely! The Thin Brothers Visit Room 213, A Stone's Pace, Daystime, 2.0.1, Old Dogs Never Die, Slide, #STRONGSMARTBOLD, Duck Tape.
We take a special interest in putting Hoosier-made films in front of visiting industry insiders, so that they can see the level of quality film that is being made with zero state infrastructure for film, and shoestring budgets. Some of our Hoosier-made films were made for as little as $1,700. In Hollywood, NYC or even Atlanta you couldn't shoot for one day with that budget.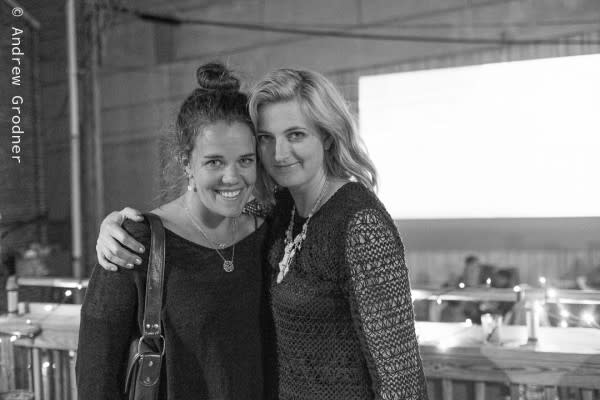 Middle Coast Film Fest co-founders Chelsea Sanders and Jessica Levandoski
Visit Indiana: Anything else we just can't miss?
Levandoski: This year we are featuring an awards ceremony with some special guests that could only be seen in Bloomington. Let's just say that some cinematic legends will be on stage and handing out the awards to the winners....
Also, our closing party was epic last year, and it will be epic again this year. We project our Music Video Selections onto the back of the 4th street Garage and have an outdoor dance party at the legendary bar, The Back Door. Cardinal Sprits, Upland Brewing Co., and KingDough Pizza will all be on hand to serve up the good stuff.