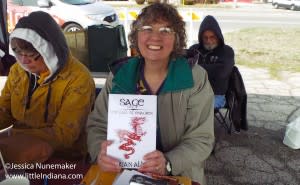 Author Marian Allen at That Book Place Author Fair Madison, Indiana
If you've been following along little Indiana or my contributions to this blog, you may have noticed the assortment of places to visit around Indiana.
But I fear I have withheld a very important piece of information from you here on the Indiana Insider: there are also plenty of events and festivals in these towns too!
That Book Place in Madison, Indiana
While I probably could have written about the incredible author fair at That Book Place in Madison, Indiana sooner, I admit I've had my nose in a book more often than not! But how can you blame me?
With more than fifty authors set up outside of this amazing haven for gently used books, there were a whole lot of things to see inside--and out!
My husband and I picked up a slew of books from Indiana authors and even got to meet them face to face. How amazing is that?
Author Fair at That Book Place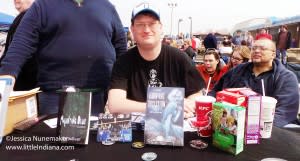 Author RJ Sullivan at That Book Place Author Fair in Madison, Indiana
Visiting the annual author fair gave us a chance to check out the extremely varied work churned out by Indiana authors. Science fiction and horror, fantasy and romance, there is something here for absolutely everyone!
I had a chance to meet some really phenomenal Indiana authors like Marian Allen, John F. Allen, Eric Garrison, R.J. Sullivan, and Red Tash.
I think that sometimes we get so caught up in things we just don't remember that there are plenty of ways to support our own state and the people in it than by traveling alone. It's a whole different way to "shop local!"
Go There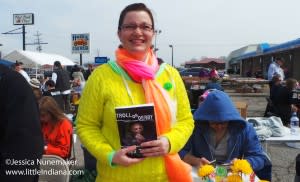 Author Red Tash at That Book Place Author Fair in Madison, Indiana
Plan ahead for this wonderful annual author fair and support our Indiana authors!
Better yet: try to sit in when they host panels with Q&A sessions that cover a variety of topics. I think you'll enjoy it.
Small towns are more than places to go--they are also the site of some pretty big shin-digs. And what can be more Hoosier than that?
Small towns: destinations, not drive-thrus.
That Book Place 337 Clifty Drive Madison, Indiana 47250 812.574.4113