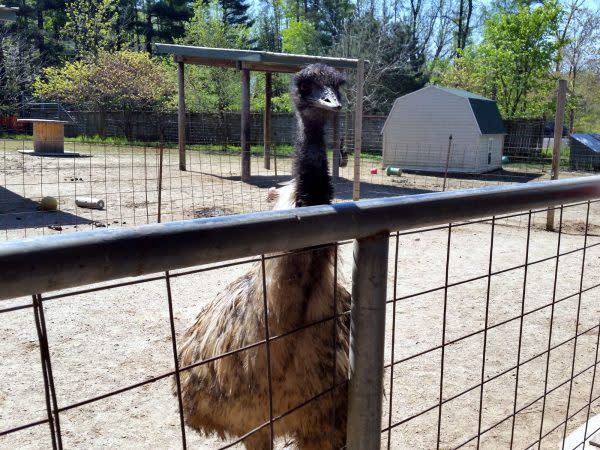 My children and I made a recent trip to Albion, Indiana to the Black Pine Animal Sanctuary. This is one of those places in Indiana that is not only an excellent place to experience many types of exotic animals up close and personal but also delivers a powerful and humbling message to us as humans about how we treat the animals on this planet. Albion is located less than an hour from Fort Wayne and accessible via US 33. Black Pine is located at 1426 W 300 N in Albion, just a quick drive from the downtown and easy to find.
For the Rest of Their Lives
Black Pine Animal Sanctuary has around 100 exotic animals that are displaced, captive-raised animals. Many of them were confiscated from their circumstances or surrendered by their owners for various reasons. The animals will live out the remainder of their lives at the park and are well-cared for by the staff and volunteers. The park had it's early beginnings from a lifetime love of animals by founder Karen Hoag, her husband, and their young daughter and has evolved from a family farm with unique animals in the 80's to a full-fledged non-profit animal sanctuary and a recent move to its new location with permanent homes for all the animals.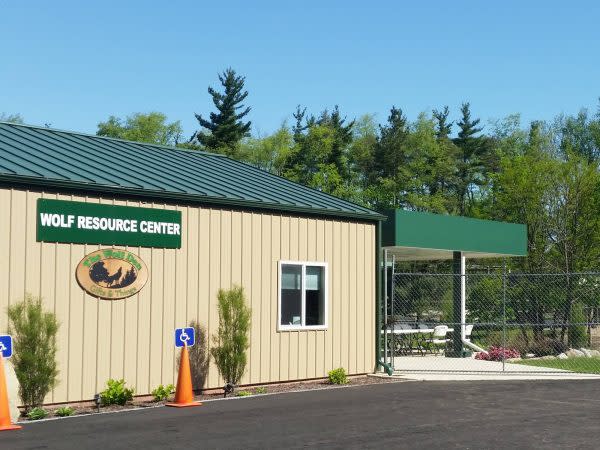 Black Pine Animal Sanctuary is located in Albion, just off US 33.
Tour the Property
The best way to plan your visit is to go straight to their website, check for tour times and make your reservations. Pay careful attention to the month of your visit as options do change. Payment will actually be made at the gift shop/welcome center when you arrive on the day of your tour. It's tempting to want to just walk the park and look at everything on your own, but a key part of what makes this place so special is hearing the stories of each of these animals and how they ended up at the park.
There are multiple options for tours, including one in the late morning or you can take an afternoon tour when they feed the animals. There are also private tours, stroller and senior tours and special behind the scenes kids tours on Wednesdays. We were there in the morning and many of the animals were out and active, however once the tour ended we went back and were able to catch several of the ones that weren't earlier. With animals there's never a guarantee of which ones you will see. What's great is that you are able to leave the tour at any time and we found ourselves popping in and out of the group easily to spend more time at some of our favorites. The park is filled with exotic birds, big cats, bears, canines, primates and reptiles. You will also find that there's a few surprises as well, including a pot belly pig named Arnold.
On the tour, our guide introduced us to all of the outdoor animals. He began in the primate area and as we were told many of their stories of mistreatment by humans, we begin to understand the value of the sanctuary and why it exists. As you pass through the park you will see that many individuals have been affected by the mission of the non-profit and have stepped forward to help monetarily or with their time and talents.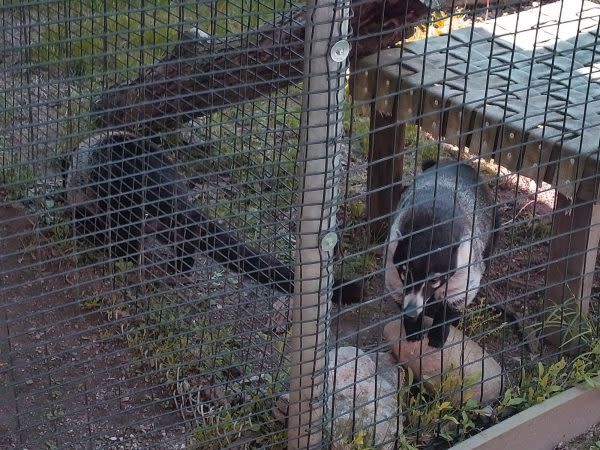 We were excited to see both coatimundi out and active during our tour.
There are several bird aviaries that house the many exotic birds including macaws and cockatoos, but unfortunately on the day of our visit they were inside due to cooler temperatures. But we were able to visit with some of the larger birds, including an emu who apparently likes shiny things and hoop earrings. Don't say that you weren't warned.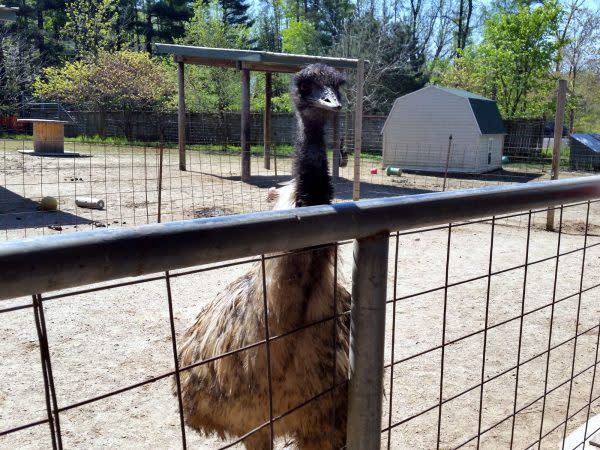 The emu came up to greet the group and luckily I was warned about it's love of hoop earrings.
If you are a fan of all things green, you will love the reptile house. They keep it warm and toasty for these critters. Some of our favorites in here were the tortises, a python, an iguana and you can't help but love Gus the alligator - and yes, he was someone's pet.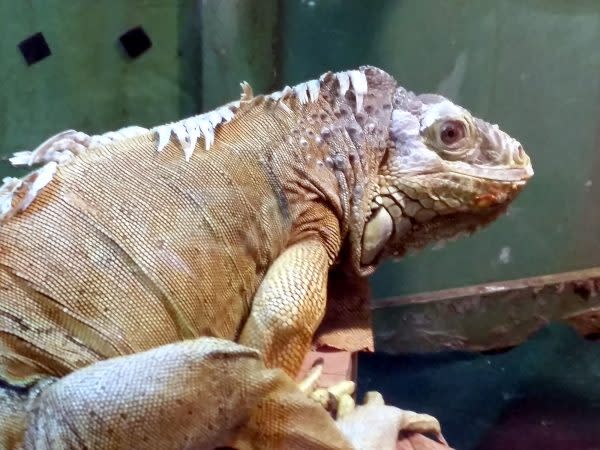 This is Sarge the iguana. He was posing for us so nicely during our visit to the reptile house.
From the reptile house, the tour heads to the larger exotic animal area. Here you will find lions, and tigers and bears - plus wolves, foxes (if you wonder what smells like a skunk, it will be these guys), cougars, leopards and a few in between. We spent the most time in this region during our visit. What we loved about the way the animals are housed is that you really do feel very up close and personal with them - in other words you can feel their presence - sometimes they are just several feet away. It's honestly very impressive and humbling to be this close to them.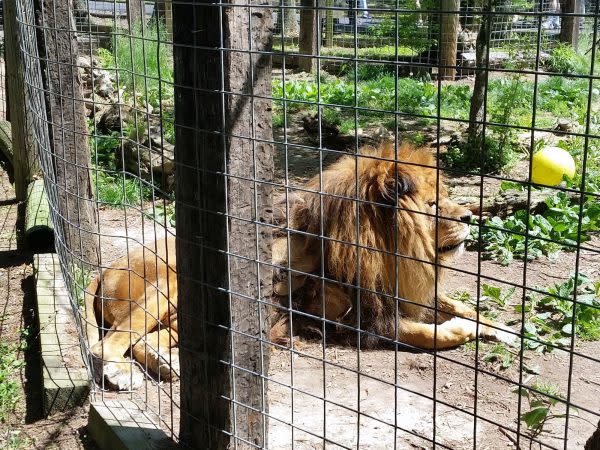 Mufasa was one of my most favorite animals to see. He was sleeping most of the morning so we were delighted when he briefly sat up in the sunlight.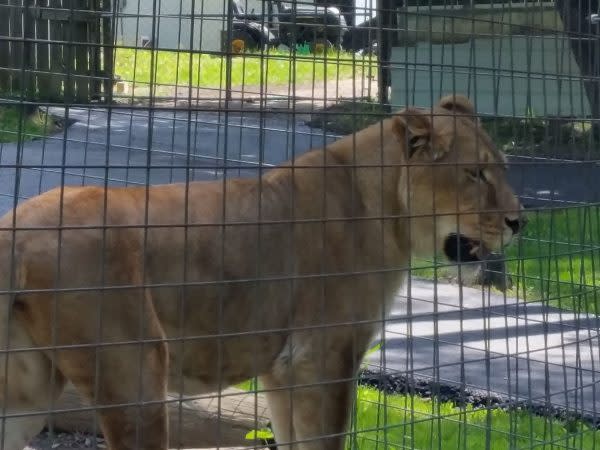 Africa, the lioness, was very active and you could really see how impressive these hunters truly are. A gorgeous animal!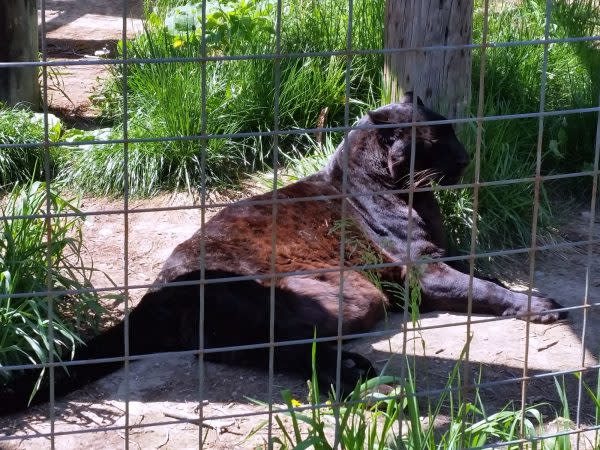 This black leopard was out sunning herself. Look carefully and you can see her spots.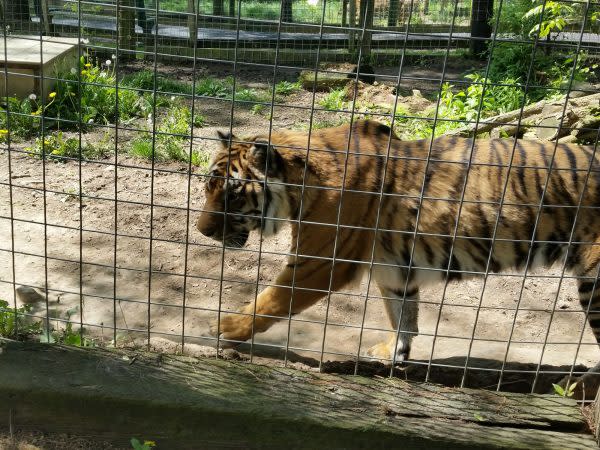 There are several species of tigers at Black Pine. Being up close you realize how fearsome they are.
A Great Visitor Experience
My kids and I had a fantastic time at the park and paid a visit to the gift shop before heading out for a late lunch. In total, the tour was about 90 minutes and we spent additional time touring the park for at least another 45 minutes. There is an area to picnic and they do offer group tours. We are so thankful that a special place like this exists to help these animals to live out their days in dignity and that they open their doors to share it with others. This is definitely a MUST DO Indiana attraction.
For details on area attractions and events like the Apple Festival in Kendallville or the Wolf Lake Onion Days, visit the Noble County Convention and Visitor Bureau.