If you have lived in Indy at all, I seriously hope you are familiar with Cafe Patachou. Known as a "student union for adults" there are five convenient locations around the city. I could go on and on about their delectable dishes, but I want to focus on their most recent restaurant concept - Napolese: An Artisanal Pizzeria.
The first location opened up right around the corner from the first Patachou location - at 49th and Penn. Last month they opened their second location - downtown on Meridian Street, just south of the circle. And in a few months, they will open their third location at the Fashion Mall (off of Keystone and 82nd Street).
So last weekend we headed downtown with a group of our friends to try out this new space. I had my camera in my purse, ready to take lots of pictures. And what happened ... we ate everything too quickly for me to even snap one shot. :( Lucky for you, with the help of Napolese, I've gathered some images so you can know just exactly what I'm talking about.
It all starts with these ...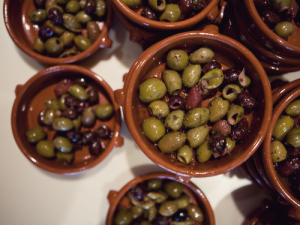 My husband claims he could go there and just eat the olives. Since I'm not a huge fan of olives myself, I passed in order to leave more room for the salad and pizza!
With such a large group of us (nine) we divided up the ordering and ended up with four salads and four pizzas.
First the salads ... I must say that when a few people insisted we order the roasted brussels sprouts I kind of shivered. Didn't seem up my alley. But, I was pleasantly surprised and enjoyed the combination of the sprouts with the dried cherries, applies and almonds. While I passed on the beet salad, I did stake claim to polishing off the double-chopped house salad.
Then came the pizzas.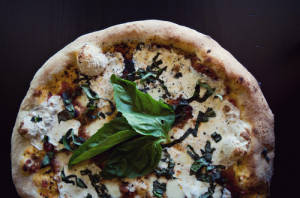 I'm a pretty traditional kind of gal. Give me some meat and cheese and I'm good. But oh my word. These pizzas combine the traditional with perfected cheeses and local produce farmed specifically for Napolese. The margherita (pictured above) was to die for. While we ordered the traditional margherita we also ordered one with sausage, pepperoni and chicken ... couldn't have been better. A few others I'd highly recommend:
Hamaker's Corner -pepperoni, italian sausage, provolone and mushroom
Broken Yolk - margherita with quail eggs. Don't turn up your nose ... if you like Patachou's broken yolk breakfast sandwich (and I don't know why you wouldn't), you will love this pizza!
And the setting was fantastic. Right in the heart of downtown and it was perfect for people watching the night before St. Patrick's Day! :)
Nothing better than supporting local food establishments that do it right!
* Photos courtesy of Napolese.