When I was invited by Visit Hendricks County to go on a 2-seat dragster ride, I couldn't turn it down. Who would? A chance to go over 140 mph in under 10 seconds?? Seriously?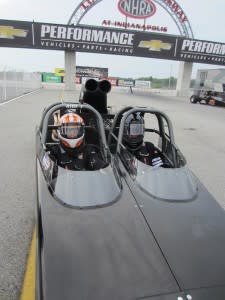 You may or may not know that the biggest NHRA event happens just west of Indianapolis, in Hendricks County over Labor Day Weekend - US Nationals. My ride gave me a slight taste of what that might be like for those drivers.
It is pretty amazing, really.
Afterwards I got to hear from drivers Tommy Johnson Jr., Eddie Krawiec and Antron Brown.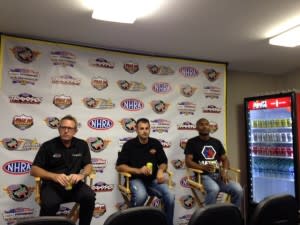 And honestly, after hearing them talk, I wanted each of them to win the big one!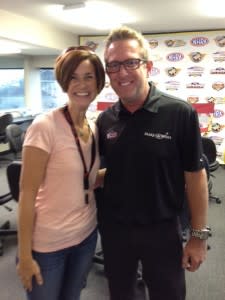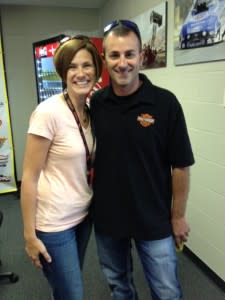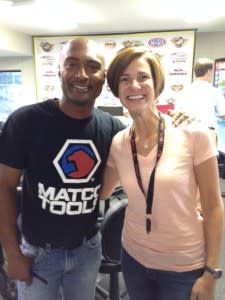 What they do is pretty amazing and each of them have such a passion for what they do. And you can experience part of that by going to the US Nationals. To get tickets, click here. And a special tip from Antron Brown - if you go, make sure you stand at the start line but also, stand at the finish line. The cars go so fast they outrace the speed of sound. Apparently it is worth the experience to stand at both places!
AND ... between now and then here are two more great events to check out!
Big Go Block Party - Tuesday, August 19 from 6-9pm - The event will offer family activities, entertainment and concessions. Also on display: Top Fuel Dragsters, Funny Cars, Pro Stock Cars and Pro Stock Motorcycles and bonus - fans can meet their favorite professional drag racers for autographs and photos. The event is hosted by the Town of Brownsburg in partnership with the NRHA, Lucas Oil Raceway, Don Schumacher Racing and John Force Racing.
Don Schumacher Racing Open House - Held on Saturday, August 30, this will be the 8th annual open house to benefit Riley Hospital for Children. The FREE event is from 10am-3pm and will feature a giant car and bike show, entertainment and appearances by each of DSR's seven professional drivers at their headquarters (1681 E. Northfield Drive in Brownsburg). The event kicks off the NHRA US Nationals Labor Day Weekend. As if the event isn't good enough by itself, it also supports a good cause. Last year the open house raised over $200,000 for Riley!
For more information on US Nationals and events in the area, be sure to Visit Hendricks County.