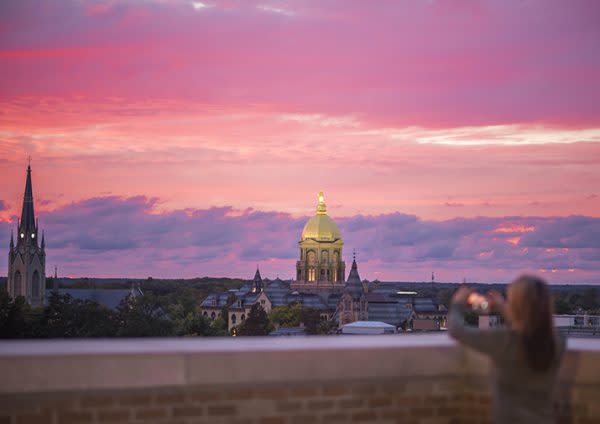 One of my very favorite places in the whole state of Indiana is the campus of University of Notre Dame in South Bend. It's a sentimental spot for me for a couple reasons, but it also contains some of the most beautiful structures in the Midwest and beyond and I don't think I could ever tire of strolling the tranquil grounds.
A mask has to be worn at all times on the Notre Dame campus.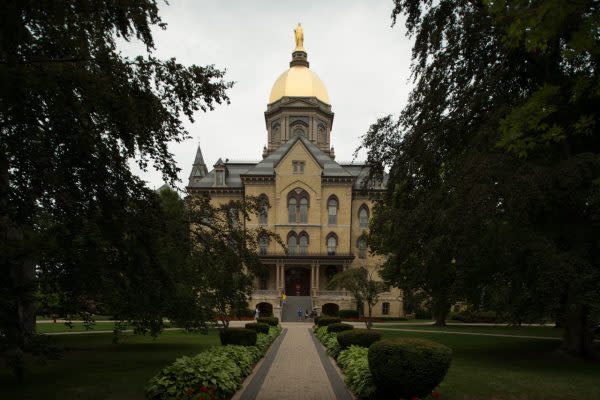 The Main Building, also known as the Golden Dome, makes a beautiful backdrop for photos.
For six consecutive summers my son attended the Shakespeare Festival at Notre Dame where he'd perform on stage with his fellow youth actors from a local theatre group. It was always one of the highlights of my summer to make the trip there twice - once for the rehearsal and then a few days later for the actual event. While he was busy rehearsing and preparing for the show, I'd walk the shaded paths along flower beds and hang out by the pond watching ducks and college students bike and run by. My sister was also married there six years ago at the Eck Visitor Center and I have great memories of the wedding.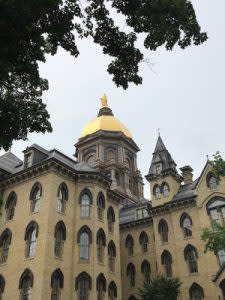 The Golden Dome on the campus of University of Notre Dame in South Bend.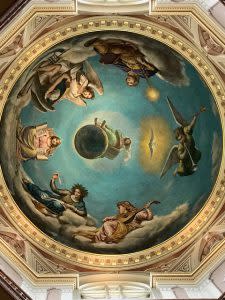 If you have the opportunity to go inside the Golden Dome, you'll find that the interior of the dome is even more breathtaking.
Even in the several times I've been there, there was a lot of the campus I didn't explore. I never made it to the football field or paid a visit to Touchdown Jesus and spent most of the time near Washington Hall where my son's performance was.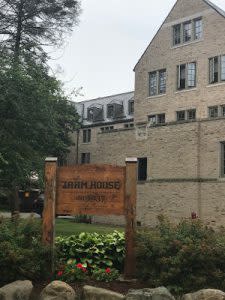 Just outside of Washington Hall is the Golden Dome which is impressive enough from the outside, but even more breathtaking from the inside where you can get a peek at the detailed mural of angelic images. It currently serves as the administration building. Beside the Golden Dome is the Basilica, something else you won't want to miss. Many of my visits there have been on Saturdays when the interior wasn't accessible because there were weddings taking place. The Basilica is currently only open for specific worship opportunities.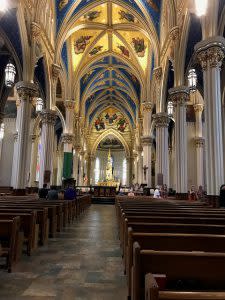 The interior of the Basilica at Notre Dame University in South Bend.
The bookstore - located just across from the Eck Visitor Center - is also something you should work into a campus visit to pick up some Fighting Irish gear or another souvenir to commemorate your trip.
The campus spans over 1200 acres and has about 190 buildings. For more information on Notre Dame, go to nd.edu.