I've been to the University of Notre Dame campus several times, but it never gets old. I envy the students who get to spend their days on such a beautiful campus. I'd love to walk from class to class among these legendary historic structures on this peaceful, pretty campus.
If you make your way though the main entrance at Angela Blvd. and Notre Dame Ave, you'll pass a cemetery and can then pull into the bookstore where there is public parking. From there, here are some of the things you'll want to do. It's a great place to explore on foot, but on our most recent visit we brought our bikes and rode around campus, which allowed us to see a bit more in a shorter time frame.
Stop here to get a campus map and have any questions answered before you set out on your self-guided tour (in-person tours have not yet resumed). It's a small, but stunning building and I love to revisit because it is where my sister was married several years ago. She had a small wedding and her husband was from South Bend, so they rented the space and had a small affair with the ceremony in the adjoining theatre and the reception in the main hall. From there head to the Snite Museum of Art.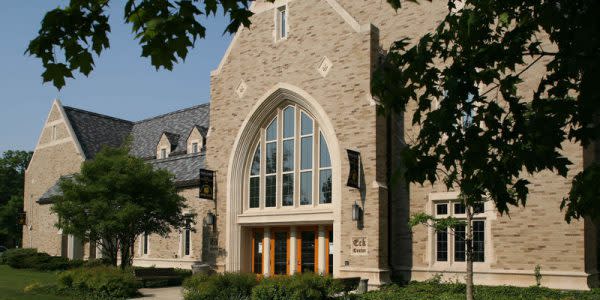 This is an impressive museum that you won't want to miss. Admission is free and it is considered one of the leading art museums in America. It has a permanent collection of nearly 30,000 works, including Rembrandt etchings, medieval pieces, three centuries worth of European artwork and a collection of African art. There are ten permanent collection galleries open throughout the year and five with changing exhibits. From there you'll be right next to the famed Notre Dame Stadium a.k.a. The House That Rockne Built, which dates back over 90 years and seats almost 80,000.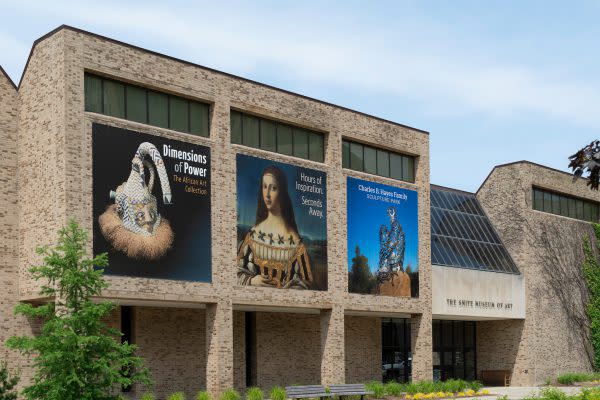 TOUCHDOWN JESUS
Be sure to make your way over to the Hesburgh Library  to view "The World of Life" mosaic, a work of art in stone that covers the southern wall of the 14-story library. Because the arms of Jesus are raised in the same stance as a football referee, the mural came to be called "Touchdown Jesus." It measures 134-feet high and 68-feet wide and was installed in 1964.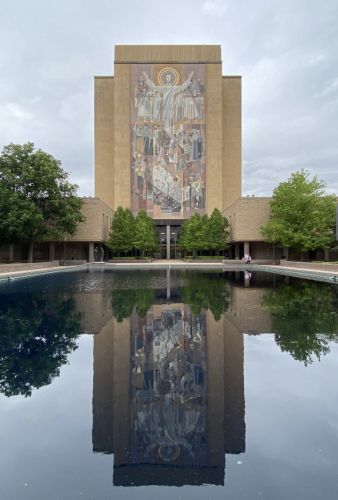 THE BASILICA OF THE SACRED HEART
Consecrated in 1888, this center of worship is breathtaking both inside and out. You can visit the website for the mass schedule and find links to watch a live stream of mass. Right next to the Basilica you'll find the Main Administration Building also known as The Golden Dome.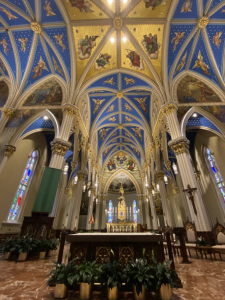 THE GOLDEN DOME
This main administration building was completed in 1879 and was the third administration building. It was quickly erected after the previous building was destroyed in a fire. The dome is topped with a statue of Mary. Also take time to go inside and look up at the painted interior of the dome and portraits, tapestries, busts and other pieces of art.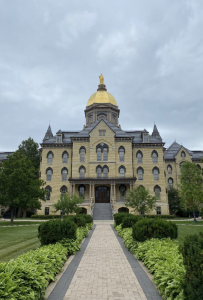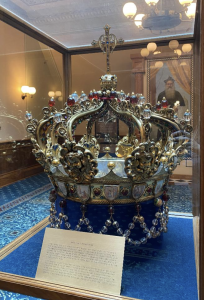 If you need a bite, you can pop into The Huddle, located next to Washington Hall near the Golden Dome where there is a small food court. Finish back up at the Bookstore where you can pick up some Fighting Irish gear.