It's hard to find a person who doesn't like pizza. What's not to love? You've got a layer of fresh dough dripping with zesty sauce, topped with a pool of gooey cheese and dressed with meats and veggies or whatever you please, finished off with a dash of spices. While everyone has their own favorites and has a specific style they prefer, there's a plethora of pizza in Northwest Indiana and you'll find something to satisfy any taste. Here are 9 of my favorites. I most often order thin crust, but you'll find thick crust, deep dish, stuffed, pan pizza and calzones among the options at some of these places.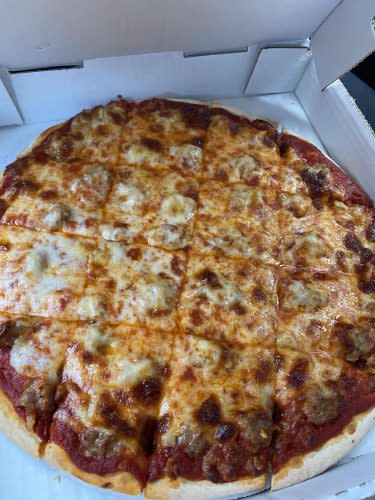 For decades I have been getting Doreen's as fundraiser pizzas, but was excited to get a freshly cooked pie from them. The frozen ones were good, so I knew the freshly-made would be superb and I was right! Generous toppings and a nice crunchy crust. It's old-school Chicago style thin at its best!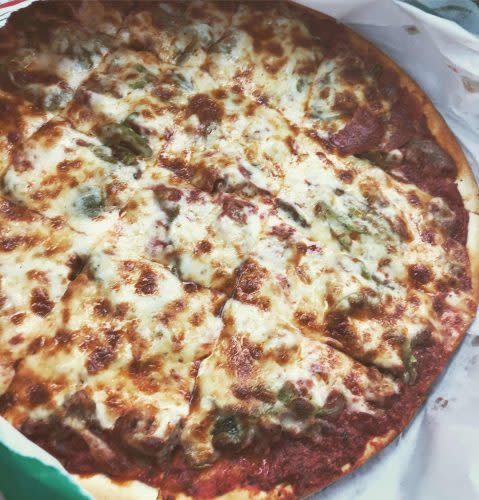 A good friend who had grown up in Chicago recommended Capri a few years back and I knew I had to try it out. It first opened in 1955 on Commercial Ave. in Chicago and has been feeding multiple generations who swear by it. I'm so glad my friend, Gina, turned me on to it.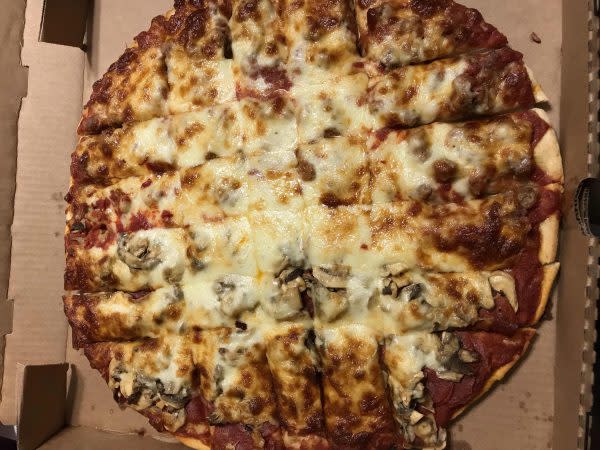 Beggar's is an absolute classic in the Chicago area and now way beyond. I first tried it in high school from their Blue Island location. Their motto is "We Lay it On Thick" and do they ever! I love mounds of cheese and sausage and a pizza from Beggar's is always loaded. There are many locations now and I have tried the pizza from many - it's consistent and super yummy.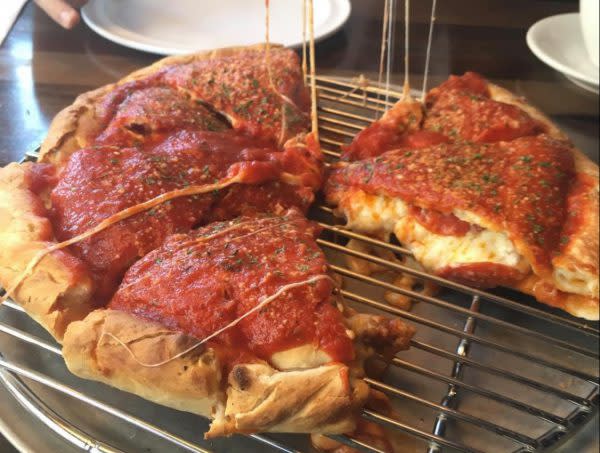 Aurelio's is another classic joint that started in Chicagoland and now has many locations. It all started in Homewood, Illinois where you can still go and request a pizza to be made in the "old oven" - and it really  does taste just a bit better. They have a distinct, sweet sauce that I really like and I love to get a pizza loaded with veggies. Crust is nice and crunchy, too and the cheese is often a little blistered and crunchy if that's something you like.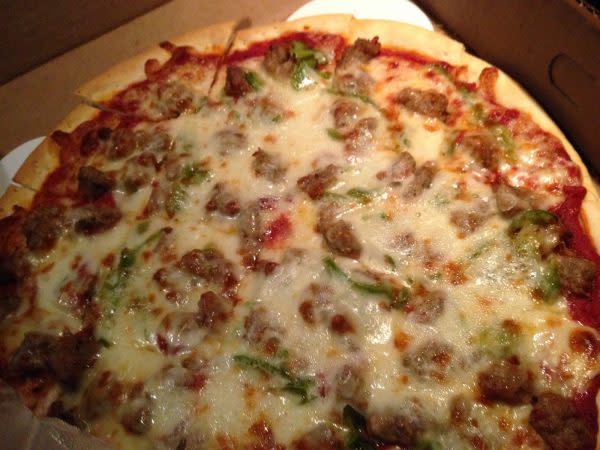 I was introduced to this pizza years ago on my first visit to 18th Street Brewery. At the time, they served only beer, but you could bring in food, so we ordered a pizza from this longstanding joint across the street and enjoyed it with a pint. It was the perfect set-up - a nice hot pizza oozing with warm gooey cheese and a cold beer.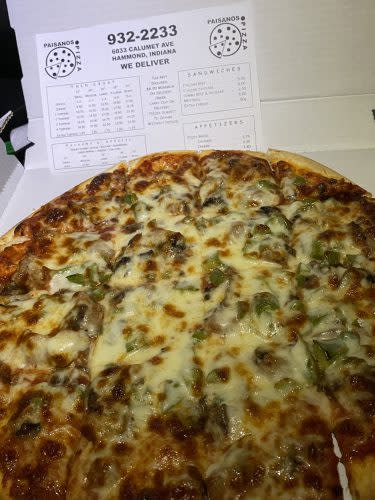 This place was a recent find. My niece was in Hammond for a basketball tournament and I went to see her play. After the game I wanted to grab a pizza and find a new place I hadn't tried before. So, I did what I often do when I want to try a new place and am not sure where to go - I asked Siri for restaurants nearby. Paisano's was among the list. I called in the order and then grabbed it to go from this carry-out. It didn't make it home before the smell had me digging in. It was a great classic pie - crunchy, thin crust, generous toppings and oh, so good.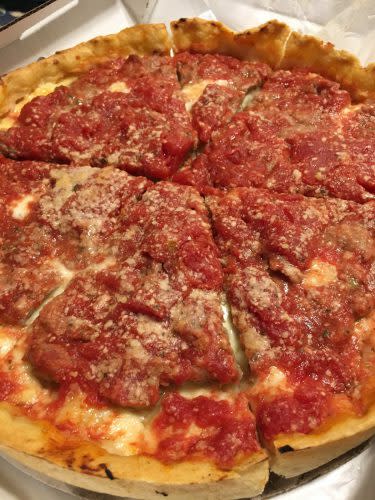 Although there's so much buzz about Chicago-style deep dish, thin crust is more the norm - at least for our family - when we get pizza. But I do love a good deep dish or stuffed pizza on occasion. I've had all the popular Chicago varieties - and there are some really good ones. I had heard the hype about Lou Malnati's for years, but didn't think it could be that much greater than the others. I was so wrong. Lou's is simply in a class of its own. For me it's the sauce that just puts it over the edge. I love mine with sausage. If you ever visit the Chicago area or Northwest Indiana and want to try a deep dish, make it Lou's. Bonus - they have awesome salads, too!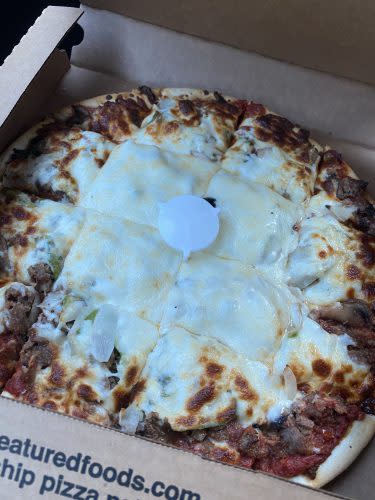 Although I've lived like 10 minutes away from this place for nearly three decades, it wasn't until earlier this year that I finally tried Edwardo's in Munster. As the pandemic has rolled on, I've committed to trying out more new places for carry-out and trying more places I haven't tried before. Part of it is just to get out of a foodie rut - and part is to support the many restaurants suffering so badly due to the pandemic. They offer the Chicago-style deep dish and also thin. I was in the mood for thin, the day I stopped. It was really loaded. Lots of veggies. Lots of yum. I'll definitely be back to try it again and look forward to trying a deep dish variety next time.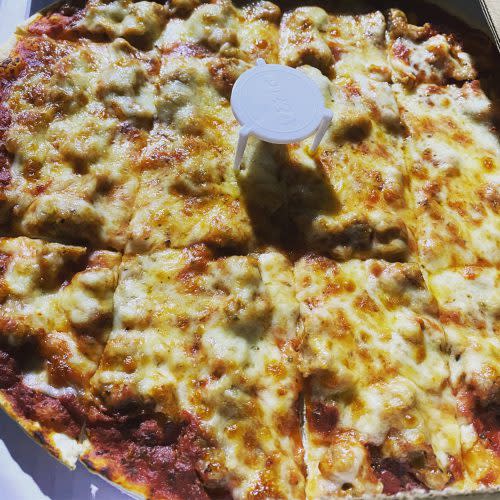 This is another pizzeria I tried recently for the first time. When I posted a picture on social media that it was my first time getting a pizza from House of Pizza, people seemed stunned that I had never tried this obviously legendary Hammond pizzeria. I ordered to go and they had a nice set-up where you go to the back for your order and they scanned my card outside and handed it through my window. I was adequately impressed. It's the kind of old-school pizza that just warms your heart and your tummy. Looking forward to heading back there soon for another delicious crispy thin-crust pizza.