Whooooosh! Weeeeeeeeeeeeeeeeeeeeeeeeeee! Whoaaaa!  You'll hear those sounds a lot at Pokagon State Park's historic toboggan run that's up and running in northeastern Indiana's Steuben County.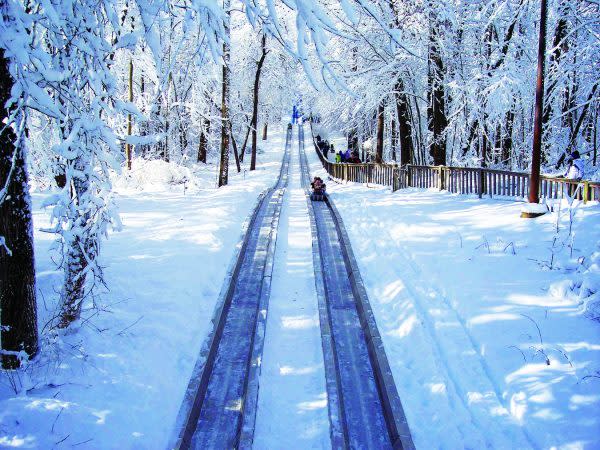 What's a toboggan?
It's a flat, wooden sled with a curled front end.
Pokagon's toboggans can hold up to four people at a time. Launched from a 30-foot-high tower, sledders streak downhill at more than 30 mph. They skid to a halt a quarter-mile from where their thrill ride began. The record is 42 mph.
Check out this live view camera from atop the tower courtesy of the Steuben County Tourism Bureau. There's a 90-foot elevation drop from there to the end of the toboggan run.
The ear-to-ear grin of the little girl in the video below shows what fun it is to have the front-row seat.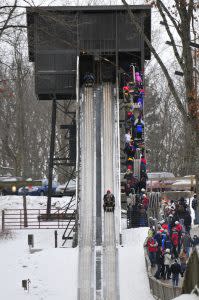 By Frank Oliver/DNR -- Pokagon State Park in January of 2011.
It's Po-Kay-Gun
Pronounce the park's name Po-Kay-Gun. It's named after Leopold and Simon Pokagon, father and son, who were well-known leaders of the Potawatomi Indian tribe.
Pokagon became Indiana's fifth state park in 1925 and is one of 32 properties the Indiana Department of Natural Resources Division of State Parks manages. Other winter activities at Pokagon include cross-country skiing and ice fishing
Its famed toboggan got its start in 1935 when Civilian Conservation Corps men stationed at the park sought a winter diversion from their work assignments. Building their own source of fun has given enjoyment to several generations of Pokagon visitors ever since.
Over the years, changes were made to the original facility, but the biggest came in 1971 when the twin tracks were refrigerated for the first time. A newer refrigeration system was installed in the 1980s.
The system ensures the facility can operate regardless of weather conditions, but it's always more magical when there's snow on the ground and a nip in the air.
Weekends and holidays
The run opens every year on Black Friday (day after Thanksgiving) and runs Saturday and Sunday through February 27 this season.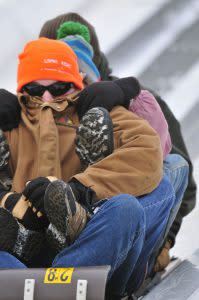 By Frank Oliver/DNR -- Pokagon State Park in January of 2011.
There is a park entrance fee of $7 for Indiana residents and $9 for out-of-state vehicles in addition to the sled rental of $20 per hour. You cannot bring your own sled and must rent a sled to use the toboggan run. NEW THIS YEAR: Gloves must be worn to ride the toboggan run.
NOTE FROM DNR: Please be aware when traveling long distances that guests may no longer be added to the wait list for the toboggan run when maximum capacity is reached. It is recommended that if you will be traveling more than an hour to Pokagon for the toboggan run, you should plan to arrive early. The wait list starts taking guest names after first 100 people enter the toboggan area and is first-come, first-served. For more information, call the  park office at 260-833-2012.
You'll also pay the normal park entrance fee -- $7 for vehicles with Indiana plates, $9 for out-of-state vehicles. Unless, of course, you have an annual entrance pass to Indiana State Parks. They're available online. 
There's a warming center adjacent to the toboggan that offers concessions.
But if you need a place to stay or a full meal, look no further than the park's Potawatomi Inn. It's just beyond the end of the toboggan run. The inn offers overnight accommodations (137 rooms) and a restaurant that serves breakfast, lunch and dinner.
Phil Bloom is a lifelong Hoosier who has had two successful careers - award-winning outdoors editor for the Fort Wayne Journal Gazette and communications director for the Indiana Department of Natural Resources. Retired from both, he continues to tell Indiana stories as a freelance writer. Contact him at philbloom.owaa@frontier.com.