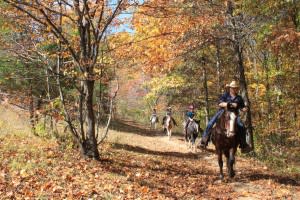 If there would be a place of heaven on earth for me, it would have to revolve around horses. I've loved them since I was a little girl. Our family has always ridden while on vacation. Recently, I discovered a guest ranch in Brown County that inched me closer to that perfect locale.
Rawhide Ranch in Brown County opened in 2001. It is a full activity center with meals available for guests centered on horseback riding. With 19 horses the ranch is equipped for families or parties. The youngest rider must be age 7 and the horses are trained for beginning riders.
It's not a dude ranch but a working ranch. The difference is that guests get to relax instead of work all of the time. Essentially, it's a hotel with horses. How cool is that!
A typical ride consists of horses and riders following a trained guide on dirt trails for 45 minutes. If you've never ridden before, I suggest not riding longer as it can be painful the next day, if you know what I mean.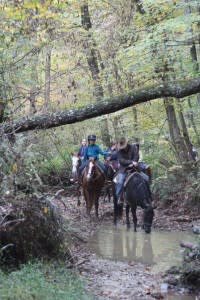 The Rawhide Ranch has 54 acres of wooded land and hills (I think they call them 'hollers'.)
Even if you've never touched a horse before, you can handle a ride on one of these gentle beasts. It's an experience you'll talk about for a long time!
One record the Rawhide Ranch is proud of is that in 15 years of operation there has never been a need for an ambulance to a rider due to the horses. Impressive!
This time of year hayrides are popular and available at the Rawhide. Top it off with a sit around a campfire. Primitive campers may want to bunk down in one of two teepees.
Save time and energy during your stay to participate in the Holler Hoppin' Zip lining. Another family-friendly event, this is one designed for all generations. I've zip lined in another location and had to conquer a fear of heights as the belted harness was attached to me 40 feet above the ground.
That fear is not a problem at the Holler Hoppin'. Here you take off only eight feet off of the ground and then fly 300 feet over ravines that are maybe 45 feet down. Before you know it, you're landing safely on the ground on the other side.
Talk about a bonding experience! I can see this as a great opportunity for businesses to encourage camaraderie and leadership development.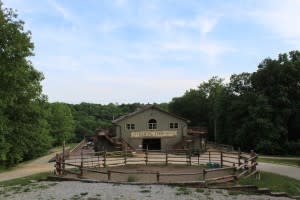 The Rawhide Ranch is open year-round and closed some holidays. Check their website for availability.
What's nice about visiting Rawhide Ranch is that it's located in one of the most scenic parts of the state. Seriously this time of year Brown County is mesmerizing with a plethora of colors on trees, bushes, flowers. Some people would agree that Indiana outdoes itself in beauty in Brown County!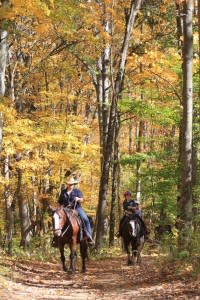 I might not know what kinds of trees I'm looking at, but I can appreciate the variety of hues and tones God has blessed us with.
According to locals, peak weeks for color are happening soon. Soon Brown County's beautiful leaves are likely to reach their prime autumn hues, making it a great time to visit.
You don't have to guess about the right time to visit. The Brown County Convention and Visitors Bureau has made it easy to determine prime times by establishing a Leaf Cam, high above one of the area's peaks. Log in as often as you like to the Leaf Cam for a look at Brown County's gorgeous fall colors.
The Leaf Cam can be found on the Discover Brown County app as well. My glimpse today at the Leaf Cam shows that I still have time to plan a trip to Brown County for peeping, shopping, and hiking.
For more information about Brown County call 812.988.7303.
The End