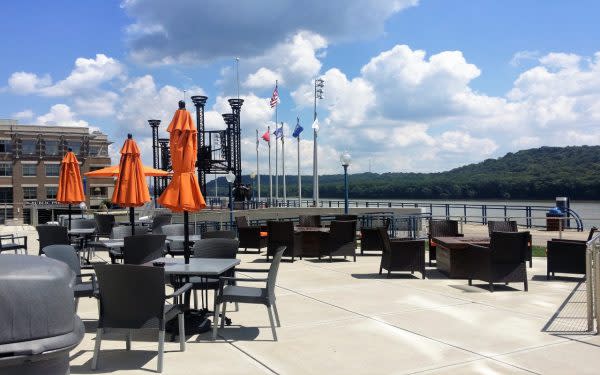 The Ohio River is one of the attractions that draw people to southeast Indiana. The river valley with its beautiful rolling hills and stunning scenery differentiates southeastern Indiana from other parts of the state. Most people who visit like to connect to the river in some way even if it is just spending time exploring some of the scenic riverfronts in the small towns along the river. Here's an easy way the whole family can enjoy some time watching the river and enjoying the sights – at restaurants on the river or those with great river views. These places are great for a family with kids, groups of friends (especially in the evening) or maybe a romantic interlude. They are casual and fun with great food and sometimes surprising "visitors".
There are two restaurants actually floating on the river, RiverWatch Restaurant & Bar at the levee in Lawrenceburg and Madison Lighthouse in Madison.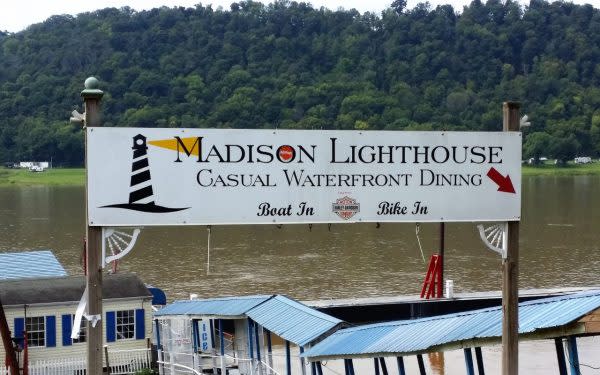 Madison Lighthouse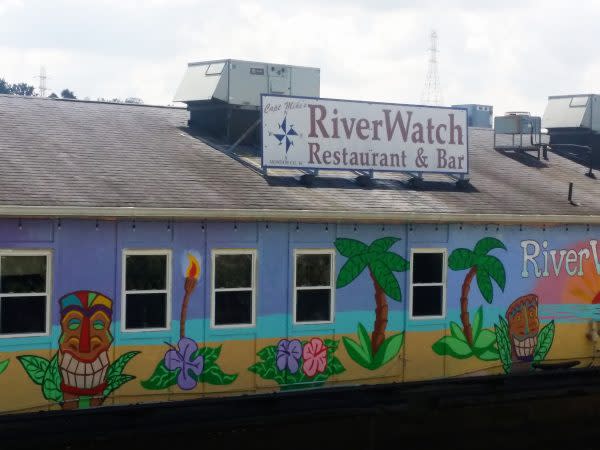 RiverWatch
RiverWatch Restaurant & Bar is at the bottom of the levee at the end of Walnut Street. There's a parking garage at the top and a nice walkway down to RiverWatch. Take some time to explore the levee; it's an impressive spot with sculptures, river history and a great view. If you want to do more exploring and work up an appetite, you can rent a bike from the new River Cities Bike Share Program – bikes are available right at the levee.
RiverWatch definitely has an island vibe with both indoor & outdoor seating and 2 bars.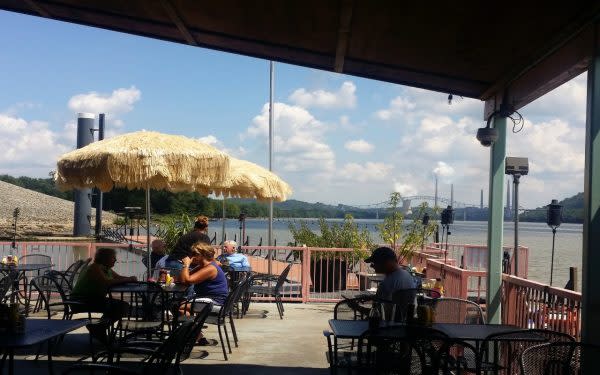 Island Vibe with a Great View
They offer a full menu (signature burgers & sandwiches to entrees), full bar service, island music and a laid back atmosphere.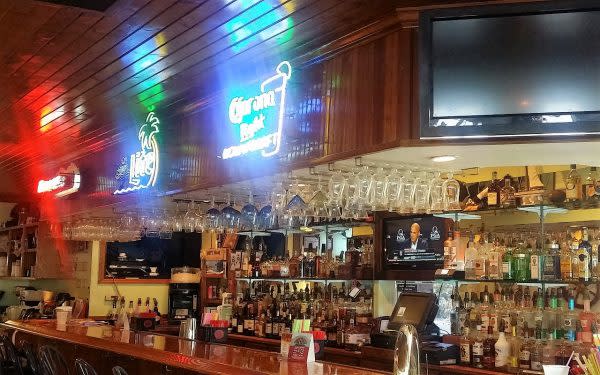 Party Time!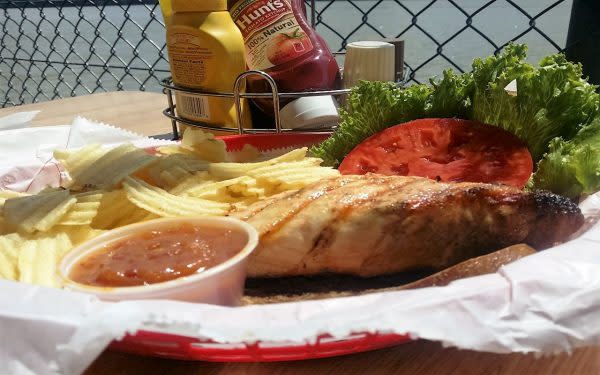 Lunch!
They are open every day in season but if the weather is iffy call to make sure. This is a fun place for a group of friends to spend the evening but the kids will like watching for the huge (not Loch Ness monster size but definitely big) fish jumping for food along side.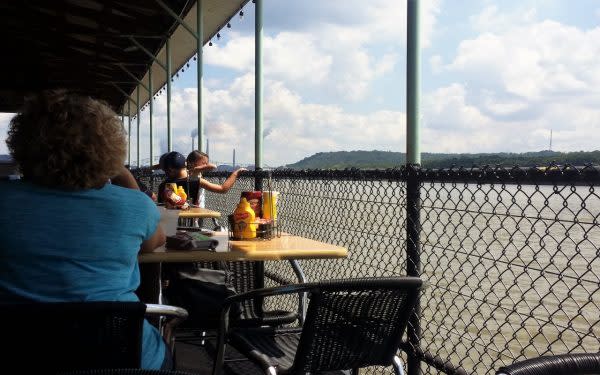 Watching for Fish
At the top of the levee overlooking RiverWatch, you'll find The Levee Bar & Grill in the Lawrenceburg Event Center – full food & bar menus, indoor or outdoor seating with a sweeping river view, a little bit fancier than RiverWatch.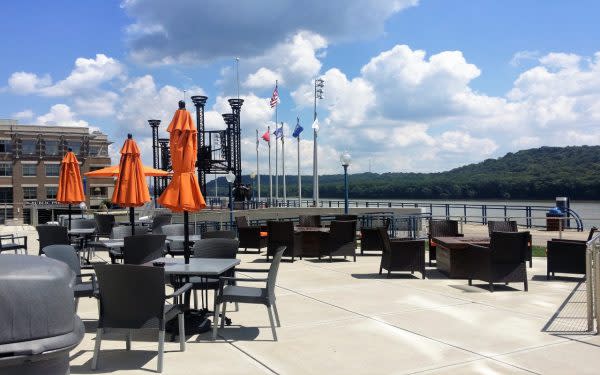 Levee Bar & Grill
Madison Lighthouse is a fixture on Madison's riverfront. It's a favorite spot for an afternoon lunch or casual evening out. Everyone I know sits outside but they do offer some inside seats.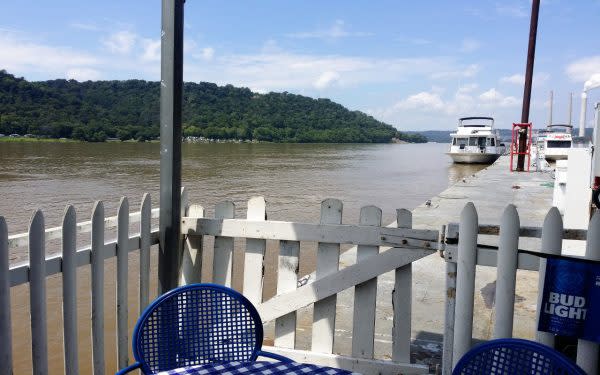 Pretty Summer Day
The menu features appetizers, salads and sandwiches and there is a full bar (separated from the dining area). The fish sandwich is a local favorite but I always opt for the Bourbon Street Spinach Salad (blackened chicken, bacon, blue cheese...). . They only take cash but there is an ATM onsite.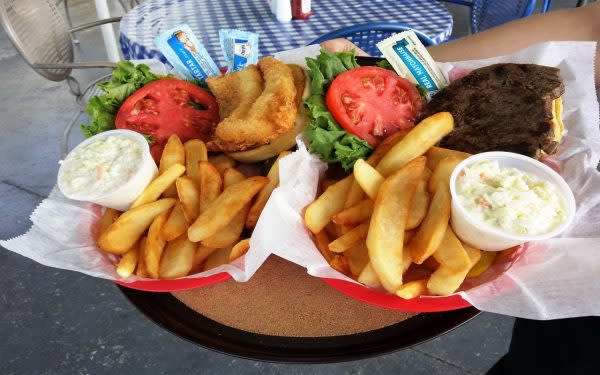 A great casual place for a group of friends but the kids will love feeding the ducks that are always cruising around looking for a handout.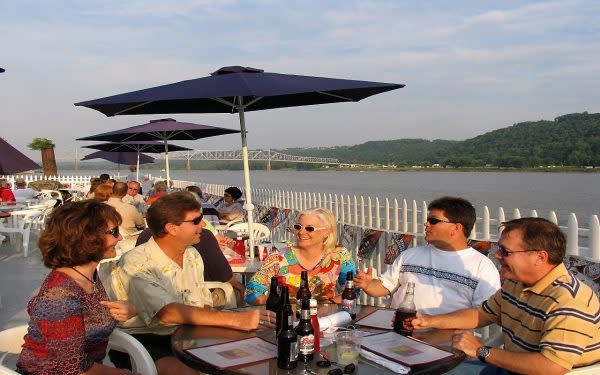 Come with Friends*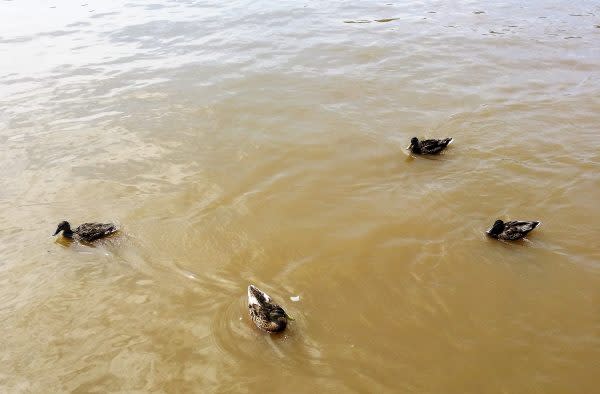 Can You Spare a Crumb?
The last time I was here, I was greeted by a giant blue heron strolling along the walkway and Rockin' Thunder Jet Boats whizzed by. Sunsets on the water at the Lighthouse are killer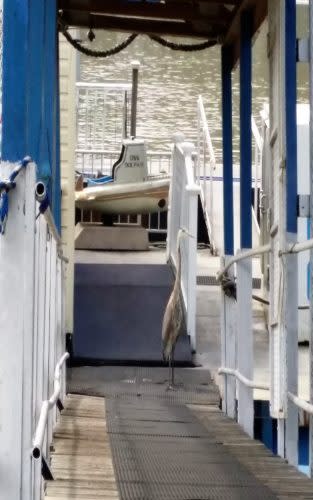 The Greeter!
After eating, walk along Madison's riverfront: lots of places to sit, playgrounds for the kids, a telescope to check out the view and you can take the pedestrian walkway across the bridge (best river view) to Kentucky. Along the way, you should stop at Chillbilly Treats for soft serve ice cream cones, sundaes and more. Does something seem familiar about Chillbilly? Built in 1957, it was one of the first four Burger Chef Restaurants.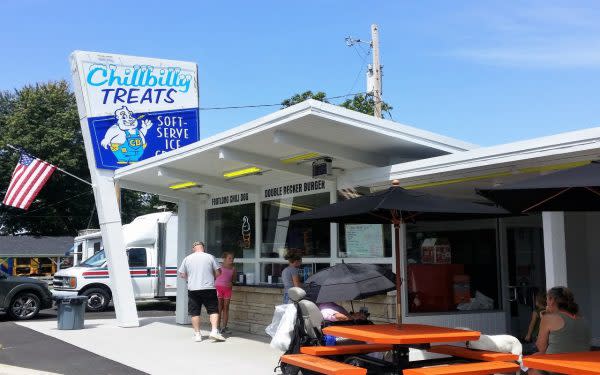 Chillbilly Treats
Madison's Key West Shrimp House has been serving customers since 1968. This family owned restaurant is loved by locals and visitors. It's east of the bridge overlooking the river in a late 1800s button factory.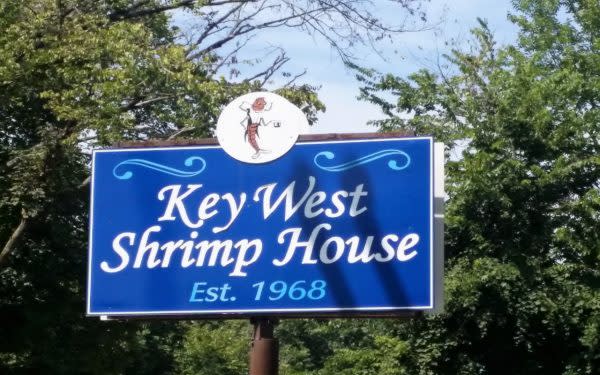 You can dine on the outdoor balcony with a view of the river & bridge or you can catch the river view inside. They are open for lunch & dinner every day except Monday.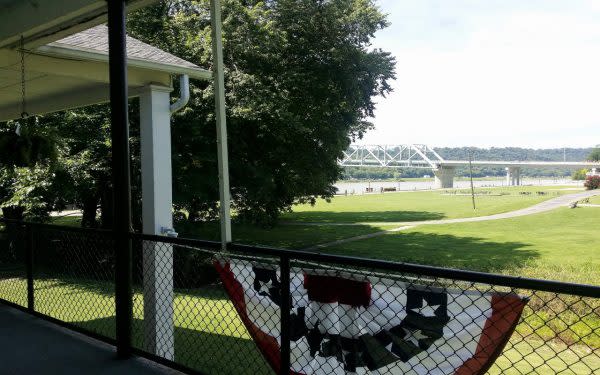 River View from Key West Shrimp House
Shrimp is their specialty but they offer a variety of seafood, chicken and steaks, salad bar and homemade desserts. They have full bar service and serve local, domestic and imported wines & beer. Try the Coconut Shrimp, Pickled Watermelon Rind at the salad bar and don't pass on dessert (really).
*Wanda Hertz for Visit Madison, Inc.
BONUS:
If you travel the Ohio River Scenic Byway between Lawrenceburg and Madison, check out the river views at Lesko Park in Aurora,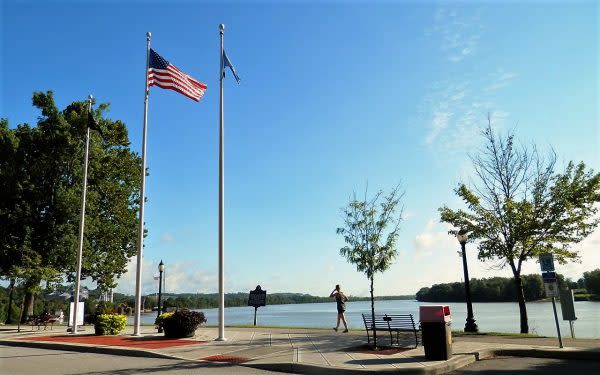 Lesko Park
at the end of Main Street in Rising Sun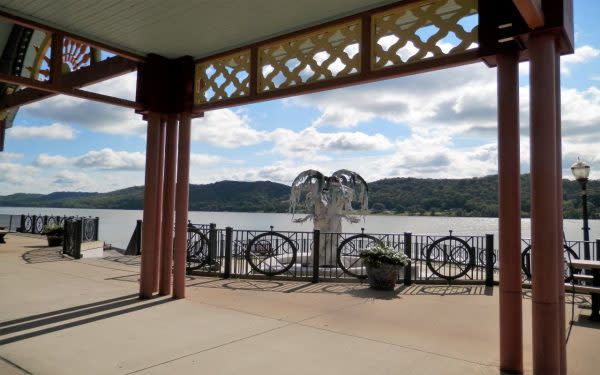 Rising Sun
and Paul Ogle Riverfront Park in Vevay.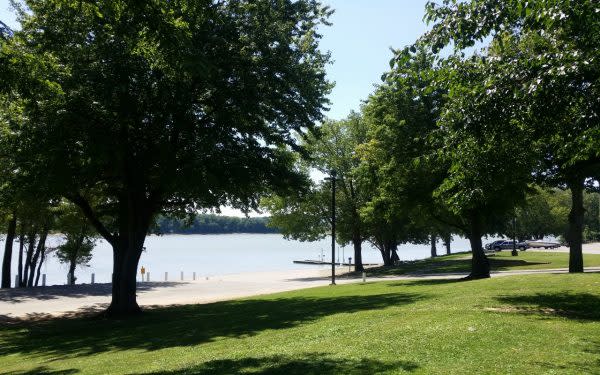 Riverfront Park Vevay