The World's Largest Ball of Paint? A giant peach? Bizarre and fascinating, Indiana's roadside attractions provide the ultimate spot for selfies and group photos. We have a great list of Indiana roadside attractions for you to seek and find around the Hoosier State.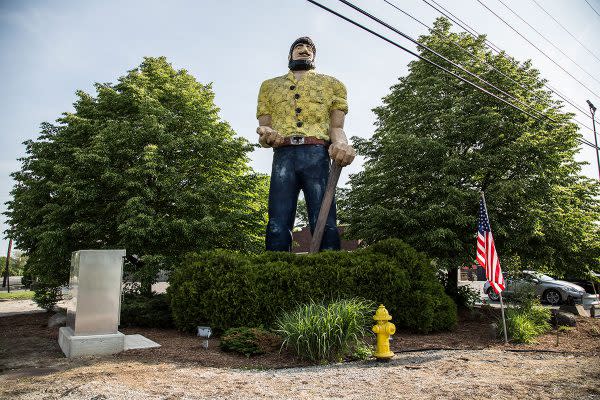 The car culture of the 20th century left a lasting legacy on the American landscape. One of the more peculiar features of this legacy is, of course, our roadside attractions. Meant to either attract tourists, advertise business (think Muffer Men), or highlight some local feature, roadside attractions have become a unique and weird way to celebrate the power of place. There's even a Simpsons episode (Tree House of Horror VI), where giant advertising mascots come alive and wreak havoc on Springfield!
Indiana is no exception. RoadsideAmerica.com lists dozens and dozens of giant statues, signs, advertisements, and other giant artwork across the great Hoosier state. Before I leave the earth, I'm going to visit all of them. In 2018, I decided to start this most important journey.
Below is a partial list of Indiana's Roadside Attractions - just the places I've visited so far. Keep checking back for updates as I complete them. In no particular order: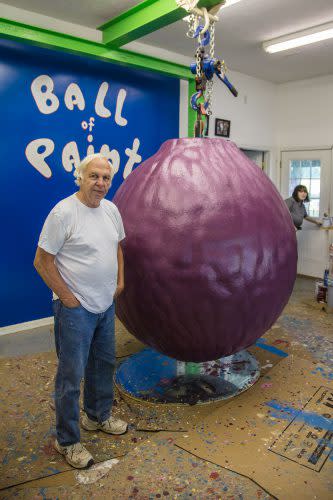 World's Largest Ball of Paint
Address: 10696 North County Road 200 West, Alexandria, IN 46001 View on Map GPS: 0.2587016, -85.7112497
Like some Valspar deity, the World's Largest Paint Ball sits quietly and ever-growing in Alexandria, Indiana. For 36 years, the paint ball has been cared for by Mike and Glenda Carmichael. The ball, which is really more of an oval, is comprised of approximately 23,000 layers of paint and weighs over 4,000 pounds. Visitors aren't limited to just witnessing the paint idol in its latex glory, but can also help expand it by painting their very own layer! Be sure to call or email to set up an appointment before you visit.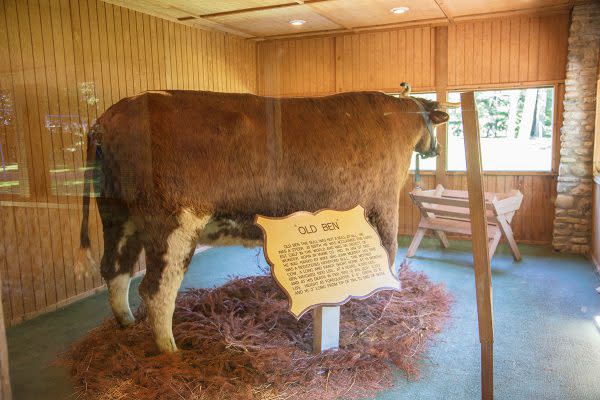 Old Ben
Address: Old Ben Drive, Kokomo, IN 46902 View on Map GPS: 40.4691436, -86.1443136
Our good friends in Kokomo are saving the world's largest cow for all eternity, or rather, the stuffed remains of one. Old Ben was a steer born on the Murphy Farm in 1902. At birth, Old Ben was supposedly 125 pounds and grew at a rate of 100 pounds per month! By age four, he weighed as much as the World's Largest Ball of Paint (see above) at 4,000 pounds! Old Ben became a popular roadshow when he was alive. When he died unexpectedly in 1910, he was sent to a taxidermist in New York and stuffed. He was  returned to Indiana and placed on display. He's now preserved until the end of time in Kokomo's Highland Park. Read about 5 Stops Must Make in Kokomo.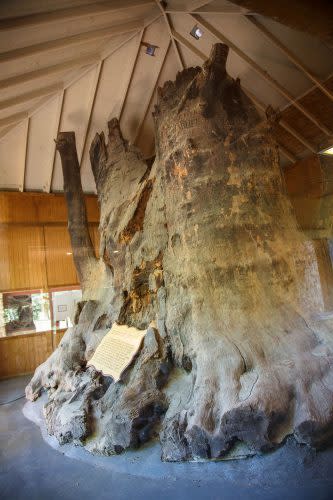 Sycamore Stump
Address: Old Ben Drive, Kokomo, IN 46902 View on Map GPS: 40.4691436, -86.1443136
In case you hadn't had your fill of giant things in Kokomo, right next to Old Ben is an impossibly large sycamore tree stump. Like the remains of some giant Ent, the Sycamore Stump is reported to be 1,500 years old by ring count. Early pioneers knew the tree was old, but didn't have any idea as to how old until it fell over during a windstorm. The stump is 12 feet tall, over 50 feet in circumference, and 18 feet wide. The stump was moved in 2016 to Highland Park next to our friend, Old Ben. Read about 5 Stops Must Make in Kokomo.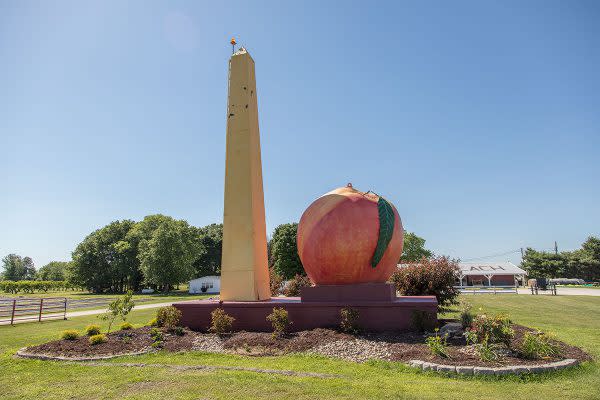 The Big Peach
Address: 7738 North Old 41, Bruceville, IN 47516 View on Map GPS: 38.7883464, -87.4703514
While the state of Georgia is known for its peaches, Indiana has a giant one on display, proving that yes, we too can grow peaches in the north. In Bruceville, Indiana just north of Vincennes, The Big Peach is a family farm market (open May through October) featuring fresh fruits and vegetables for sale, but also a pumpkin patch, corn maze, and other agricultural amenities. As an homage to the farm's name, the Cardinal family has erected a giant peach and obelisk as reminders that Hoosier peaches are not only possible, but can't possibly be overlooked. Read about 4 Must Stops in Vincennes.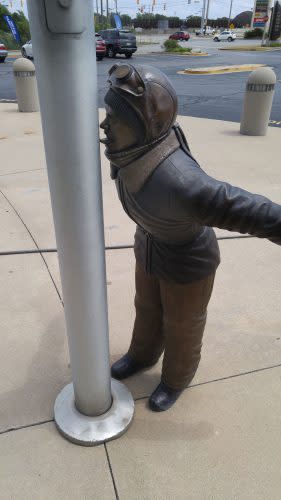 Flick Statue
Address: 7770 Corinne Drive, Hammond, IN 46323 View on Map GPS: 41.5710257, -87.464985
No Christmas celebration is complete without watching A Christmas Story over and over and over again on TNT for 24 hours. Astute fans of the movie will know that it was set in northern Indiana. There are many memorable scenes in this movie, but one of the most iconic is when the character Flick gets his tongue stuck to a frozen flagpole on a triple-dog-dare. To commemorate this, the South Shore Convention and Visitors Authority commissioned a bronze statue of the famous scene. Completed by Oscar Leon, the Flick Statue is "permanently displayed just outside the front doors of the Indiana Welcome Center." Each year, the Indiana Welcome Center is home to "A Christmas Story" Comes Home, a celebration of the film and the holiday season, from mid-November through the end of December. Read more about "A Christmas Story" Comes Home.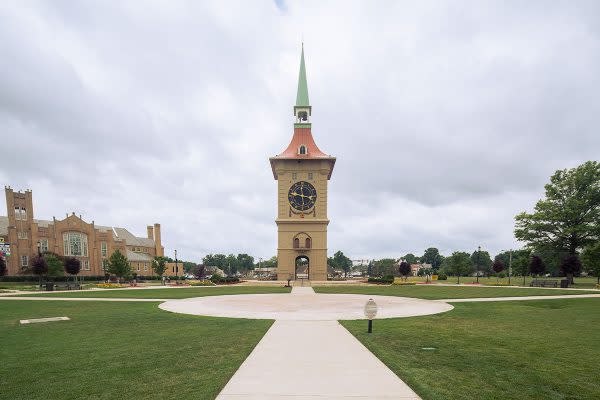 Berne Clock Tower
Address: North Church Avenue, Berne, IN 46711 View on Map GPS: 40.6589681, -84.9564101
In 2010, the Adams County city of Berne erected a 160 foot tall clock tower in the Muensterberg Plaza. The city was predominantly founded by settlers from Switzerland and that legacy is pretty much imbued throughout Berne. The tower is a salute to the Zytglogge clock tower in Bern, Switzerland. Berne's Clock Tower offers a traditional glockenspiel presentation at 3:00PM, 6:00PM, and 9:00PM every day.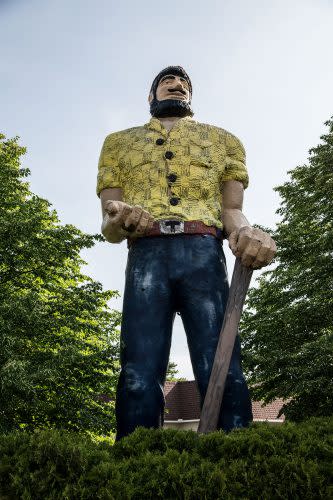 Paul Bunyan
Address: 2770 West Kilgore Ave, Muncie, IN 47304 View on Map GPS: 40.1831872, -85.4207032
Standing at the southwest corner in the outlot of Timber's Lounge, at the corner of Tillotson Avenue and Highway 32 (Kilgore) in Muncie, is a giant statue of Paul Bunyan - the American hero of deforestation. The 25-foot tall statue was originally built in the 1960s for the Kirby Wood Lumber Company, but was later sold to Timbers Lounge to serve as an advertisement. Timber's has, arguably, the best steak in Muncie and they make these fantastic off-menu Greek Eggrolls. Read about the Top 10 Public Artworks in Muncie.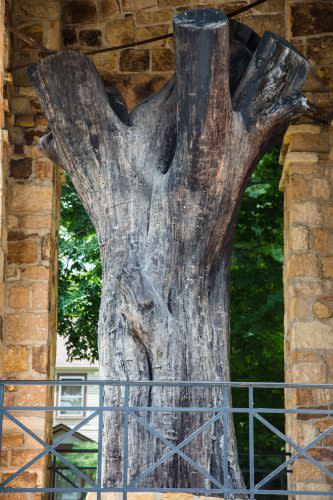 Constitution Elm
Address: 200 West High Street, Corydon, IN 47112 View on Map GPS: 38.2130765, -86.1276577
In June of 1816, delegates in Indiana began drafting the new state's constitution. The heat was quite overwhelming that month, so delegates took shelter in the shade of a giant elm tree in Corydon, Indiana. The Indiana State Museum writes that "the tree stretched over 130 feet across and 50 feet tall, providing ample shade to the men crafting our constitution. The tree became known as the Constitution Elm, a well-recognized symbol of the founding of Indiana." The tree died in 1925 from Dutch Elm Disease, but the trunk has been preserved for all time.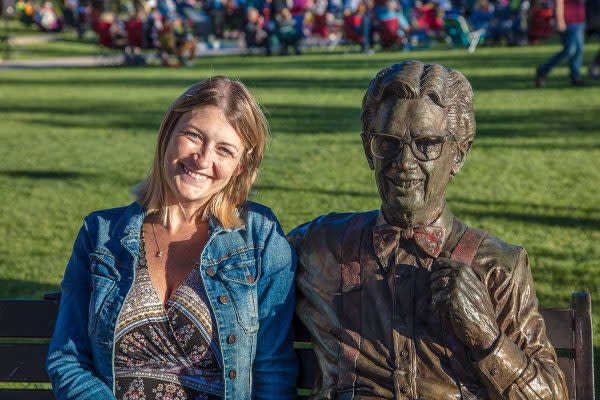 Orville Redenbacher
Address: 70 Lafayette Street, Valparaiso, IN 46383 View on Map GPS: 41.4673562, -87.06251
In September of 2012, the city of Valparaiso unveiled a life-sized, bronze statue of Orville Redenbacher during the annual Valparaiso Popcorn Festival. The statue commemorates the life of Orville Clarence Redenbacher, a native Hoosier who ended up building a massive popcorn empire in northwest Indiana. The statue sits at the north end of the Central Park Plaza in downtown Valparaiso.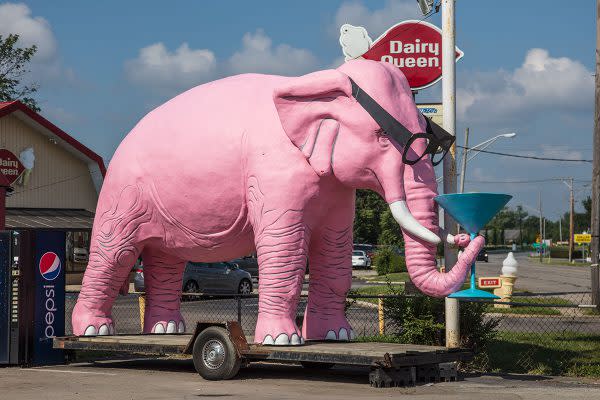 Martini Drinking Pink Elephant
Address: 308 West Broadway Street, Fortville, IN View on Map GPS: 39.929865, -85.852517
In Fortville, Elite Beverages uses a giant, martini-drinking elephant to advertise their beer, wine, and spirits liquor store. This roadside attraction is the physical manifestation of the classic American euphemism of "seeing pink elephants," an early 20th century expression used to describe someone who was intoxicated. The elephant permanently sits on a flatbed trailer and occasionally is pulled through town during parades. This is either a brilliant marketing strategy, or perhaps proof of some sort of Fortvillian pachyderm cult.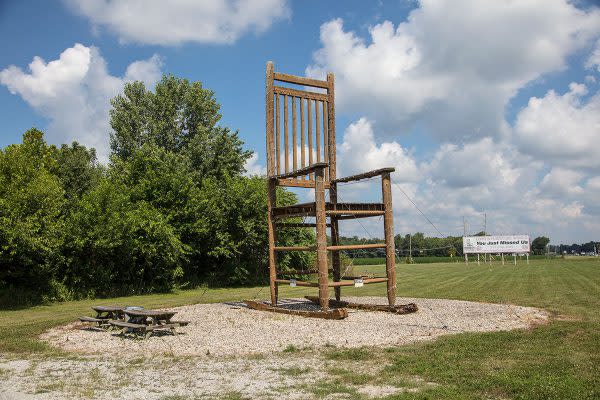 Giant Rocking Chair
Address: 4108 South US Highway 31, Franklin, IN View on Map GPS: 39.417538, -86.002103
Not to be outdone by pink elephants, or giant peaches, Long's Furniture World and Mattress (Franklin Location) boasts a giant rocking chair as their roadside attraction. You can't actually climb or rock in the chair (thanks insurance company), but it's still pretty neat to see. The chair towers at 32 feet and was named Big John after John Long, the store founder.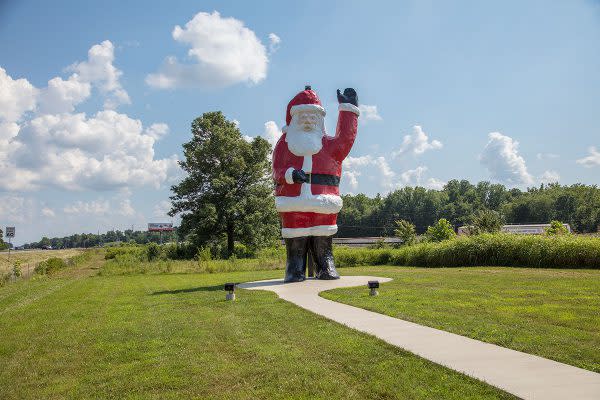 Giant Santa
Address: 11812 US Highway 41, Evansville, IN View on Map  GPS: 38.084597, -87.558973
You might be thinking that Indiana's giant, 35-foot tall santa would be in Santa Claus, Indiana, but you'd be wrong (there is a giant Santa statue in Santa Claus, but it's only 22 feet tall). This giant santa is just north of Evansville, along Highway 41 on the property of Peckenpaugh Plumbing. He silently waves at you, reminding drivers to not be naughty, but strive always to be nice.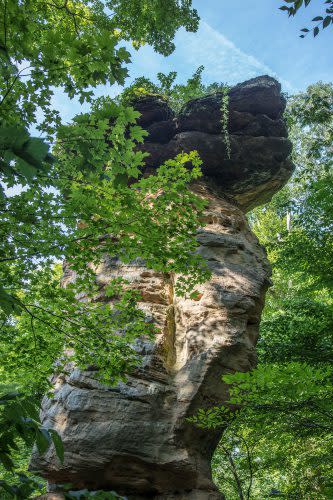 Jug Rock
Address: Albright Lane, Shoals, IN 47581 View on Map GPS: 38.6759274, -86.7971547
Jug Rock is the only natural roadside attraction on this list (so far). Just outside of Shoals, Indiana - the sandstone 'Jug Rock' is the largest tea-table rock formations east of the Mississippi. Looking like something you'd see in the background of a Roadrunner and Wile E. Coyote cartoon, the formation is approximately 300 million years old! Jug Rock is preserved in the Jug Rock Nature Preserve, with a small parking lot just off Albright Lane. Watch for spiders, as I think they must worship the rock given the amount of webs I ran through on the way down the path.