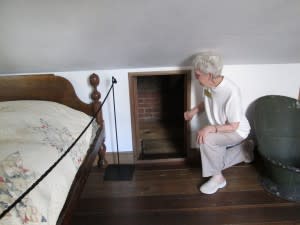 The Levi Coffin House on US 27 on Indiana's central eastern border has secrets. It was not a secret that its owner, Levi Coffin, a Quaker from North Carolina and local businessman, was part of the Underground Railroad. Coffin was so blatant about helping runaways that he called his home the 'Grand Central Station of the Underground Railroad'.
Even though Indiana was a free state, slaves were not safe here. People who hunted slaves could search for them in Indiana. The Coffins were aware of this. Still, they and others who helped them believed it was morally, if not legally, wrong to enslave people. They could have faced criminal charges if caught with runaway slaves.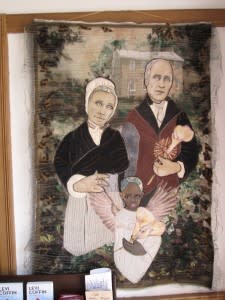 Levi and his wife, Catharine Coffin, were opposed to slavery. During the 20 years they lived in Newport, Indiana (later renamed Fountain City due to another Hoosier town named Newport), they helped thousands of slaves reach safety. The Coffins' plan for hiding the slaves was so successful that every person they assisted from 1827-1847 reached freedom. This is a stitched fabric piece of the Coffins helping one of the runaway children.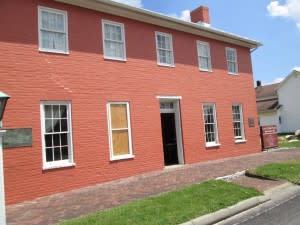 The Coffins lived in this large, plain (as befitting their religion), 2-story, Federal-style brick home built in 1839, located right on US 27.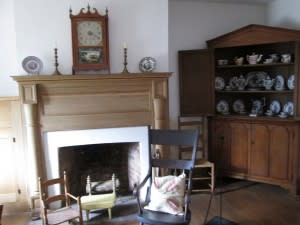 It is restored for visitors and filled with items that reflect the lives of the Coffins and their family at the time they lived there. The house's original windows are being replaced. As there is no air conditioning in the home, the front door stays open for ventilation.
The docent my husband and I were assigned on a recent, warm Saturday afternoon —I think her name was Norma Jean – was friendly and informative. She led us through the home on a brief tour since we arrived near to closing time. The normal tour lasts around 45 minutes.
Norma Jean told us the Coffins used aids in the house to hide runaway slaves. On the second floor there is a bedroom with a small door built in the wall.
During the time of the Coffins' residence, the door would have been hidden behind a bed. Today, it is open for people to peek into. Norma Jean said it might have been big enough to hold several small people. "But it would have been very hot in there," she said.
Note: The stairs to the second floor and those leading to the cellar are narrow and twisting so take it slow.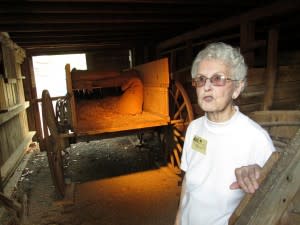 There is another secret in the barn behind the house. The buggy located there was one used by Levi Coffin to transport his family and goods. The buggy was built with a false bottom where slaves could hide. It would have been uncomfortable and dangerous, but the Coffins didn't flinch at doing what was needed to help people obtain freedom.
In 1847 the Coffins moved to Cincinnati so Levi could operate another business. The couple continued to help slaves in their new location. More will be known about the Coffins and their lives in 2016 when a new visitor center is opened across the street. Until then, plan a visit to the Levi Coffin State Historic Site.
The Levi Coffin House has been listed as one of the top 25 Historic Sites in the nation to visit. Norma Jean informed us that several film crews have been to the Levi Coffin home. She was not certain which channels they represented or when the films about the home would be released, but admitted she had been excited to stand in as an actor of a member of the Coffin family during the filming.
Hours:
June 1-August 31: Tuesday- Saturday 1-4pm.
September 1-October 31: Saturdays, 1-4pm.
It is closed July 4. Groups must call to schedule tours. Parking is along the north side of the building.
Levi Coffin State Historic Site
113 US 27 N
Fountain City 47341
765.847.2432
Admission: $2 for adults.
Children over age 6: $1.
Children under age 6: free.
For more information on the Indiana State Historic Sites call 317.232.1637.