Want to know who the true Indiana geeks are? Ask them "what was Indiana's first capital?"
You have to say it exactly that way, because it's a trick question.
Most people will tell you, "Corydon, until they moved it up to Indianapolis in 1825."
Except Vincennes was the first capital of the Indiana Territory, once that was created in 1800. At that time, Indiana was part of our country's Northwest territory, until Congress separated Ohio out in 1800, designating the rest as the Indiana Territory, and declaring Vincennes to be the capital. Vincennes was even the capital of the Louisiana Purchase in 1804. That means more land was governed out of Vincennes than any other capital, other than Washington D.C.
However in 1813, Jonathan Jennings (the state's first governor) managed to move the territory's capital to Corydon, in modern day Harrison County, doing it to spite William Henry Harrison. That's a bit of an irony, considering Jennings was a bitter political foe of Harrison's, who was also the namesake of Harrison County and the first governor of the Indiana Territory.
Then, in 1825, the capital was moved up to Indianapolis, 11 days away by ox cart. (Now it's a 2 hour drive.)
You can still visit the original Indiana territory capitol building in Vincennes. It's known as the Red House, and it's a small two-story building built with wood timbers and wooden pegs.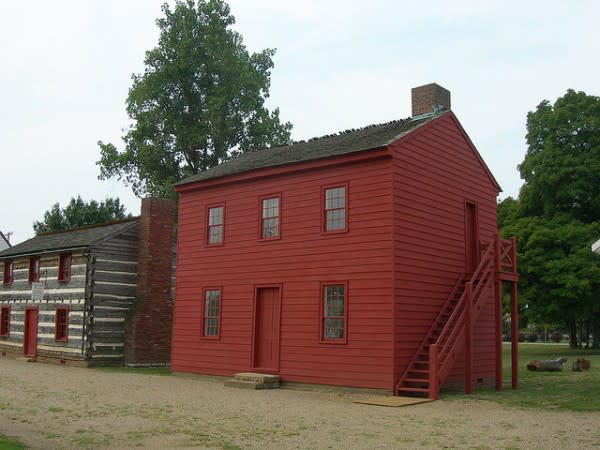 The Red House - The First Capitol of the Indiana Territory
You can visit the Vincennes State Historic Sites as part of the Indiana Museum experience. The site is open Monday through Saturday, from 9:00 am to 5:00 pm (Eastern time; this part of the state is on Eastern time). The site is closed on Sundays.
Tickets are $5 for adults, $4 for seniors (62+), $2 for children between 3 – 12, and children under three are free.
For more information, visit the Vincennes State Historic Sites website.
Photo credit: Jimmy Emerson, DVM (Flickr, Creative Commons)