For several years, there's been a nationwide movement to Shop Small on the Saturday after Thanksgiving. To me, this was like a mandate to go shopping so I headed off to some of my favorite places.   Here are 6 of my favorite shops in Madison & Vevay where you can Shop Small all year long.
This little place is located in an old gas station right on Main Street. Don't let its size fool you, it is packed with all kinds of vintage finds - jewelry, clothing, glassware, furniture, novelties and more. They also rent props for parties and special events. Throughout the year, they host workshops, special shopping events, and let's face it - just plain parties. I know that deer's eyes are following me….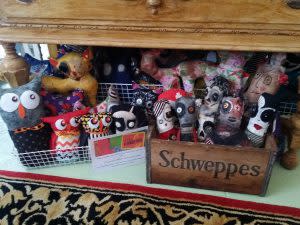 Kolo Kreepies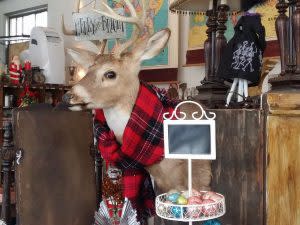 Watching You
Ladies' Bazaar
It's just up the street from the only stop light in town. These ladies carry an eclectic mix of accessories, antiques, original art, books and food items. I looked really good in the brown fedora! I have a weakness for vintage jewelry and they have a great selection. You can also find fun puppets for the kids. You're always welcome to try on everything but remember what Coco Chanel said, "Before you leave the house, look in the mirror and remove one accessory."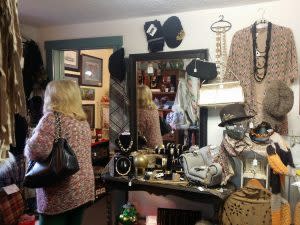 Love the Hats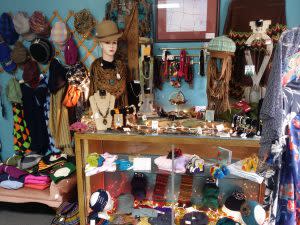 More Hats
This shop is right on the corner of Main & Ferry Streets.  It's a consortium of local and regional artists and craftspeople so there's a large selection from which to choose and a new artist is featured each month. You'll find paintings, jewelry, metal work, hand woven items, stained glass, sculpture, quilts and more. I had my eye on the fuzzy chaps hanging on the wall or maybe the large metal bell.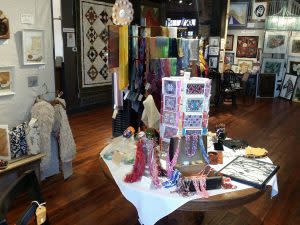 Check Out The Chaps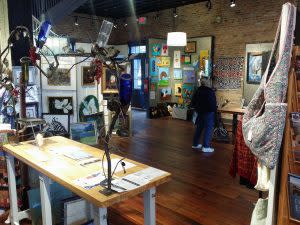 Metal Work Rocks
In Madison:
These 2 shops are right across the hallway from each other and have the same owner.  Grandma alert!  Little People's Boutique is a must for the cutest grandchild in town. If they made the frog slicker with matching boots in my size, I'd be wearing them!
Fine Threads is definitely for the well-dressed lady.  Beautiful clothing and accessories - love the cozy sweaters.  One section of the shop is devoted to Vera Bradley (an Indiana company) with all the latest colors, patterns and styles.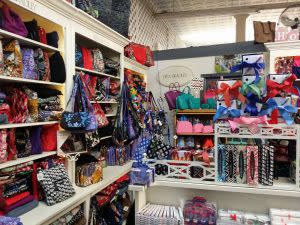 So Many Choices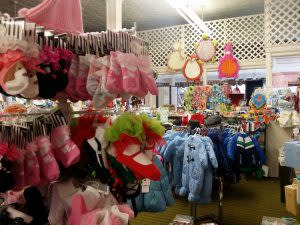 Grandma Alert
A Madison favorite filled with home décor, hats, scarves, furniture, antiques and anything else you can imagine.  Fun seasonal merchandise, too. They are Madison's reigning champs for the Best Holiday Windows for the past 4 years so they really know how to show off their stuff and give you great decorating ideas. Yes, that's me in the mirror trying on the winter scarves - soft, warm, reversible and now in my closet.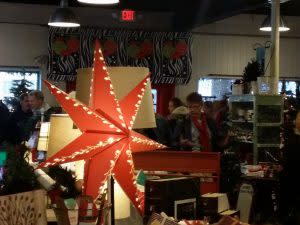 Seasonal Decor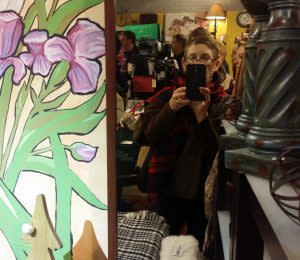 Looks Good
Look for the shop with the bubbles. This family run business is serious about their products. Everything is all natural, handmade, with no animal product and scented only with essential oils. The soaps come wrapped in biolefin with recycled paper labels and are completely biodegradable. It's not just soaps, they carry skin care products, body & bath, soy candles, baby products and even have a "man corner". They make and sell products for all skin types so you'll find something all good for everyone in the family. A 2011 Indiana Main Street Business of the Year award winner.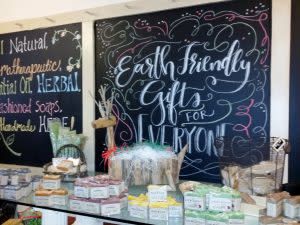 All Good Things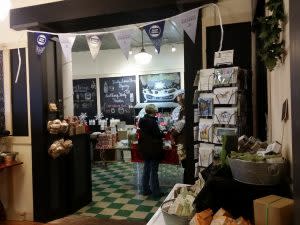 Made in Madison
If you're a shopper, find more about shopping small and shopping big.