On a Saturday morning, I headed out with a friend to see what was happening in Rising Sun, one of the beautiful historic rivertowns along the Ohio River Scenic Byway in southeastern Indiana. Check the hours of local shops and attractions at Enjoy Rising Sun.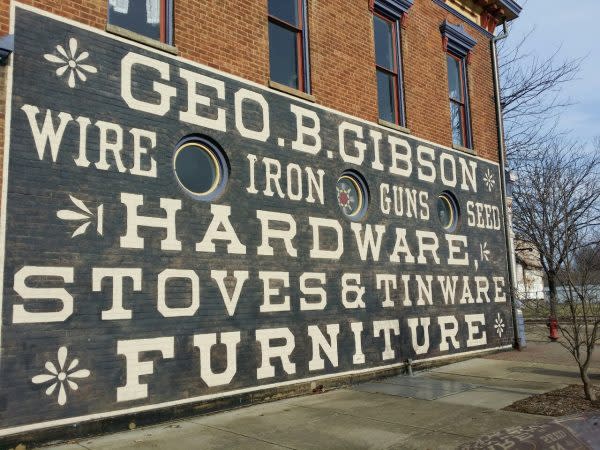 Love This!
Since the weather was warm for February, we decided to walk around Main Street and plan our strategy. There are some great historic buildings on Main Street and the riverfront is right at the end of the street. I love old advertising signage and was taking a picture on the side of the Pendleton Art Center when a gentleman came out and invited us inside. His name is Mike Mondary and he does laser engraving on a variety of media. We got a look at his product, a lesson about laser engraving and a demonstration. I even got a souvenir! He shares his space with Lydia's Earthly Delights which features custom jewelry made by his wife.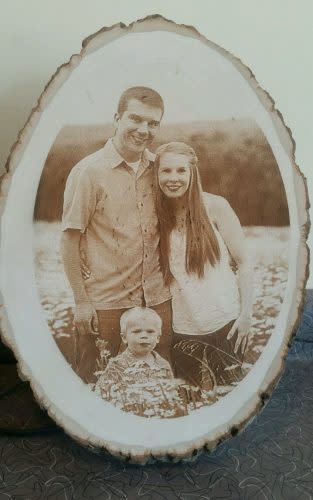 Laser Etched Portrait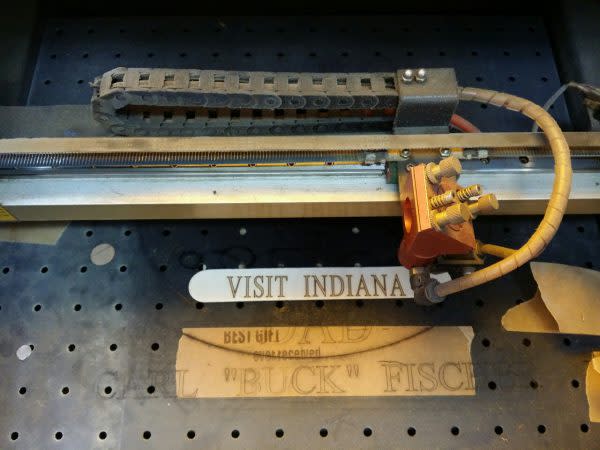 My Souvenir
Ok, this was good. We're back on Main Street and we noticed several people taking pictures and looking in the window of The Lace Cupboard. The star of the show was a very friendly shop cat (Zoe) who was performing and interacting with the audience in the window. One audience member was the owner of the Persimmon Tree and he invited us into his shop.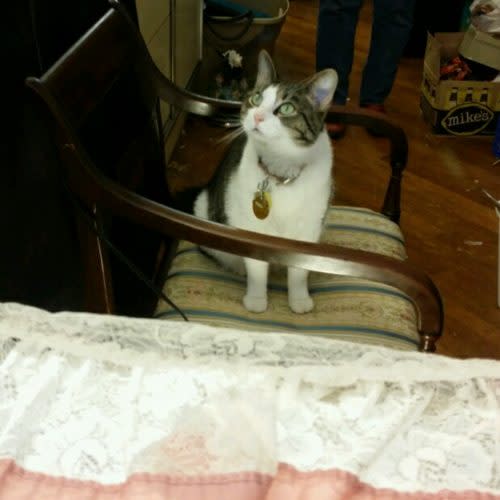 Nice to Meet You
Jackpot! The Persimmon Tree was a treasure trove of antiques and collectibles. AND, he was having a sale. My friend, Martha, left with a trunk load of hand woven rugs, felted wool rugs with crewel embroidery, vintage clothespins and vintage children's Amish clothing. We had a really good time with the owner and his friends.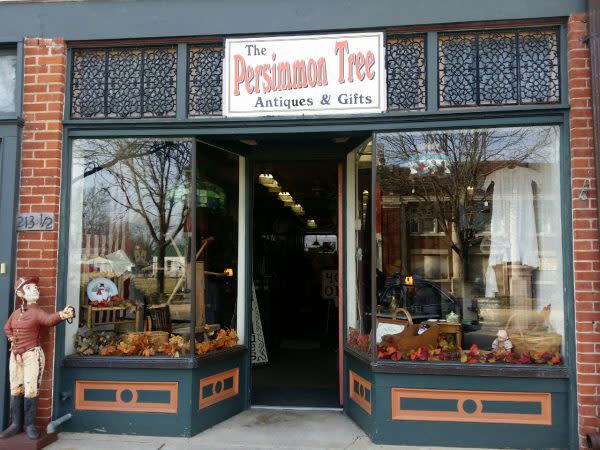 Martha's Waterloo!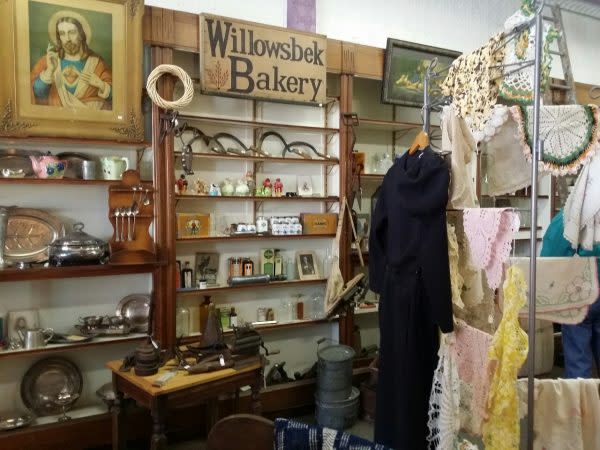 Great Stuff
Our next stop was the Visitor Center on the corner of SR 56 & Main. We asked a lot of questions, got a lot of answers and picked up a handful of brochures. A great stop for info.
By this time, the Ohio County Historical Society Museum was open. A cornerstone collection at the museum features the inventions of J.W. Whitlock. These include the racing hydroplanes, Hoosier Boy and Hoosier Girl. In 1924, Whitlock raced the Hoosier Boy 267 miles from Louisville to Cincinnati in 267 minutes, 49 seconds setting a record that still stands today. You'll also see the first coin operated music player, the Darby horse racing game and more.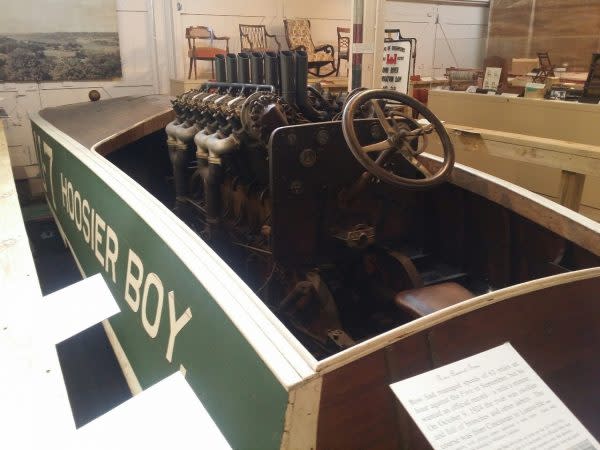 Hoosier Boy, A Racing Legend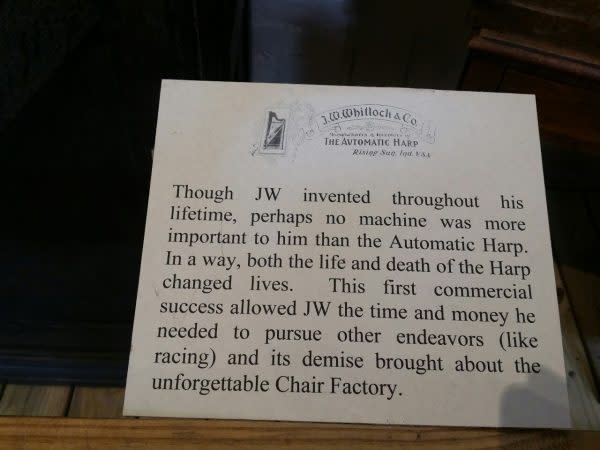 JW Whitlock, Inventor
Lunch was next on our agenda and we decided to head over to the Rising Star Casino. There are several places to eat in the casino and we chose the Queen City Market for a salad and bowl of gumbo. There are places to eat in the downtown area, too. In warmer weather, grab some carryout and have lunch at the picnic tables at the gazebo overlooking the river at the end of Main Street.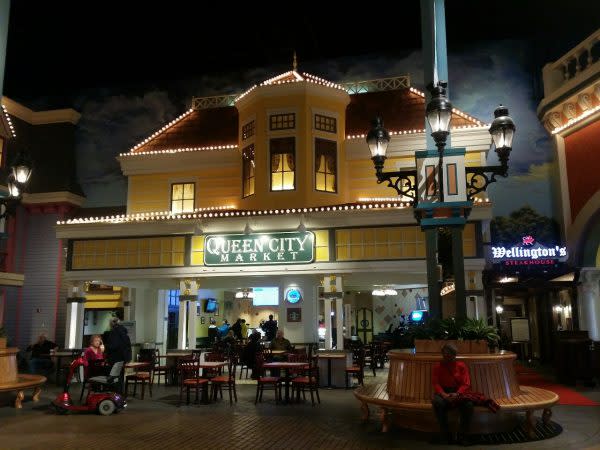 Queen City Market
We're headed back to Main Street to Flowers By Vickie. This shop was right up my alley with beautiful displays, vintage clothing, antiques, handbags and florals. There are things in this shop that I have never seen before and everything is in outstanding condition. Vickie treated us to a look at some of her favorite vintage finds that she had tucked away. I'm still dreaming about the 1920s gold mesh Whiting & Davis purse.
My Downfall!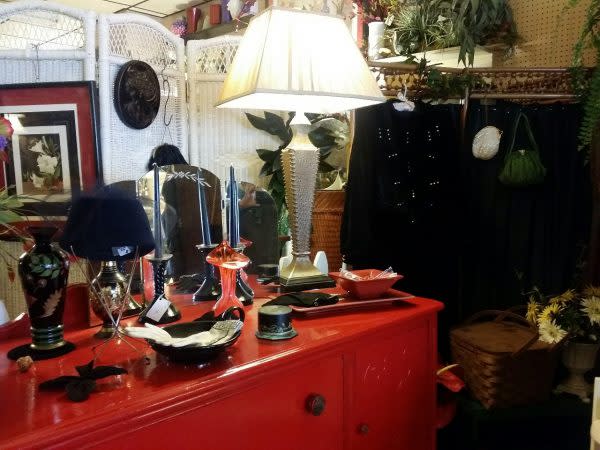 Great Displays
Our final stop on Main was The Lace Cupboard where we were formally introduced to Zoe the shop cat and entertainer. Whatever you're looking for, you can probably find it here. There's a huge inventory of antiques, collectibles, memorabilia, furniture, etc. Jill, the owner of this vast inventory says that the stock is always changing and if you don't see what you are looking for today, just come back tomorrow.
Pretty Dresses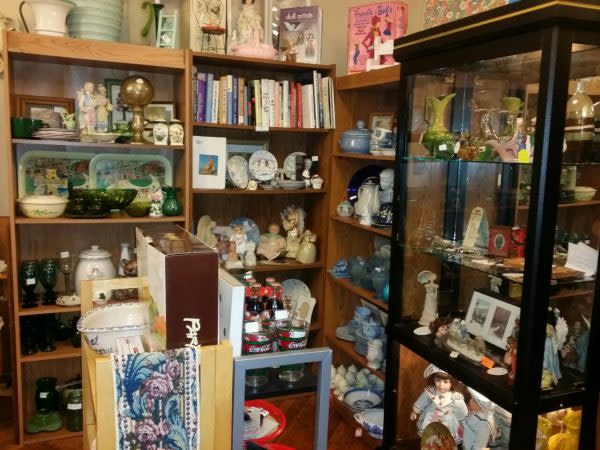 Lots of Variety
Our Last stop in Rising Sun was Fiekerts Homestead Wines just a couple blocks from Main Street at 412 South High Street. The tasting room is in the cellar (appropriate for wine, right?) of their 105 year old home. Ken & Vickie offer free tastings in a casual, fun setting – there's definitely a 60s rock & roll vibe here! They offer dry wines, fruit blends and sweet wines. We started with the dry and progressed to the fruit blends – I don't remember trying the sweet wines but we did bring some bottles home with us. Very fun and lots of laughs. Fiekerts Homestead Wines offers home tastings, too!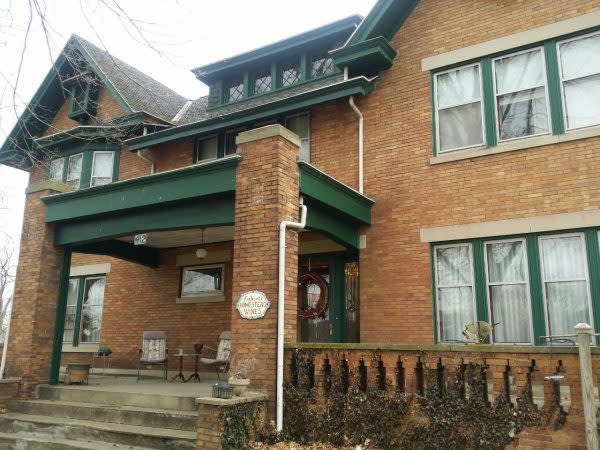 Fiekerts Homestead Wines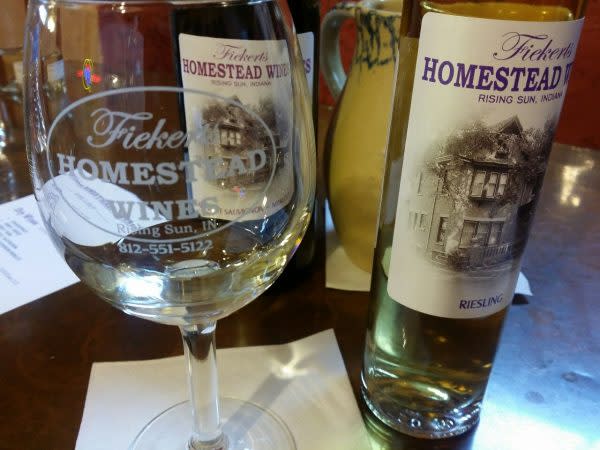 One More Taste, Please?
There seems to be something pervasive (in a good way) going on in this town. Both Martha and I commented that the people we met, from the shop owners to the guy in the pickup to the people walking downtown, were friendly, engaging, pleasant and helpful. We had a great time exploring Rising Sun.
Check out Casino Fun on the Ohio River. Make it a weekend; find places to stay and more things to do in Rising Sun.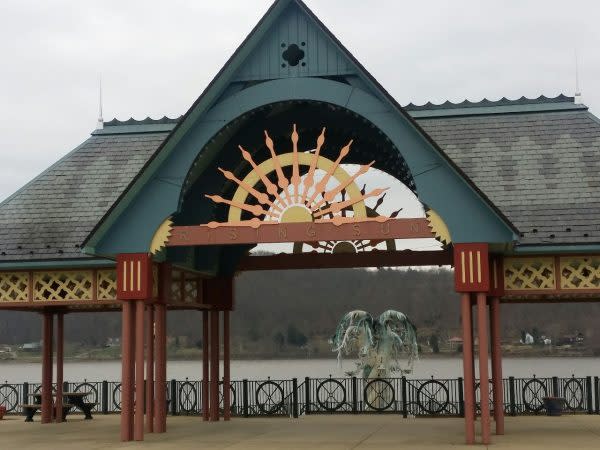 End of The Road