It's summertime and in Hamilton County, Indiana, that's synonymous with summer concert season. Whether you're into rock-n-roll, pulsing hip-hop or symphonic masterpieces, there is a concert venue for you. Very few destinations offer such big names in music only minutes away from a booming metropolis. So, get pumped up as we run you through some of the best places to see live music this summer, just north of Indy.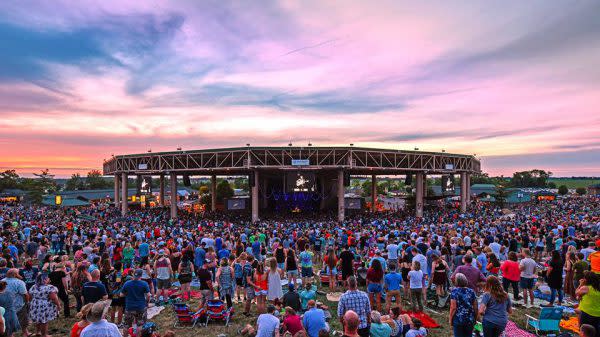 Ruoff Home Mortgage Music Center
Ruoff Home Mortgage Music Center / Noblesville, Indiana
The Ruoff Home Mortgage Music Center, affectionately nicknamed the "Ru," boasts the largest amphitheater in the Midwest with a capacity of more than 24,000 concert goers. This Noblesville concert venue hosts some of the biggest names in pop, country, hip-hop and rock, all against the stunning backdrop of an Indiana sunset. Formerly known as Klipsch Music Center, this world-class concert venue is celebrating its 30th anniversary in 2018 by hosting some of the nation's biggest stars, like Def Leppard with Journey, Miranda Lambert and Little Big Town, Luke Bryan, Charlie Puth, Niall Horan and Pentatonix.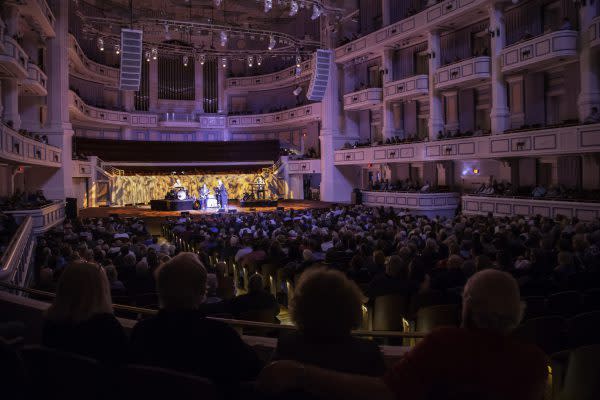 The Center for the Performing Arts / Carmel, Indiana
Welcome to the trifecta of arts venues. Home to The Palladium, The Studio and Tarkington, this internationally-renowned venue should definitely be on any music lover's bucket list. For those who prefer an indoor live music experience, this arts campus in Carmel has your ticket. From an acoustically perfect music hall reminiscent of Europe to more intimate theater venues, all the world's your stage in Carmel. Musical history buffs won't want to miss the "The Great American Songbook" - a unique collection of music, lyrics, culture and history. The Carmel Symphony Orchestra also makes this venue home base during Carmelfest, a city wide Fourth of July celebration. A venue of distinct prestige, The Center for the Performing Arts is a must-see destination for music lovers in the Midwest.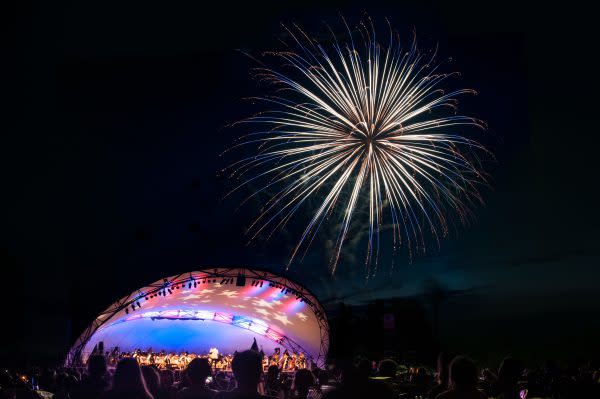 Conner Prairie / Fishers, Indiana
Known for laidback picnic dinners and spontaneous swing dancing, Symphony on the Prairie is the ultimate outdoor, live music experience. When Conner Prairie's outdoor experiences shut down for the evening, concerts on the Prairie are just beginning. This amphitheater-style venue accommodates up to 10,000 people and is perfect for guests to lounge on lawn chairs while taking in musical acts. The summer 2018 seasons features both beloved classics like the Star-Spangled Symphony and The Beach Boys as well as new tributes like The Greatest Love of All: The Whitney Houston Show and Classical Mystery Tour: Music of the Beatles.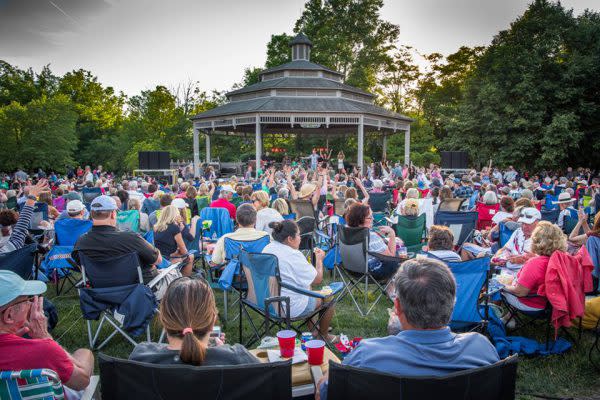 Carmel Gazebo
Carmel Gazebo / Carmel, Indiana
Wednesdays have a new hangout spot at this locally-loved spot in Carmel. The Carmel Gazebo at Civic Square is a central spot for live music in Hamilton County, and all shows are free. Each summer, Carmel Gazebo Concerts presents live music from the beginning of June through September. Shows start at 7 p.m., so pack a picnic and lawn chair and head out to the Gazebo for a one-of-kind local music experience.
Nickel Plate District Amphitheater
Nickel Plate District Amphitheater / Fishers, Indiana
Fans of live music will marvel at this state-of-the-art amphitheater located in Fishers' Nickel Plate District. The Nickel Plate Amphitheater caters to a wide variety of tastes from family favorites to classic rock and bluesy melodies. Special summer offerings include Tuesday Night Concerts, AMP After Dark Concerts, Wednesday Concerts on the Central Green, Farmers' Market concerts and more. Prepare to unwind, socialize, and delight in the sounds of summer at the new and improved amphitheater.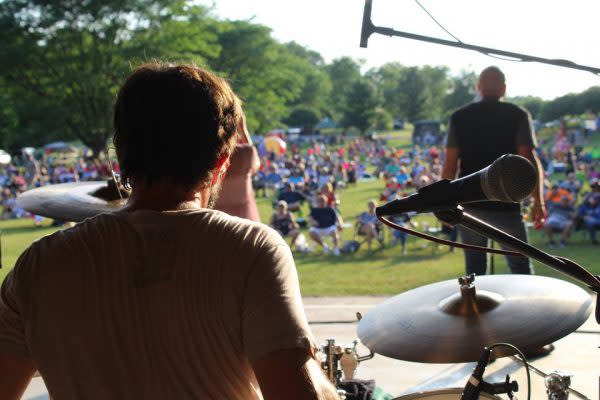 Cool Creek Park Concert Series
Cool Creek Park / Westfield, Indiana
For those who enjoy a more peaceful setting, Cool Creek Park is the perfect music venue for you. The Cool Creek Concert Series features both local and regional talent that plays to a beautiful park and nature center. Concerts take place every Friday through Aug. 3. This summer features artists such as Polkaboy and ESB. Season passes are also available for all those looking a regular music fix.
For more information on a musical getaway to Hamilton County, check out VisitHamiltonCounty.com.
Written by Hamilton County Tourism intern, Elizabeth Duis