As we were traveling through Northern Indiana recently, my husband and I decided to stop for lunch at a South Bend brewery. We were really glad we chose the Studebaker Brewing Co., located on the third floor of the historic Studebaker Mansion in South Bend.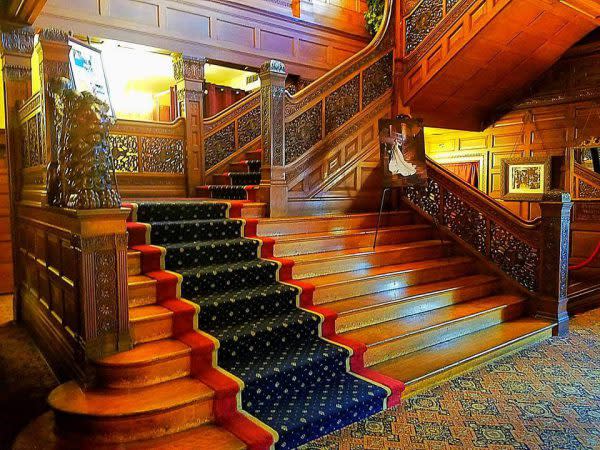 The Tippecanoe Place Restaurant, a 24,000 square-feet mansion that was designed by Henry Ives Cobb, has occupied the home since 1980. The mansion was built by Clement Studebaker from 1868-1889 and contains about 40 rooms. The restaurant is an elegant fine-dining destination that makes for a lovely setting for a special occasion.
The Studebaker Brewing Company was added in 2018 and the lounge is located at the top of the grand staircase. There's also an escape room next to it where you can join a group to try and make your way out of a room by putting together clues within an allotted time. You can also purchase beer before your scheduled time in the escape room and take it in with you.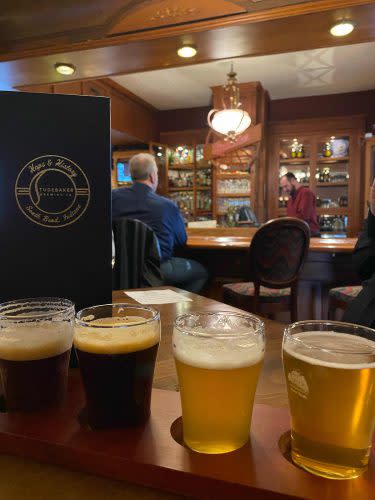 At the third floor lounge, you can try one of eight brews made on-site.
Occupied by the Studebaker family until they declared bankruptcy during the Great Depression, the home was later used by the Red Cross during World War II and then as a school and school administration offices. The mansion was beautifully decorated for the Christmas when we were there and definitely worth a visit during the holiday season.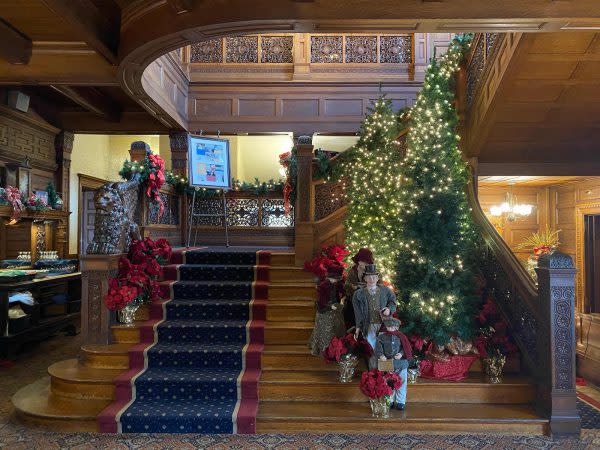 The mansion is beautifully decorated during the holiday season.
The bar had eight of their house craft beers on tap, ranging from IPAs to a gingerbread brown ale to a cream ale to an imperial stout.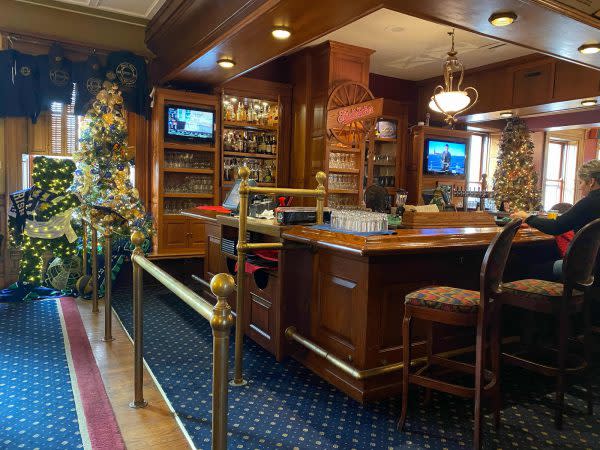 The lounge is located on the third floor of the Studebaker Mansion.
We ordered a couple things off the bar menu - first the Nawlins Shrimp with Creole spices, beer and butter with a baguette. It sat in a dark sauce topped with onions and was delicious, especially if you like a little spice. Since I had been eyeing the French onion soup that someone at a nearby table had ordered, this onion-topped appetizer hit the spot.
The Nawlins Shrimp Appetizer at Studebaker Brewing Co.
We also ordered the Studebaker Angus Hamburger and added cheese. It was pretty amazing - cooked to perfection and served on a brioche bun.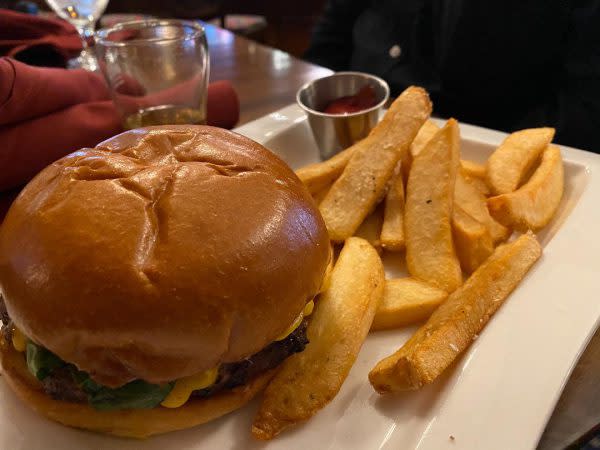 The prime angus burger is served with steak fries.
The beer and food would make it worthy of a stop even in a less amazing locale, but when you add in the breathtaking stone, woodwork, light fixtures and furnishings that surround you, it becomes it a must-visit brewery in the Midwest.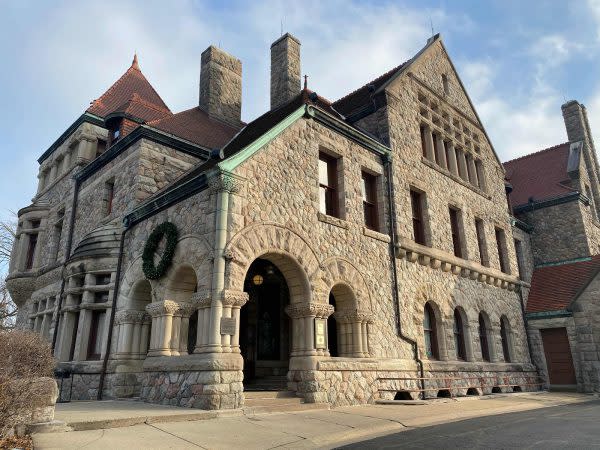 The Studebaker Brewing Company is located on the third floor of the Studebaker Mansion above the Tippecanoe Place Restaurant.