Grab your gear and get ready to explore the canals, rivers, streams and lakes in the South Shore. The South Shore has hundreds of miles of water trails and each route offers different opportunities from challenging and scenic to historic and wooded.
Whichever route you decide to explore, check weather conditions and be prepared during your adventure. The South Shore's blueways and greenways map is available HERE. New to the water? Check out these great spots to get your feet wet in a rental kayak or paddleboard in Northwest Indiana.
We've included our top 12 Region trails for seasoned paddlers: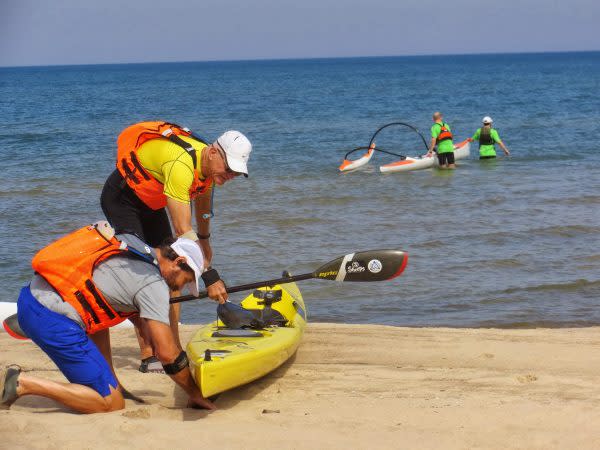 Kayaking Lake Michigan
Kankakee River, various locations The Kankakee River once served as a migration and trade route more than 10,000 years ago. The fertile lands along the Kankakee River were once home to the largest wetland in not just the Midwest, but the entire nation. Today, the Kankakee River is the perfect spot for recreation including fishing, canoeing and kayaking. The 133-mile waterway has most recently been honored as a national water trail! This is a big deal - as there are only 21 routes designated with that honor in the United States. The Kankakee River has access points from Illinois to St. Joseph County, Indiana.
Lake Michigan, various locations Paddlers can enjoy trips along Lake Michigan from Chicago's lakefront to Michigan; in northwest Indiana, Whihala Beach in Whiting has a launch site among their beautiful beach and park. Whiting and Whihala Beach enjoy one of the best views of Chicago, picnic areas and is nestled near Whiting's downtown, filled with shops, restaurants and year-round events.
Along Lake Michigan you can find launch sites at Marquette Park and Beach in Gary; Portage Lakefront and Riverwalk, Porter Beach, Kemil Beach, Dunbar Beach and Lake View Beach in Porter County as well as Washington Park in Michigan City. Kemil Beach and Dunbar Beach offer kayaking tips from park rangers on Wednesday mornings. A number of these locations charge a nominal parking fee and be cautious of motorized watercraft during prime boating season/summer.
Marquette Park Lagoon, Gary You can also enjoy the quiet lagoon at Marquette Park. The lagoons were where the Grand Calumet River flowed into Lake Michigan. After the area was developed and industry was introduced, the flow of the Grand Cal was altered, leaving the Marquette Park lagoons. Years of sediment build up and erosion reduced the water depth and fish habitat. The lagoons are now part of a restoration effort and include access to the lagoon as well as an ADA launch site. You can find local paddlers enjoying the quiet lagoon at sunset throughout the summer.
Cedar Lake, Cedar Lake The north end of Cedar Lake provides a launch point for watercraft, canoes and kayaks. Summer months this area can get congested but offers free parking of your vehicle. Lake Toy Rentals at the south end of Cedar Lake has kayak and stand-up paddleboard rentals. The Lake is nearly 1.5 square miles and was once a resort destination for Chicagoans. The majority of the properties along the lake are private residences but also include restaurants with docks that are open to the public.
Lake George and Robinson Lake, Hobart Lake George is a paddler's paradise as a no-wake lake, kayakers and canoers can enjoy the peaceful waters for hours. You can access two city parks and the downtown. Lake George also offers ample fishing opportunities. Nearby Robinson Lake offers a quiet and secluded lake that's off the beaten path. For bikers, the Oak Savannah Trail runs up next to both Robinson Lake and Lake George in Hobart.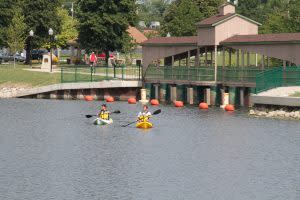 Kayaking in Hobart
Deep River Water Trail, Hobart, Lake Station and Gary The Deep River trail offers great exercise for both seasoned and beginners and has a calm flow for easy navigation. Because of the calm waters, paddlers and kayakers can enjoy the scenic woodlands, grasslands and marshes along the way. Access points can be found at Festival Park, Riverview Park as well as Liverpool Park. Deep River runs from Lake George in Hobart all the way through Lake Station and Gary for 16 miles before it empties into Lake Michigan.
Wolf Lake, Hammond The expansive waters of Wolf Lake straddle the Indiana and Illinois border. On a paddleboard, kayak or canoe you can tour the open waters and the hidden trails. During your journey, you'll see a variety of wildlife. Rentals are available at the Hammond Port Authority and are available from Memorial Day and continue through to September (weather permitting).
Stone Lake and Pine Lake, LaPorte These lakes are well known to fishermen and campers for great views and stocked ponds and streams. You'll often find paddlers on these lakes as well.  Pine and Stone Lakes are connected by a channel and surrounded by a beach area and walking trails. There are plenty of things to do and places to visit in the areas nearby. Both lakes offer paddlers adventure but Stone Lake offers a calm and quiet trip to enjoy the clear sparkling waters.
Rogers-Lakewood Park/Loomis Lake and Spectacle Lake, Valparaiso Anglers enjoy the small lakes surrounding Rogers-Lakewood Park for crappie, bluegill and bass. Kayakers can enjoy the small lakes' calming beauty from dawn to dusk. The park itself features special events, disc golf, boat rentals and hiking opportunities. Pack a picnic and enjoy an entire day at Rogers-Lakewood. There are parking fees within the park, but a public access site is accessible and free of charge just north on Meridian Road and 600 North.
Little Calumet River, various locations Much like the Kankakee River, the Little Calumet has linked communities through Indiana and Illinois for centuries. Much of the river system has changed over the years but there are sections that are perfect for paddlers and kayakers because of their width and depth. Other portions of the Little Calumet River resemble the waterways before settlers. The Northwest Indiana Paddlers recently cleared much of the east branch for safer passage; some areas remain shallow and are not recommended for beginners.
Washington Park, Michigan City Washington Park sits on Michigan City's lakefront and offers recreation on the Lake Michigan water trail. With most Lake Michigan trails, you'll want to be aware of boaters and other watercraft during your excursion. Visitors can rent kayaks as well as bikes to enjoy bike and water trails. Rentals are available by the week or by the hour. Families can also enjoy Washington Park's Splash Pad during the summer and the Washington Park Zoo to see tigers, alligators, wolves and other animals. The Zoo is open from April until October.
Iroquois River, various locations The Iroquois River passes through Rensselaer, Brook and Kentland in Indiana before traveling on to Illinois. The 103-mile waterway runs along a number of private residences and farmland, be sure to use public access sites to enter and exit the riverfront areas. The private lands will make your trip along the Iroquois River a perfect and quiet escape.